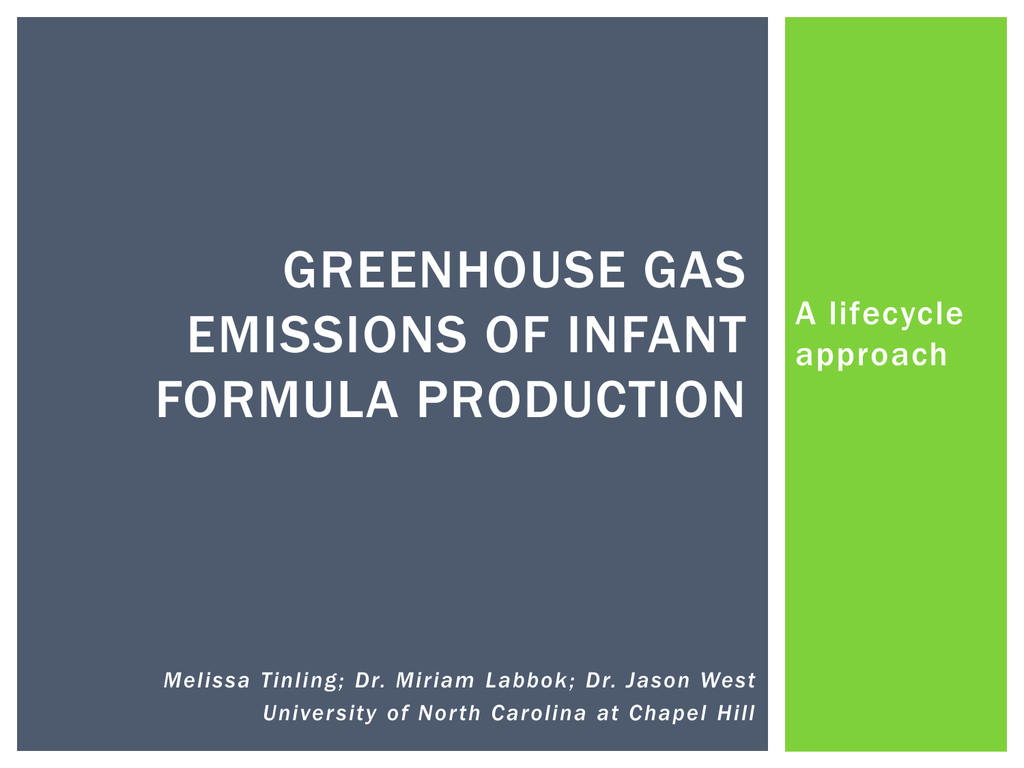 GREENHOUSE GAS
EMISSIONS OF INFANT
FORMULA PRODUCTION
Melissa Tinling ; Dr. Miriam Labbok ; Dr. Jason West
Univer sity of Nor th Carolina at Chapel Hill
A lifecycle
approach
OUTLINE
1. Context
2. Lifecycle methodology & calculations
3. Preliminary results
INSPIRATION
BACKGROUND &
CONTEXT
What's
climate
change
got to do
with
infant
feeding?
ENVIRONMENTAL IMPACTS OF FOOD
GREENHOUSE GASES & FOOD
Agriculture
 Methane (CH 4 )
 Nitrous oxide (N 2 O)
Land-use & forestry
FAO Profile for Climate Change. 2009. ftp://ftp.fao.org/docrep/fao/012/i1323e/i1323e00.pdf. IPCC Fourth Assessment Report; Figure 2.1. 2007. http://www.ipcc.ch/
GREENHOUSE GASES (GHG) & DAIRY
Dairy production 
2.7% of total global GHG
(FAO 2010)
Sources:
Enteric fermentation: CH 4
Manure: CH 4, N 2O
Farm activities: CO 2
Feed production: CO 2
http://epa.gov/methane/rlep/presentation/sld023.htm
INFANT FORMULA IN U.S.A.
 Largest subset of the
"baby food" sector:
179 million kg
produced in 2007
 Common even among
breastfed infants
 U.S. government is
largest U.S. purchaser
 Growing U.S. exports
http://www.cdc.gov/breastfeeding/data/NIS_data/
RESEARCH OBJECTIVES
Quantify GHG emissions of powdered cowsmilk infant formula production &
consumption in U.S.:
1. Identify stages responsible for the greatest %
Organize information to assist future studies
Support evidence-based advocacy
LIFECYCLE ASSESSMENT
METHODS & CALCULATIONS
From
"cradle to
grave"
"LIFECYCLE" CONCEPT
Raw materials
 Ingredients
 Packaging
Manufacturing
Home use
Disposal
*Transportation
INTERNATIONAL STANDARDS ORGANIZATION:
LIFECYCLE ASSESSMENT (LCA)
 Quantifies holistic
environmental
impact
 Separates
subjective from
objective
 Step IV requires
external review
 No "carbon
footprint" method
yet
1. MODELING A LIFECYCLE
MAJOR ASSUMPTIONS
 One "batch" of powdered formula = 4,536 kg
 "Meta product" powder formulation
2. CALCULATING (GHG) OUTPUTS
How much GHG is produced at each stage?
1.Collect energy and/or materials used
-Eg. X km driven by truck
2.Emissions factor: amount of a specific GHG
emitted per unit of energy or material
-Eg. Y kg CO 2 per Y km driven
3.Multiply:
YkgCO 2
Xkm 
 kgCO 2
km
EXAMPLE: TRANSPORTATION
EXAMPLE: FACTORY
3. CALCULATE TOTAL GHG OUTPUT
1. Sum GHG from all stages of lifecycle
2. Combine all GHG to "carbon dioxide
equivalent" (CO 2 -eq):
CO2eq   (mCO 2 )  (mCH 4  25)  (mN 2O  298)
3. Multiply GHG for batch by national production
PRELIMINARY RESULTS
to be
continued…
LARGEST CONTRIBUTORS
1. Dairy Farm
2. Consumer use
3. Manufacturing
4. Transportation
CONCLUSIONS
GHG emissions of formula feeding are likely to
be significant, and larger than emissions
associated with breastfeeding (if any)
GHG emissions from infant formula may be a
substantial portion of total emissions
associated with infant care
Lifecycle assessment (LCA) method is essential
to systematically accounting for emissions from
all relevant processes
AREAS FOR FUTURE RESEARCH
 Calculate environmental LCAs or "carbon footprints "
 Other environmental effects
 Other regions (different dairy farming)
 Illuminate manufacturing process.
 How much liquid milk to make formula?
 Manufacturing process?
 For comparison, calculate "footprint" from extra
calories & water consumed during breastfeeding.
 "Eco-labeling" of carbon-neutral foods?
QUESTIONS?
[email protected]
Thank
you!