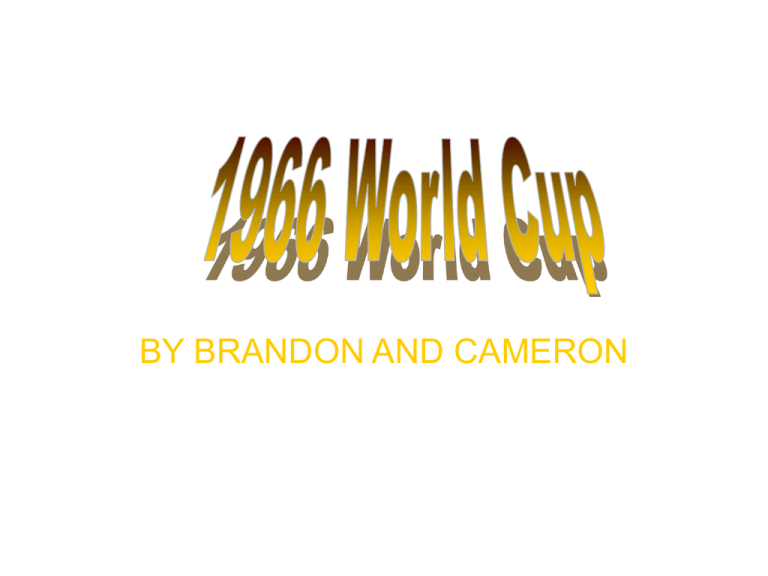 BY BRANDON AND CAMERON
Contents
•
•
•
•
•
•
England scores the winning goal
Score
Ghost goal
Final goal
Cup
Animations
ENGLAND scores the winning
goal.
Click on picture to view video
SCORE
With the score level at 2–2 at the end of 90 minutes, the game went
to extra time.
In the 98th minute, England's Geoff Hurst's shot hit the crossbar,
bounced down and the hit the ground either onto or just over the
goal line. The referee was uncertain if it had been a goal and had to
consult his linesman, who said (using signals as they both spoke
different languages) that it was. TV replays failed to prove if the ball
had crossed the line, and this goal, known as the 'Ghost Goal', has
become part of World Cup history ever since.
Hurst completed a hat-trick when he
then scored his third goal of the match
in the last minute of the match, taking
the score to 4-2 and leading to an
England victory.
This final goal gave rise to one
of the most famous sayings in
English football, when the BBC
commentator Kenneth
Wolstenholme described the
situation as follows: "And here
comes Hurst. He's got... some
people are on the pitch, they
think it's all over. It is now!
It's four!".
England won the solid gold Jules Rimet trophy,
which their captain collected from Queen
Elizabeth II from the royal box.