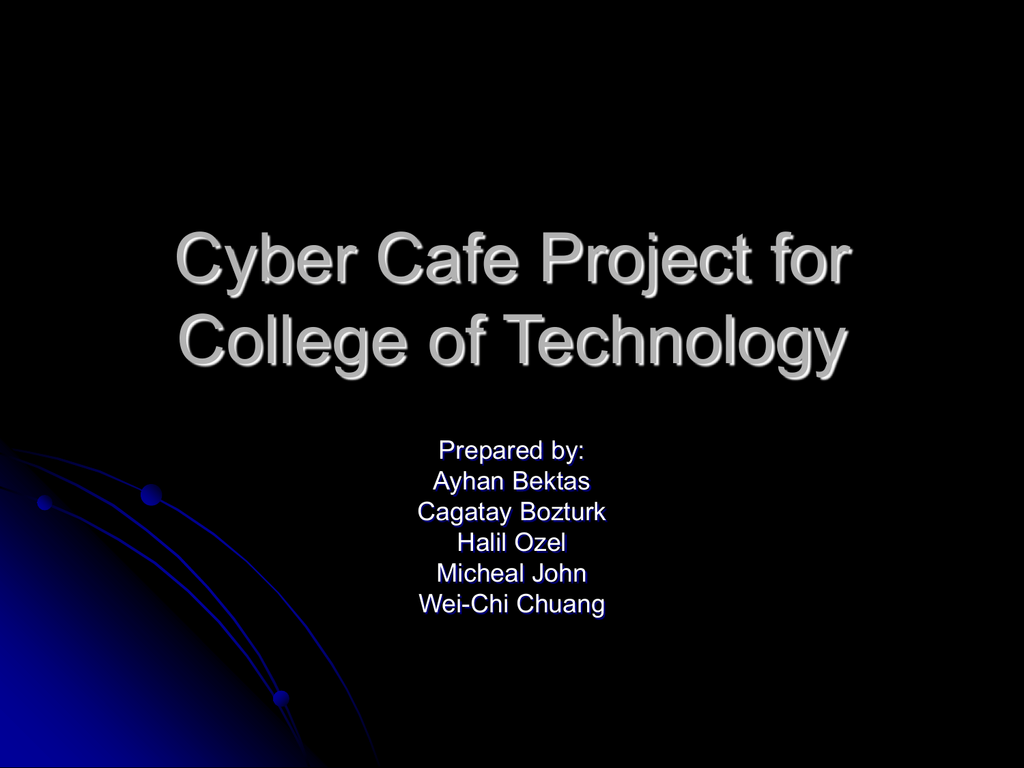 Cyber Cafe Project for
College of Technology
Prepared by:
Ayhan Bektas
Cagatay Bozturk
Halil Ozel
Micheal John
Wei-Chi Chuang
Purpose
To convert the assigned room into a cyber
cafe
 The computers used will be assembled by
Dr. Adkins' students
 Internet Cafe for students built by students
 Goal is to build a comfortable environment
for students to study and relax

Objective
Cheap but reliable equipment
 Setup the room according to the standarts
 Use as much material as possible from the
inventory
 Decide and install software and make the
security setup for a self controlled
environment

Computers
The computers used will be assembled by
the students
 Monitors are the donated monitors (19"
CRT)
 Keyboards and mice are available at our
lab(109A)
 There will be 20 computers for student use
and a print / music server

Software
Since the computers are not the latest
technology the operating system will be
Microsoft Windows 2000
 Each computer will have Microsoft Office
products installed on them
 McAfee antivirus software will be installed
 The licenses for all these software
products are available to school and they
are totaly free to our use.

Network
The router used will be 3com 3CR858-91
 This router has vpn and other security
components that we need to secure our
network.

Printer
Printers will be supplied from our inventory
 They will be connected to a computer and
will be shared over network
 More then one printer can be connected to
the same computer which will act as a
print server, but that computer will not be
any different from the client computers that
will be used

Music System

Creative Inspire 5800 72 Watts 5.1
Speaker
Room Setup
The folowing components have to be
installed
 Desks
 Chairs
 Air Conditioner
 Carpet
 Shades
Room Setup
Vending machines
 Music System (will also be connected to
the computer)
 Paint

Desks
Desks will be purchased from
www.versatables.com
 The specifications for these desks are
made for schools and they are durable
and adjustable.
 Each Desk supports two computers.

Chairs
From www.bizchairs.com
 Adjustable and supports
up to 250 lbs
 Passive ergonomic
seating with built in
lumbar support
 Pneumatic seat height
adjustment

Air Conditioner
Decided for a 24000 btu extra AC due to
heavy computer usage and the room size
 Model is Haier Electronic-Control Room
Air Conditioner With Remote, 24,000
BTU
 Will be purchased from
WAL-MART

Vending Machines
After our measurements we found out that
the regular vending machines distrubited
by companies would not fit through the
door.
 We decided to get smaller vending
machines from Sams Club.

Decoration
Carpets will be purchased from and
installed by a local company.
 The style is chosen by Dr. Adkins and is
space explorer
 Shades are available in Lowe's
 The room is going to be painted in white

Cyber Cafe
For a demonstration we had our
undergraduate student Bora Kaykayoglu
help us make a 3D model of the final
setup.
 We have captured views of the completed
room from dıfferent angles
Note: Actual room setup may differ from
what is presented here

Problems

One problem we figured about the room
other then the vending machines is that
the room doesn't have enough power
outlets, so we will have to request the
school to install extra outlets and circuit
breaker to the room for it to meet the
standarts. An example of that work is valid
in room 104A.
Pricing









Carpet
Desks
Chairs
Router
Paint
Speakers
Shades
Vending
Vending
$2200
$249.99x14
$54.99x28
$49.99
$310
$69.99
$40x7
$1817. 78
$2588.86
Total
We have two total price for the setup, one
with vending machines, other without
vending machines
 Price with vending machines:
$12356.20
 Price without vending machines:
$7949.56

Thank you...