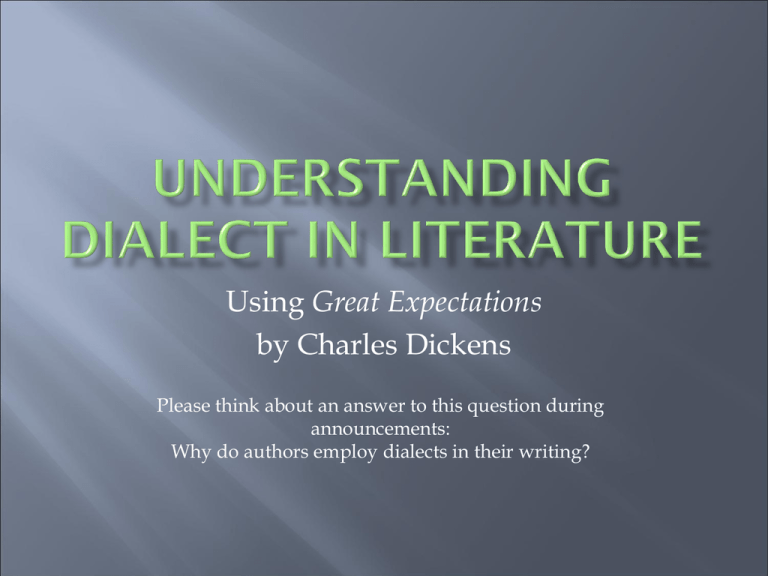 Using Great Expectations
by Charles Dickens
Please think about an answer to this question during
announcements:
Why do authors employ dialects in their writing?






To make characters realistic
To make a narrative historically accurate
To indicate the social, economic and
educational level of a character
To indicate the age, culture or geographic
background of a character
To create humor
To educate his or her readers


What is the definition for dialect?
Dialect is a way of expressing a variation in
pronunciation, meaning or usage from
standard language whose origin may be
attributed to geography, class or culture.




How do you
pronounce the
beverage that most
humans drink
everyday?
Some say waaahter
Others say worter
Can you think of
some other examples
of variations in
pronunciation?

Gas pronounced as


Syrup pronounced as


Coffee pronounced as

Tomato pronounced
as


geahs (NJ) or
gaz (Philadelphia)
Searup (NJ and?) or
Sirrup (Somewhere in
New England through
the Midwest)
Cawfee (NJ) or Cahfee
(Midwest)
Tomahtos (UK) or
tomaytos (northern
US)





A class is a group or cohort of people who
share a common background
Social
Economic
Age or generation
Educational


A word for your
mother's sister
A word for a vessel to
hold flowers

Ahnt or Annt

Vayz or Vahz




What if your friend
said, "Hey let's go get
a sandwich at a deli?"
What would you
expect to eat?
Hoagie, bomber
sub/submarine,
grinder, torpedo,
hero, baguette
Bap or Panini

What do you call the
space inside your
house immediately
inside the front door?




Hallway
Foyer
Entryway
Living room?

What do you pour on
your spaghetti?


Some people say
sauce
Some Italians say
gravy





What do you say to your family when asking
them to come back for Thanksgiving next year?
"See you again!" "See you next time!"
"You should make sure to come back next
year."
"You all come back next year."
"Y'all come back now, ya hear?"





To show regional and geographic differences
between characters
To show different educational levels and social
classes between characters
To further social and political criticism
To show different ages of his characters
To create humor





Look for patterns and clues in the language
Change and add letters if you notice a pattern
For example: look for apostrophes and try
adding on common word endings (-ed and –
ing)
Consult a dictionary and look up the word,
words or expressions that are unfamiliar to you
Do some research. If you are reading a text
centered in a culture, region or time period
different from your own, research that culture,
region or time period



Miss Havisham might sound something like
this…
The convict might sound similar to this…
Joe might sound something like this…

What do you understand about some of the
characters you've met so far in the novel, Great
Expectations?