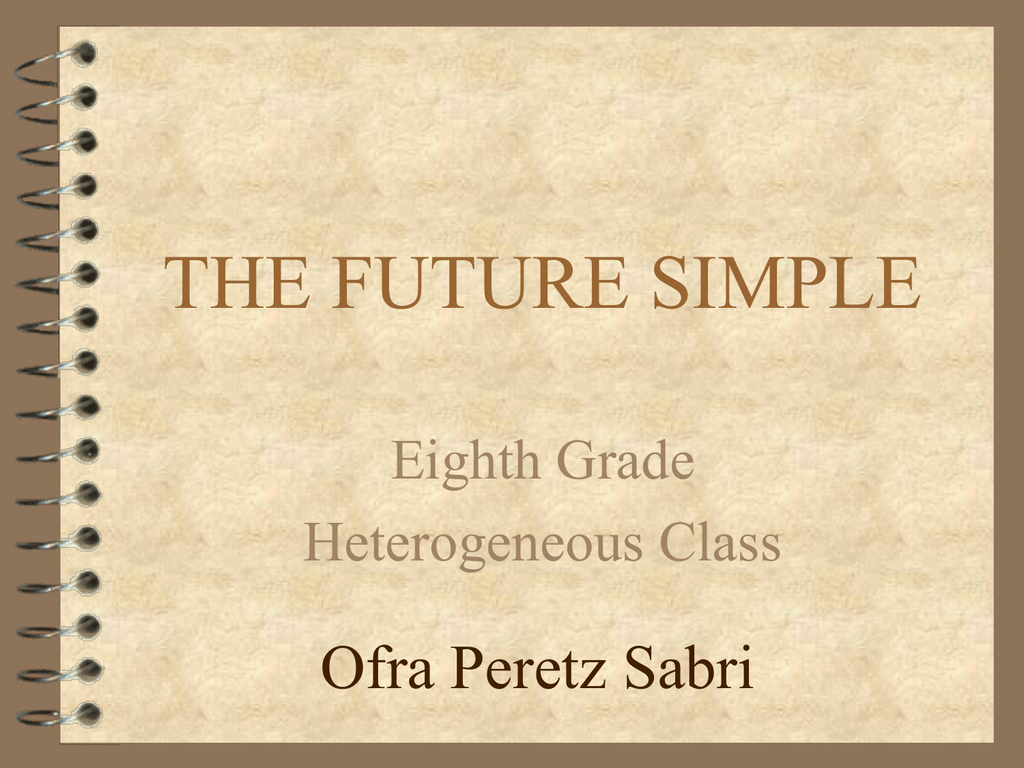 THE FUTURE SIMPLE
Eighth Grade
Heterogeneous Class
Ofra Peretz Sabri
Future Simple
Aim:Using power point to teach future simple
Level: Eighth grade , heterogeneous class.
Time:10 minutes: a review on future simple rules(pre)
30 minutes: The computer's activity.
5 minutes: H.W, write some sentences about
your plans for the future.
Preparation: We'll need the computer and we'll use the power point.
Knowledge: The student and the teacher both have to .
know how to use the power point
Procedure:Before the computer lesson I'll review the future simple rules (which were
taught well before this lesson). During the computer lesson the students have to write
sentences in the future simple. Post computer:
H.W: write about your plans for the future.
Modification or follow up activities: It will be interesting to ask them to make a poster
and draw the world in the far future
Heterogeneous Assignment-1
 Choose at least five of your friends,describe
them ,and try to guess what they are going
to do in the future.Underline your sentences
in the future tense .You can add a suitable
picture to the each one of your friends.
Heterogeneous Assignment-2
 Look at the pictures .Try
to guess what each one of
your friends will do in the
future. For example:Ronit
likes to help people .She
will be a doctor
Heterogeneous Assignment-3
 Match the sentence to the
suitable picture:
1)Avi will be a doctor
2)Eran will be a vet
3)Debby will be a dancer.
4)Dina will be a cooker
5)Ofra will be a painter
6)Sivan will be a model
7)Ami will be acomputer
man
An Example for the First Assignment
 My friend Shira is a
very interesting girl.
She is only fifteen
years old , but she
cooks very well.She
knows how to make
delicious omelets and
many kinds of
salads.I'm sure that
she will be a famous
chef!