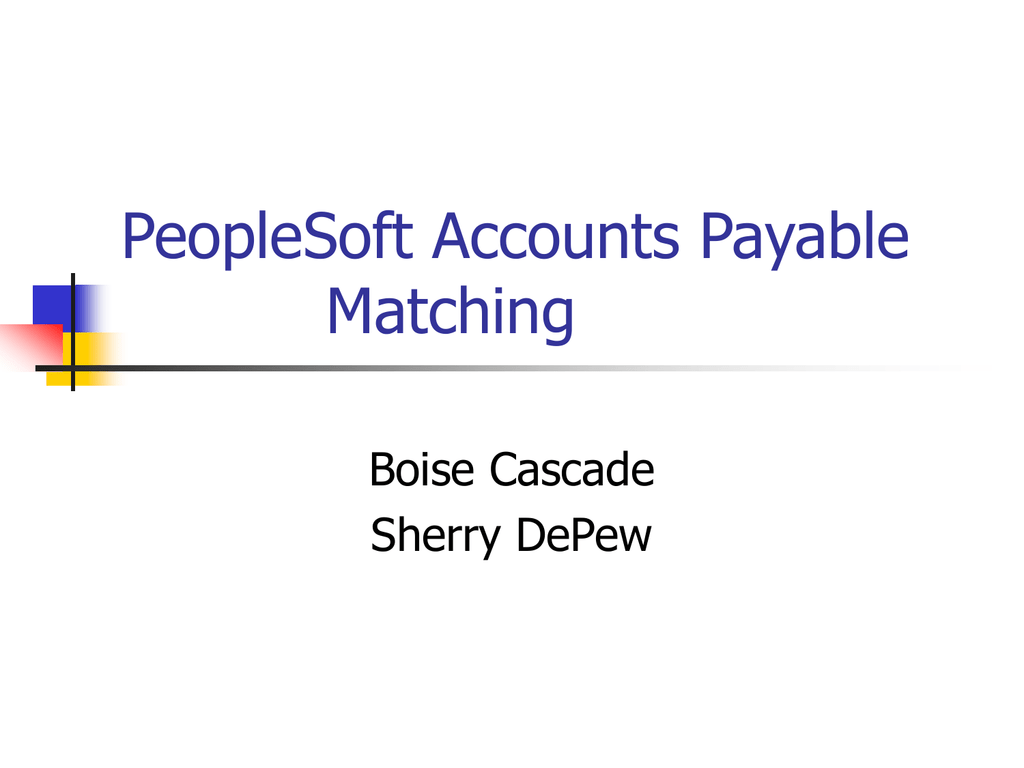 PeopleSoft Accounts Payable
Matching
Boise Cascade
Sherry DePew
Tolerances




Qty tolerances are set at the item level .05%
is the standard for high volume raw material
products.
Pricing tolerances are established as a
standard for the company:
Unit price tolerance is set at the lower of
7.5% or $50.00
Extended price tolerance is set at the lower of
7.5% or $500.00
Match Rules at Boise








Rule E100 Extended Price Tolerance
Rule E200 Extended Price % Tolerance
Rule P400 Unit Price % Tolerance
Rule P500 Unit Price Tolerance
Rule R500 No Receipts Found
Rule R600 Unmatched Receipts exist but none that
match
Rule V400 Life to date Vchr > PO + %Tolerance
Rule V500 Life to date Vchr >PO + Amt Tolerance
Responsibility to Review




Buyers are the only ones who have
access to accept the invoice prices on
pricing exceptions.
Receiving exceptions are corrected at
the source by receiving staff.
AP does the initial work on R600 rules
All rules are worked in the system with
no open security to override matching.
Added Notes



Surcharges are paid using the misc.
charge field and the surcharge type.
Matching runs nightly by business unit
Matching graphs are sent to locations
the 3rd Monday of each month and
include number of vouchers, total
dollars and aging.