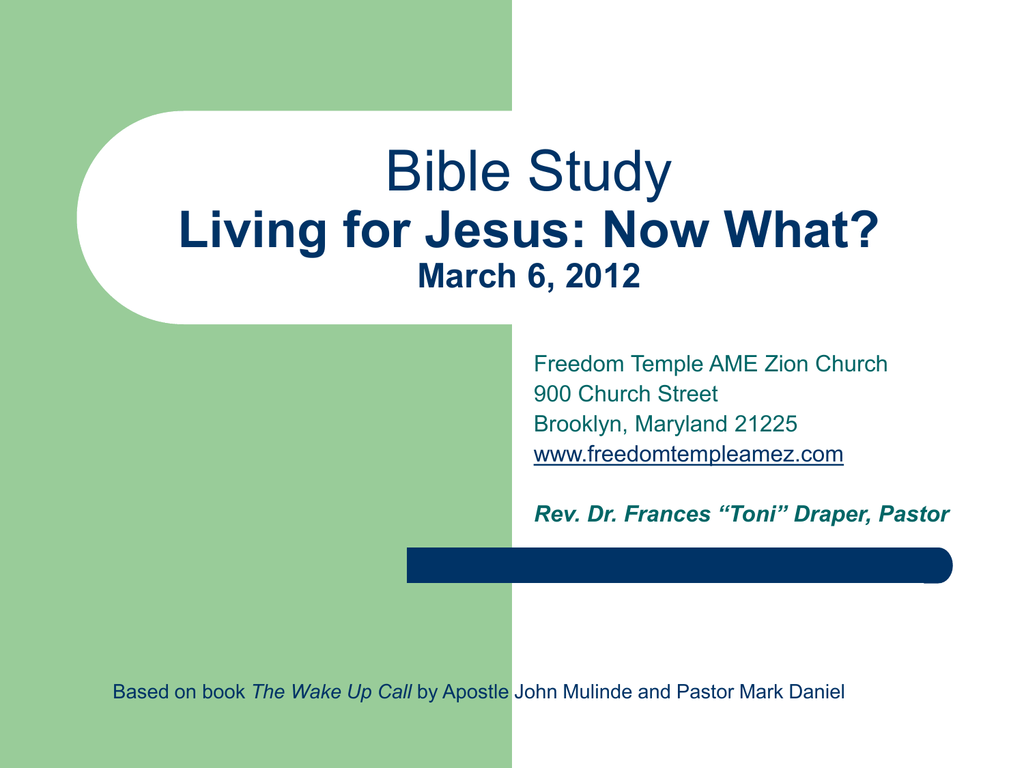 Bible Study
Living for Jesus: Now What?
March 6, 2012
Freedom Temple AME Zion Church
900 Church Street
Brooklyn, Maryland 21225
www.freedomtempleamez.com
Rev. Dr. Frances "Toni" Draper, Pastor
Based on book The Wake Up Call by Apostle John Mulinde and Pastor Mark Daniel
 The
State of the World:
Shaking
 The State of the Church:
Slumbering
 The Call from God:
Awakening!
3 Types of Responders
Which one are you?
 For some, message is not new; is stirring
you to action: obey or face consequences.
 Others are hearing it for the first time;
hungry to begin the journey.
 Still others are saying, "too much right now!".
Timing is everything!
Kairos
vs.
Chronos
 The
journey begins with
surrender: the releasing of our
lives to God.
 The Lie: You can't do it alone!
You are not self-sufficient.
Revelation 3:17-20
"Surrender consists of
(1) letting go of control and
(2) trust." ~Andrew Murray
Jeremiah
29:11
Isaiah 64:8
Love Makes Surrender Possible
Love destroys
 Our
selfish natures
 The works of the devil
 The world's system
 Love
casts out fear.
I John 4:18
 Love fulfills the entire law.
Mark 12:29-31
 Love covers a multitude of sin.
I Peter 4:8, Proverbs 10:12, 17:9
God is love. He (she) that remains in
love remains in God.
I John 4:16
 Love is from God and love is born of
God and knows God.
I John 4:7-8
 Do everything in love.
I Corinthians 16:14

 Faith
expresses itself through
love. I Corinthians 13:13
 Love is how His disciples are
known.
John 13:34-36
 Remain in my love.
John 15:9
Only God!
 Can
break through
 Can lead us into fullness
 Can take us deeper
 Can strip away hindrances
 Can build character in us
Fear...the what if syndrome.
 What
if I lose money?
 What
if I lose my rep?
Fear...the what if syndrome.
 What
if folk think I'm crazy?
 What
if I fail?
Fear...the what if syndrome.
 What
if I can't take care of my
family?
 What
if.....?
Fear can be overcome!
I
John 4:18
 I John 5:2-5
 I John 4:16, I Corinthians 13:8
 Hebrews 6:18
God's Love is greater than…
 Eros
 Phileo
 Storge
Agape love is based on
covenant, not contract!