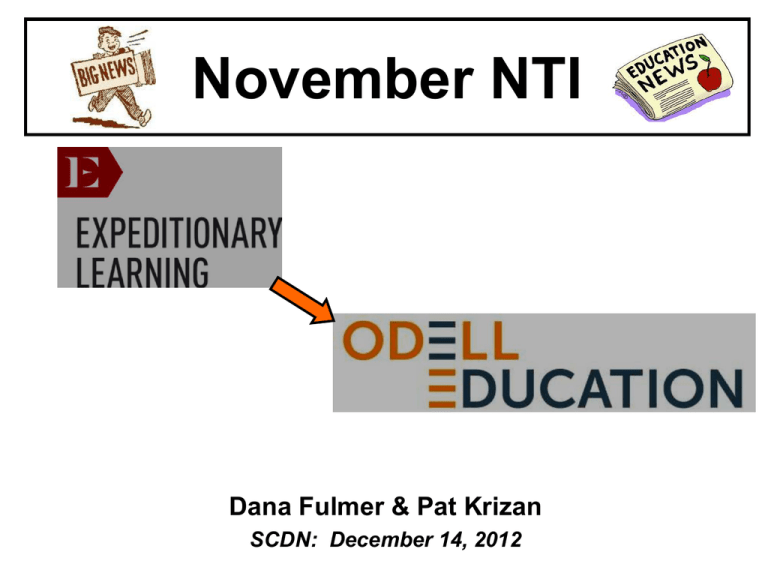 November NTI
Dana Fulmer & Pat Krizan
SCDN: December 14, 2012
6 - 12 Curriculum Modules: Timeline
- Grades 6-8 modules will
be coming in January
- Grades 9-12, by spring
Expeditionary Learning
& Odell Education
• Making the Text Accessible to All
Students
• Promoting Deep Understanding of
Text, Encouraging Evidence-Based
Discussions & Writing, Developing
Vocabulary, and Increasing
Stamina as well as Perseverance
• "Release, Catch & Release"
Recent Research Articles
• "Closing in on Close Reading," Boyles
• "Text Complexity & Close Reading,"
Fisher & Frey
• "Text-Dependent Questions," Fisher &
Frey
• "The Challenge of Challenging Text,"
Shanahan, Fisher & Frey
"Release, Catch, Release"
Release: Have students read independently or
read aloud & have students follow the text—1st
for a general overview. Ask literal questions, 5
Ws, "get the gist," non-threatening, making the
text accessible for ALL!
Catch: Focus on specific words and sentences,
model areas of difficulty, open-ended questions
Release: Re-read for deeper meaning and
reinforcement. Design questions/activities that
cause student to go back to the text to re-read
and discuss with peers, laying groundwork for
writing from sources
Listening vs. Reading Comprehension
T. G. Sticht, 1974, 1984
6
"Modeling as Mop-Up"
• Resist front-loading
• Resist pre-teaching
• Resist summarizing for students
Do:
• Focus on areas where students are
confused and need assistance in
making meaning but only after
they've had the opportunity to tackle
the text!
http://engageny.org/resource/network-team-institute-materials-november-26-29-2012-68-ela-curriculum-and-professional-development-day-one-session-wednesday
http://engageny.org/resource/network-team-institute-materialsnovember-26-29-2012-grades-6-12-ela-curriculum
Videos
• Close Reading Strategies with
Informational Text:
http://engageny.org/resource/close-reading-strategies-withinformational-text-by-expeditionary-learning
• A Protocol for Citing Evidence from
Informational Text: http://engageny.org/resource/aprotocol-for-citing-evidence-from-informational-text-fromexpeditionary-learning
The Lessons:
Making an Evidence-Based Claim
GRADE
TEXTS
6
Stanford U Commencement Address, Steve Jobs
7
8
Commonwealth Club Address, Cesar Chavez
Ain't I a Woman?, Sojourner Truth
Equal Rights for Women, Shirley Chisholm
Wimbledon Has Sent Me a Message: I'm Only a SecondClass Champion, Venus Williams
9
10
Plato's Apology
11
12
The Souls of Black Folk, W.E.B. DuBois
Nobel Peace Prize Acceptance Speech, Dr. Martin Luther
King, Jr.
A Just and Lasting Peace, Pres. Barack Obama
First Inaugural Address, Pres. Ronald Reagan
APEC Women & the Economy Summit, Sen. Hillary Clinton
Grade 10 Close Reading & Writing
Evidence-Based Claims
Nobel Peace Prize Acceptance Speech
Dr. Martin Luther King, Jr.
http://www.engageny.org/resource/making-evidencebased-claims-ccss-grade-10-lesson
Explore the Lessons
•
•
•
•
•
•
•
Lesson Overview
Lesson Outline
Parts 1 & 2: Activities & Text-Based Qs
Forming an Evidence-Based Claim
Graphic Organizers
EBC Criteria
Writing Rubric
Curriculum Map: Grades 6 - 8
http://www.engageny.org/sites/default/files/resource/attachments
/ela_grades_6-8_draft_curriculum_map_112712.pdf
Best Wishes for Happy
Holidays & a
Wonderful New Year!