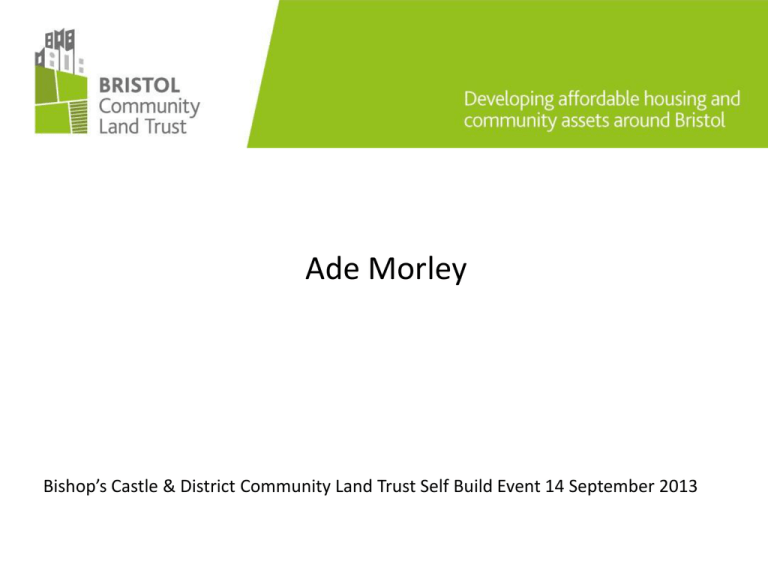 Ade Morley
Bishop's Castle & District Community Land Trust Self Build Event 14 September 2013
Self-build - Introduction
Self-build Options:
Anything from a centrally designed scheme comprising an element of sweat equity
right through to individual plots with some degree of CLT support.
Two Bristol examples of these extremes:
•
•
325 Fishponds Road
Ashley Vale Action Group self-build development
325 Fishponds Road
The first CLT project built in Bristol and comprises of 12 homes:
•
•
•
•
•
0.36 acres which includes a former Victorian primary school.
7 homes available on shared ownership – 6 three bedroom homes & 1 one
bedroom apartment. 66% minimum share in property – 34% held by BCLT with
subsidised rent. Residents increase share value over time – 'staircasing'.
5 one bedroom apartments for affordable rent.
Residents have lived in Bristol for 2 years.
Homes bought through South West Homes
and rented via Home Choice Bristol.
325 Fishponds Road
Self-Finish/ Sweat Equity
•
•
•
Residents commit 8-20 hrs/ wk during 2014.
This achieves an equity value between £6,000 - £15,000.
One Bedroom flats are a conversion project of the old school which hinders self-build.
325 Fishponds Road
Self-Finish/ Sweat Equity Challenges & considerations:
•
•
•
•
•
Training audits and days.
Self-finish standard, liability and risk to user (CDM regulations).
Experienced architects.
Project Management.
Self Build Event – different people want different things and use space
differently.
Ashley Vale Self Build Development
•
•
•
•
•
Local community led campaign
stopped old brown field site (2.1 acres)
being sold to conventional developer.
Local
community
set-up
an
organisation Ashley Vale Action Group
so as to buy site.
Housing was only option as price
£750,000. Self-build suggested from
two local self-builders.
Site bought as whole then sold as 20
individual plots and 6 more for local
housing association.
Individual designs with restriction
materials could only be from BREEAM
category A.
Ashley Vale Self Build Development
•
•
•
•
•
•
Plots sold for around £35K.
Housing Association didn't develop the 6 plots
and tried to sell to a conventional builder as BCC
prevented funding for other housing associations
to buy.
AVAG managed to buy the 6 plots and create 6
shells for self-finish.
Old office block was sold as 6 self-finish
apartments – the shell was developed by AVAG
and buyers.
Bottom of old office block has rentable
community hall and space. Surplus from rent is
used for local community grants.
The site has own estate management company
for communal green space, road & communal
areas.
Ashley Vale Self Build Development
•
•
•
•
•
•
•
Quality of life survey much higher for site than in
local ward & Bristol.
As site developed self-builders helped each
other with knowledge and tools.
Now good connections and community feel.
All houses have a least 1KW PV solar and 50%
houses have recycled paper insulation.
All 6 self-finish shells were fitted with hot water
solar panels at no extra cost to buyer.
House prices have soared and now no affordable
element or rent income.
Ecomotive central to the development of the site
run short training courses in community involved
housing projects.
Thanks & Questions
Further info: Jackson Moulding from Ecomotive spoke on You & Yours BBC Radio
4 last Thursday (13th September) about Ashley Vale. This can be heard on iPlayer
and his interview starts about 6 minutes into the programme.