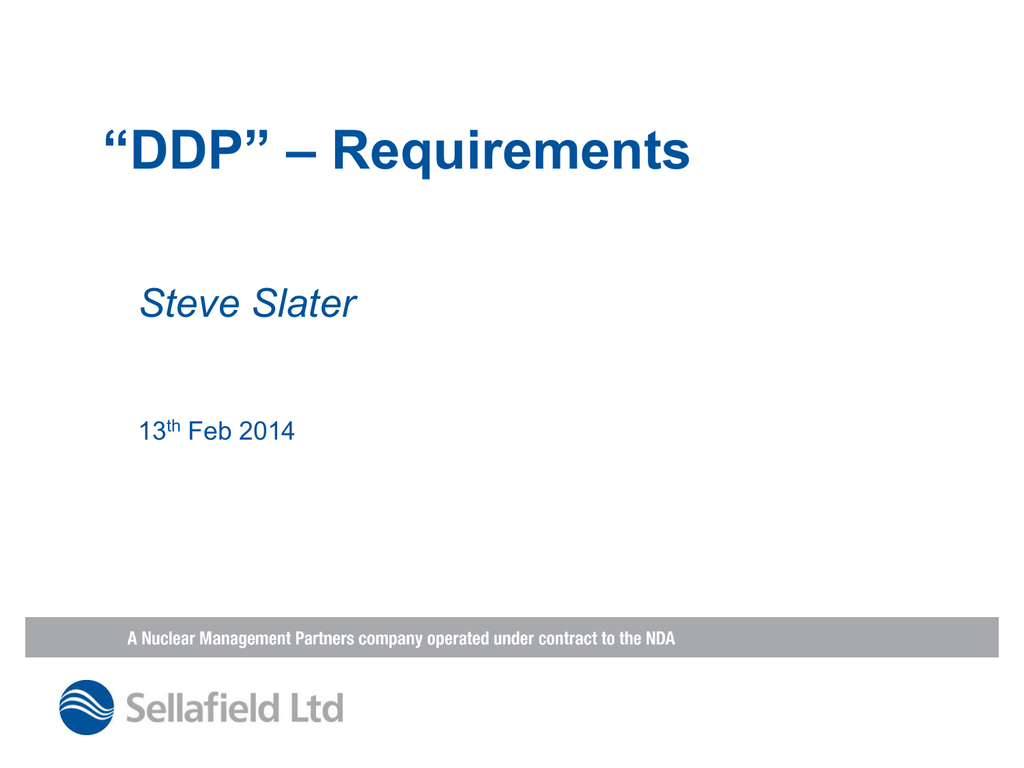 "DDP" – Requirements
Steve Slater
13th Feb 2014
DFA2 Moving to DDP
Characteristics observed in DFA 2
Positives
•
•
•
Strong safety culture
Developing relationships.
Good understanding of SL's requirements.
Negatives
•
•
•
•
Project controls and delivery of simple data to correct quality and on time
– Schedules, EAC and monthly reports
Robust predictable delivery.
Understanding of SL management systems and permissioning arrangements.
Quality control – 'right first time', design and fabrication.
2
Structure
Operating Units
Main Contractors / Consortia (DFA2 model)
Lower Tier Suppliers
1
2
3
4
5
Broad base capability support
3
Structure
Operating Units
Main Contractors / Consortia (DFA2 model)
1
2
3
4
5
5
SL and DFA integrated teams
Fully integrated delivery
4
Characteristics
Operating Units
Main Contractors / Consortia (DFA2 model)
1
2
3
4
5
Main Contractors / Consortia
• Utilising the same approach as the DFA2 model,
larger Tier 2 companies or consortia capable of
providing a full cradle-to-grave service with
suitable sub-contractors
• 4-6 companies to provide wider competition and
capability
• Larger contracts will be placed via this route – this
is the backbone/workhorse for DDP
• Based on a 5+5 to create long-term behaviours
and to allow for re-competing/continuity at
contract end
• Genuinely integrated teams with SL & DDP
contractors – reduce the 'man marking'.
5
Structure
Operating Units
Small Enterprise Suppliers
Characterisation
Temporary Works
Technical
Demolition
Optioneering
Design
Remote handling
Broad base capability support
6
Characteristics
Operating Units
Small Enterprise Suppliers
Characterisation
Remote handling
Design
Optioneering
Demolition
Technical
Temporary Works
Small Enterprise Suppliers
• Aimed at smaller suppliers
• Main purpose is to provide a highly
responsive set of capabilities that enable
SL to have direct access to lower tiers of
supply chain
• Contribute to early small value responsive
requests
• Lower value contracts to be placed directly
based on best athlete (competition
demonstrated at DDP tender level)
• Likely to have a limit on individual contract
awards (£100k) and a cumulative ceiling on
this lot (£2,000k per annum)
7
Structure
Operating Units
Main Contractors / Consortia (DFA2 model)
Small Enterprise Suppliers
Characterisation
Remote handling
Design
5
Optioneering
4
Demolition
3
Technical
2
Temporary Works
1
We will encourage collaborative working
No reason why SME's cannot be part of main consortia
8
Future
• First part of a longer term relationship
• Develop strength in depth:
– Opportunities to 'up-skill' the supply chain via integrated working, a shared risk
approach.
• Develop breadth of supply chain:
– SME and new entrants to SL.
• Studies and active demonstrators to commence in support of broad
• front decommissioning:
• TEXT REMOVED FOR UPLOAD ON TO WEBSITE
• SL is approaching broad front decommissioning
– THORP and Magnox post operational clean out and decommissioning will start
second term of contract.
9
DFA2 Moving to DDP – Characteristics required
•
•
More open access to SL Lifetime Plans through integration of teams
Open trusting relationship
–
–
–
–
•
•
Say what you are going to do
Say what you are not going to do
Delivery what you said you would
Don't delivery what you do not need to do
Quality product delivered to schedule and cost.
Commercially neutral
– Not compensation event aggressive nor passive - open
10
Disclaimer
Important Information
• This communication and its contents have been provided to you for
informational purposes only. This communication is not advice on or a
recommendation of any kind with respect to the matters described herein,
including without limitation, contracting structures, contracting instruments,
contracting strategies, related legal and commercial issues or any
combination of such matters. This communication does not offer advice.
• No information contained herein constitutes an offer or solicitation by or on
behalf of Sellafield Ltd to enter into any contractual arrangement. Sellafield
Ltd. makes no representations or warranties, express or implied, regarding
the accuracy, adequacy, reasonableness or completeness of the
information, assumptions or analysis contained herein or in any
supplemental materials, and Sellafield Ltd. accepts no responsibility or
liability in connection therewith. Opinions expressed in this presentation are
subject to change without notice.