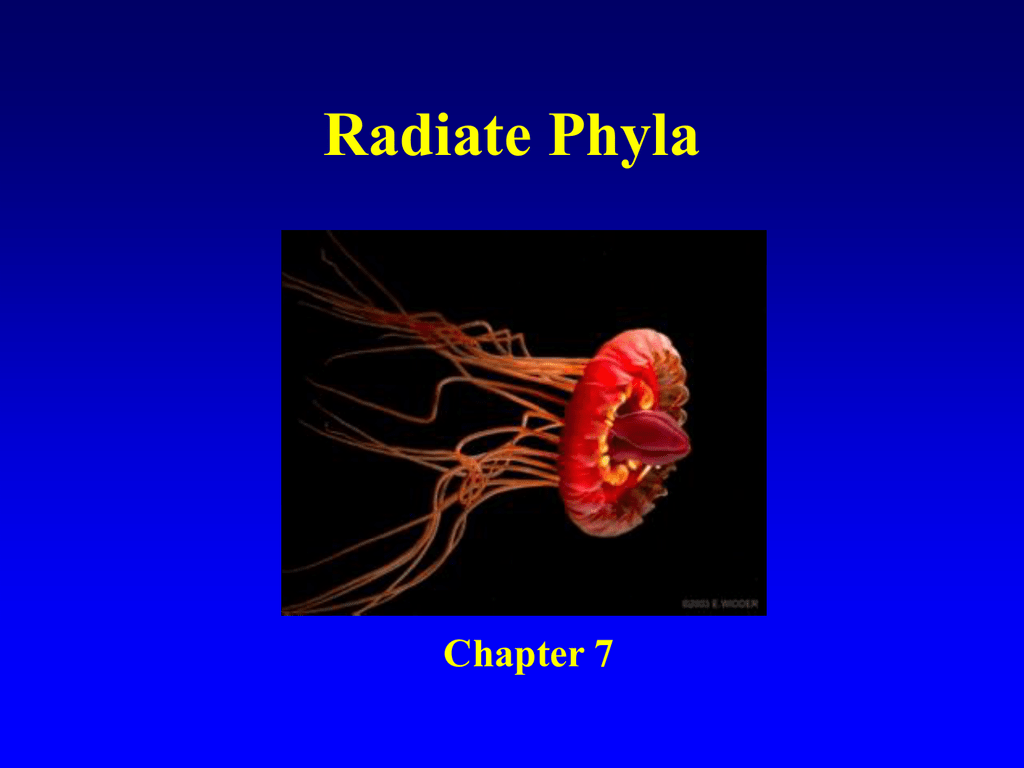 Radiate Phyla
Chapter 7
Chordata
Arthropoda
Annelida
Mollusca
Protostomes
†
Triploblasts
* Diploblasts
Hemichordata
Echinodermata
Deuterostomes
Coelomates
Pseudocoelomates
Acoelomates
Bilateria†
Radiata*
Eumetazoa
Mesozoa
Metazoa
Protozoa
Monera (Bacteria)
Cnidaria
Ctenophora
Parazoa
The Basics
• Radial symmetry
• Diploblastic
• Dimorphic life cycle
– Polyps
– medusae
• Gastrovascular cavity
– Blind sac
Radial Symmetry
CNIDARIA: HYDROZOA HYDRA SP. BUDDING
FROM LINCOLN NEBRASKA: POLYP FORM
HYDRA SP. TOP VIEW
MEDITERANIAN JELLYFISH: MEDUSA FORM
Cassiopea frondosa
Tissue Layers
Diploblastic = 2 germ layers
• endoderm  gastrodermis
• ectoderm  epidermis
mesoglea
• gelatinous matrix between the 2 layers
epidermis
gastrovascular
cavity
mesoglea
gastrodermis
General Body Plan
• sac-like body (only 1 opening)
• Food and waste go in/out the same opening
 no anus!
• water within GVC acts as a hydrostatic skeleton
oral surface
gastrodermis
mesoglea
epidermis
aboral surface
mouth
Gastrovascular
cavity
Dimorphic life cycle
Tentacle
Gastrovascular
cavity
Tentacle
Polyp
Medusa
Radiate Phyla
p. Cnidaria
c. Hydrozoa
c. Scypozoa
c. Cubozoa
c. Anthozoa
p. Ctenophora
HYDRA SP. FEEDING
A
B
C
D
Nematocysts
• specialized stinging organelles
• found within cnidocytes (cells)
• cnidocytes are located in epidermis
A cnidocyte
with a
nematocyst
within it
Nematocysts
• nematocysts are like "mini-harpoons"
• cnidocil senses movement & acts like a "trigger"
• can inject poison, coil around prey, or be adhesive
• functions:
- prey capture; defense
nematocyst
cnidocil
cnidocyte
Undischarged
Discharged
HYDRA SP. UNDISCHARGED STENOTELE NEMATOCYSTS
DS
DS
HYDRA SP. UNDISCHARGED AND DISCHARGED
STENOTELE NEMATOCYSTS
A
S
HYDRA SP. UNDISCHARGED STENOTELE AND ATRICHOUS
ISORHIZA NEMATOCYSTS
A
S
HYDRA SP. DISCHARGED STENOTELE AND ATRICHOUS
ISORHIZA NEMATOCYSTS
Biology
Feeding
– nematocysts within cnidocytes
– tentacles
Digestion
– extracellular (in GVC)
– intracellular (by gastrodermal cells)
– incomplete system (no anus)
Gas exchange & Excretion
– these systems are absent
Structure
Nervous System
– nerve net
(no central nervous system= no brain)
– sense organs
– statocysts (equilibrium organs)
– ocelli (photosensitive organs)
Skeletal System
– Mesoglea, water in GVC acts as a hydrostatic
skeleton, and some external skeletal system.
Reproduction
Reproduction
Asexual
– budding
– longitudinal fission
Reproduction
Reproduction
Sexual
– usually dioecious
(separate sexes e.g. humans)
– monoecious
(both male + female gonads in 1 individual)
– results in Planula larva
General Life Cycle
Phylum Cnidaria
Class Hydrozoa: Freshwater (Hydra)
and marine (Fire Corals).
Class Scyphozoa: Jellyfish, all marine.
Class Anthozoa: Corals and
Anemones, all marine.
Class Cubozoa: Box jellyfish and sea
wasps, all marine.
Class Hydrozoa
• medusa & polyp body forms
• mostly marine but some fresh water
Fire coral
Millepora
Class Hydrozoa
• medusa & polyp body forms
(medusa with velum)
• most are colonial
 colonies are formed of individual
zooids
a single zooid
Class Hydrozoa
• many of these colonies show polymorphism
 this is where there are several different types of
polyps/zooid and each type is specialized for a different
function
e.g. gastrozooids = feeding polyps
e.g. dactylzooids = defense polyps
 all the zooids within a colony are genetically identical
 these different zooids work together in the colony
Class Hydrozoa Obelia
- a sessile colony showing polymorphism
gonozooid
entire
colony
gastrozooid
Class Hydrozoa
- a Portugese Man-o-war (Physalia) is a floating
hydrozoan colony showing polymorphism
Float
entire
colony
gastrozooid
dactylzooid
Fire coral Millepora
Fire coral Millepora victim!
Class Hydrozoa- life cycle Obelia
sexual
reproduction
asexual
reproduction
Class Hydrozoa
• Hydra is an example of a solitary, freshwater hydrozoan
sexual
reproduction
gonads
asexual
No
Medusa
Stage
reproduction
bud
Class Hydrozoa
• Hydra is an example of a solitary, freshwater hydrozoan
asexual
reproduction
bud
Oklahoma Hydrozoans
Chlorohydra viridissima: The Green Hydra
The green color arises from Chlorella-like unicellular
algae each occupying a vacuole in the endodermal cells.
Hydra vulgaris The common Hydra
Craspedacusta sowerbii
Velum
Lives predominantly as a polyp in small lakes,
ponds, and old water filled quarries the
medusa stage occurs during July-October.
Polypodium hydriforme
The most bizarre of the freshwater cnidarians and
one of the most unusual species of ALL
Cnidarians!!
Polypodium spends almost all of its
pre-adult life as a parasite of
Acipenseriform fishes.
LIFE CYCLE
Class Scyphozoa
• "true" jellyfish
• medusa & polyp body forms
• thick mesoglea
Class Scyphozoa- life cycle
sperm
ephyra
strobila
egg
Adult medusa
Scyphistoma Polyp
Larva Planula
(Ciliated)
Jellyfish Diversity
Primitive jellyfish: Stauromedusae
Jellyfish Diversity
Primitive jellyfish: Stauromedusae;
small sessile individuals that develop
directly from benthic planula larvae.
Can change locations, but normally
attached with stalk and adhesive pad to
solid objects like kelp and rocks.
Rhizostomae jellyfish: lack a central mouth,
instead they have many suctorial "mouths"
Rhizostomae jellyfish: lack a central mouth,
instead they have many suctorial "mouths"
Cassiopea: a small tropical jellyfish is unusual among jellyfish.
It lies on the bottom in shallow waters, with its mouth at tentacles
oriented upwards. Its mouth is much reduced, and is not much used.
Instead, the jellyfish gets most of the nutrition it needs from
symbiotic dinoflagellates which live inside its body tissues.
Rhizostoma octopus
Semaeostomae the typical jellyfish: corner of mouth
drawn out into four broad gelatinous frilly lobes.
Aurelia sp.
Semaeostomae the typical jellyfish
Cyanea capillata the
Giant Jellyfish or Lion's
Mane Jellyfish
Can be over 1 meter
across and its trailing
tentacles can reach
more than 10 meters in
length.