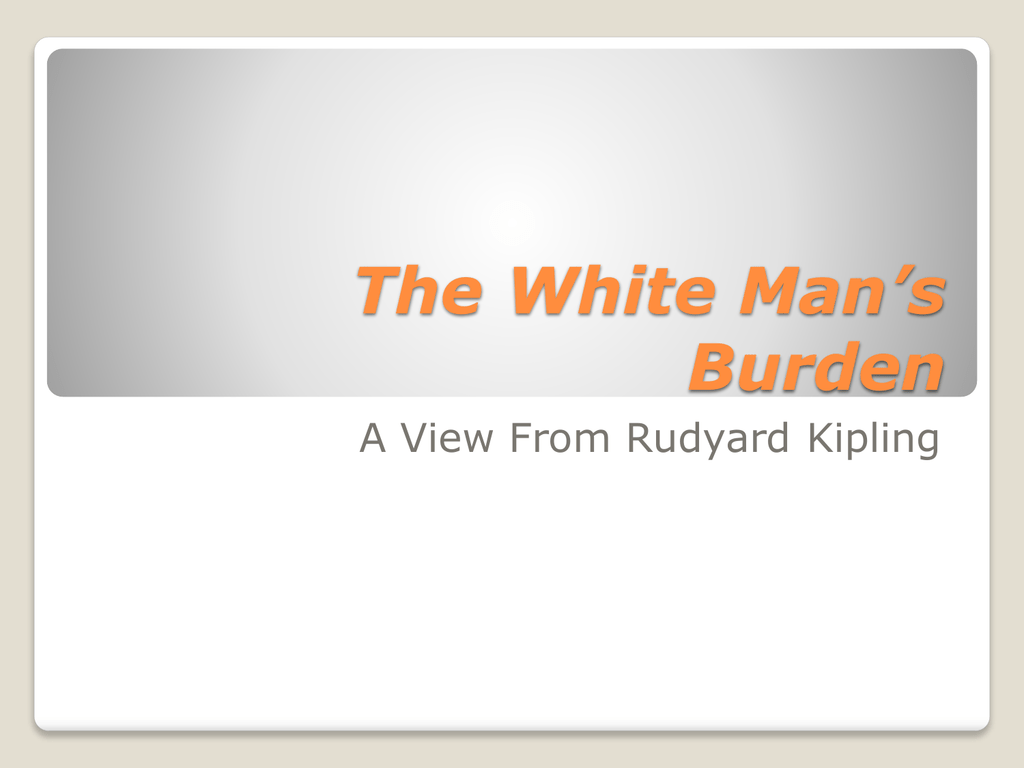 The White Man's
Burden
A View From Rudyard Kipling

English writer

Born in British India

Often wrote of
support of
imperialism

Died in 1936
Rudyard Kipling

Written in 1899

Written about the American colonization
of the Philippines

Can be seen from various points of view

What is the Burden?
The White Man's Burden, 1899

Veil- to become

Folly- stupid mistake w/ serious results

Tawdry- cheaply and badly made

Serf- worker of land they did not own

Cloke- deliberately hide facts
Words to Know
1. According to Kipling, and in your own
words, what was the "White Man's
Burden"?
 2. What reward did Kipling suggest the
"White Man" gets for carrying his
"burden"?
 3. Who did Kipling think would read his
poem? What do you think that this
audience might have said in response to
it?

Questions to Answer

White man's burden is to "civilize" the
Africans & Asians

It is Western society's duty, but is a pain
to them—Rich duty to help poor

Colonized people are ungrateful for the
help and viewed as children

Some think that Kipling was being
sarcastic
Interpretations of Poem
The Black Man's
Burden, 1899
A View From H.T. Johnson

African-American
clergyman

Wrote in response
to Kipling
H.T. Johnson

Heed- to pay attention to advice/warning

Feeble- Extremely weak

Brook- not allow or accept
Words to Know

For what audience do you think H.T.
Johnson wrote his poem?

How do you think that audience might
have responded to "The Black Man's
Burden"?
Questions to Answer

White man's rule is violent and
suppressive

Europeans and Americans have no
burden, the real burden is on the
colonized

Other races did not ask for the white
man's help or their treatment
Interpretation
Which Viewpoint Tells a
More Accurate History?