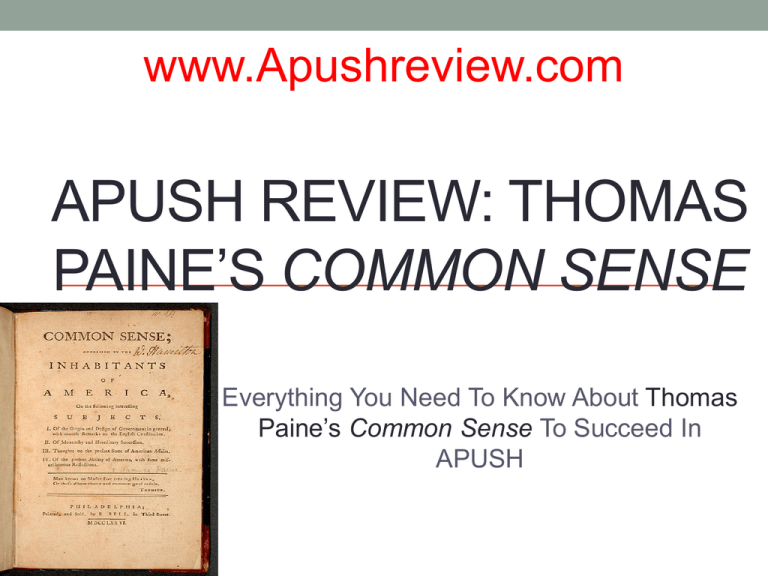 www.Apushreview.com
APUSH REVIEW: THOMAS
PAINE'S COMMON SENSE
Everything You Need To Know About Thomas
Paine's Common Sense To Succeed In
APUSH
The New Curriculum And Common Sense
• Key Concept 3.2, I, B: "The colonists' belief in the
superiority of republican self-government based on the
natural rights of the people found its clearest American
expression in Thomas Paine's Common Sense and in the
Declaration of Independence."
• Page 34 of the Curriculum framework
• Common Sense played an intricate role in influencing the
colonists' decision to declare independence
• Since it is mentioned specifically, you should be very familiar with it
Events Prior to Common Sense (January
1776)
• 1775:
• April – Battles of Lexington and Concord
• July – Olive Branch Petition – colonists hoped to have peace
and grievances addressed, rejected by KG3
• Throughout 1775 and the early part of 1776, most
colonists did NOT want independence
• Rather, they were seeking a redress of grievances and to go
back to the days of salutary neglect
Enter T-Paine
• Who was he?
• Philosopher from England that moved to America in 1774
• Ideas reflected the Enlightenment
• Why did he publish Common Sense?
• He urged America to break away from Britain and KG3
The Message and Impact
•
You get a
Sense!
You4getsections
a
The book was divided Common
into
You get a
Common
Sense!
You get
a
1. Origins of government andCommon
remarks
on
Constitution
YouSense!
get English
a
Common
YouSense!
get a
Common Sense!
2. Monarchy and Hereditary Succession
Common Sense!
3.
4.
Present state of American affairs
Present ability of America
• It was written to appeal to common people
• Proportionally to the population at the time, it is
the best-selling book in American history
• As many as 500,000 copies to a population of 2.5 million
Test Tips
• Multiple-Choice Short Answer Questions:
• Perhaps an excerpt from the reading: what was the purpose
• Cause of the Revolution
• Essay Questions:
• Part of the influences (causes) of the American Revolution
Thanks for watching!
Subscribe to my channel
Help spread the word
• Questions? Comments?
• Leave in comments
You get to
subscribe!