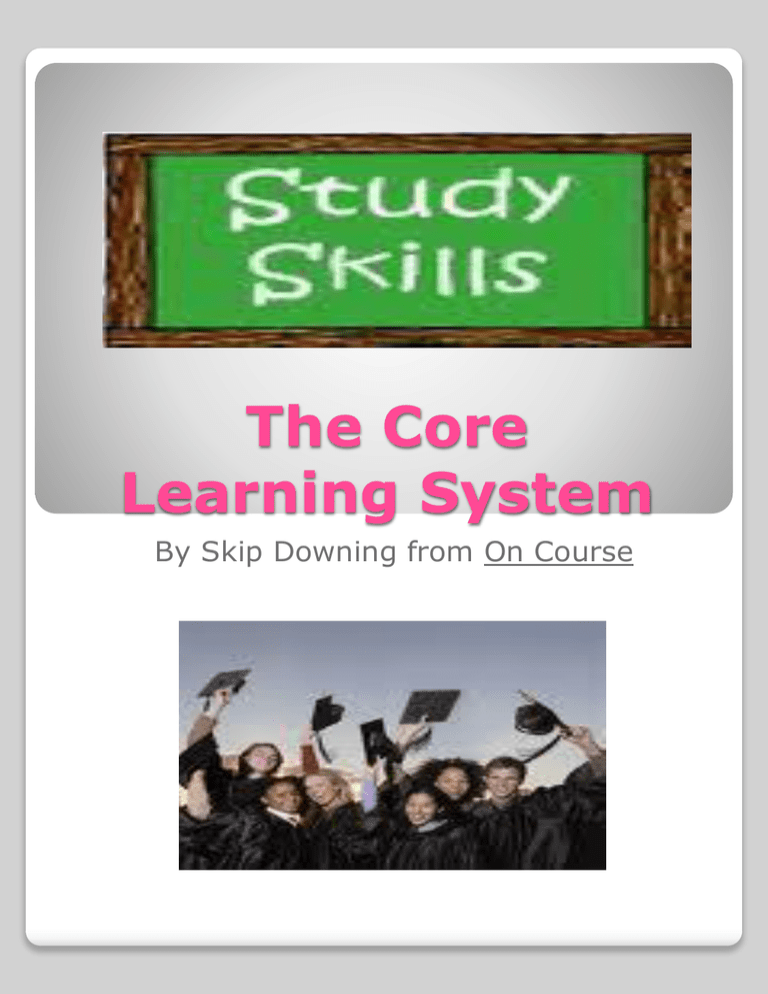 The Core
Learning System
By Skip Downing from On Course
C = COLLECT
O = ORGANIZE
R = REHEARSE
E = EVALUATE
COLLECT
•Read
•Take
Notes
ORGANIZE
•Condense
Notes
and Create Study-aids
REHEARSE
•Memorize
Notes
EVALUATE
•Take
Tests and
Analyze Errors
Information to
be Learned
Sensory Input
and Register
Must be Present
To Collect
Information
Short-term
Memory
Working
Memory
Must be Rehearsed,
and Reviewed and
Connected to
Current Memory
Long-term
Memory
Abstract
Reasoning
Must be
Reviewed Enough
and Understood
Completely
Memory
Output
Must be
Mastered in
Order to be
Recalled
COLLECT
•Read
•Take
Notes
READING
•Purpose?
-Familiarity?
-Testing?
READING
•For
Familiarity
- Survey
- Skim
READING
•For
Testing
-Outline
-Question
NOTE-TAKING
•Listen
-For Patterns
-For Cues
NOTE-TAKING
•Methods
-Column
-Cornell
-Concept Map
-Outline
NOTE-TAKING
•Short-cuts
-Ex.
-@
-con't.
-&
-#
-w/
-w/o
-nec.
NOTE-TAKING
•Polish
and Compare
(w/in 24 hrs.)
-Complete thoughts
-Fill in gaps
-Correct notes
HANDOUT
•What
are your
favorite or current
reading and notetaking methods
ORGANIZE
•Condense
•Create
Notes
Study-aids
CREATE STUDY
AIDS
•Cheat Sheets
•Flash Cards
•Concept Maps
•Test Questions
•Recordings
HANDOUT
•What
are your favorite
or current ways of
condensing
your notes or creating
study-aids?
REHEARSE
•Memorize
Notes
MEMORIZATION
•Rewrite (data dump)
•Recite
•Test Yourself
•Test Each Other
•Teach Another
•Study Breaks
MEMORIZATION
•Letter Cues
•Acronyms
•Acrostics
•Association
•Loci Technique
HANDOUT
•What
are your favorite
or current ways of
memorizing or
rehearsing information
for a test?
EVALUATE
•Take
Tests
•Analyze
Test Errors
CONTROL
TEST ANXIETY
•Relax
•Breathe
•Visualize
•Think
Positive
http://www.youtube.com/w
atch?v=HD_IxmMIPhE
MAINTAIN A TESTTAKING SYSTEM
•Data
Dump
•Preview
•Data Dump
•Schedule
•Easiest First
•Difficult Second
•Toughest Third
•Guess Last
•Proofread
ANALYZE TESTTAKING ERRORS
•Misread Directions
•Careless Errors
•Concept Errors
•Application Errors
•Changed Answers
•Mismanaged Time
•Miscopied Scratch Work
•Blank Answers
HANDOUT
•What
are your
favorite or current
ways of taking
tests successfully?