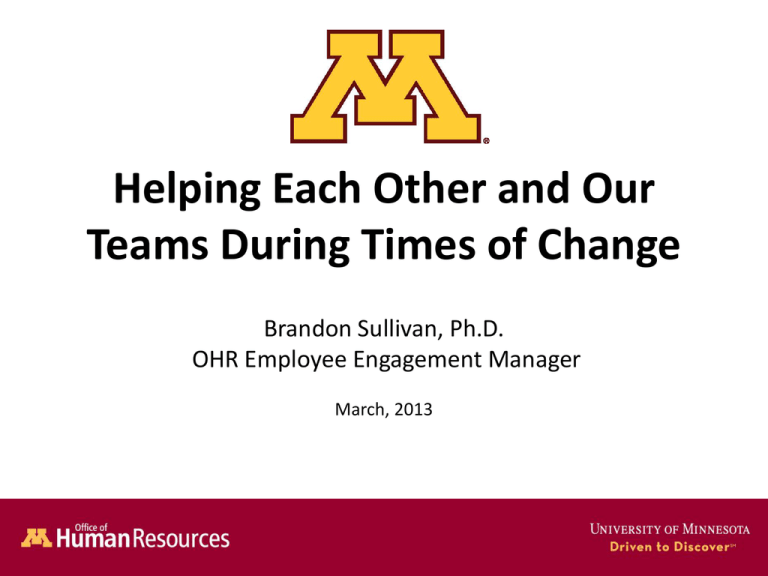 Helping Each Other and Our
Teams During Times of Change
Brandon Sullivan, Ph.D.
OHR Employee Engagement Manager
March, 2013
Agenda
•
Stressors in today's workplace
•
How the workplace is changing
•
Burnout
•
Engagement
•
What you can do to increase engagement
Faster pace of
organizational
change
Decreased fit
between you and
your job
Conflicting
expectations and
goals
Decreased
autonomy, voice,
input into key
decisions
Top Workplace
Stressors
Unclear
expectations and
goals
Lower support
from coworkers,
supervisors, and
others
Greater demands
on your time,
energy, and
emotional reserves
The Old Workplace
Mutual Loyalty
Common
Identity
Trust &
Stability
•Individuals feel a strong obligation and loyalty to
the organization
•Employers feel a strong obligation and loyalty to
employees
•Individuals identify with the organization
•Allegiance is to the organization and its members
•Broad trust in institutions and leaders
•Employer provides stable career path
•Change treated as an infrequent and discreet
event
The New Workplace
Transactional
Relationship
•Individuals stay with an organization until they get
a better deal elsewhere
•Employers retain an employee as long as it makes
financial sense
Change is
Constant
•New jobs emerge that didn't exist before
•Current jobs change or become obsolete
•Organizational structures always adapting to new
challenges
Less Trust, More
Accountability
•Less trust in institutions and leaders
•Greater transparency and accountability for results
and use of resources
So What?
•
Weaker identification with the organization as a whole
•
Stronger identification with occupation, discipline,
personal network
•
Employee responsible for own career (and more
empowered)
•
More focus on what you, your immediate team, and your
network can do
Activity
Discuss with a partner 1-2 ways your current work and
workplace are changing
How are these changes affecting your stress level?
How Do Individuals React?
When work demands consistently exceed the
available coping resources, a process called
burnout begins…
It Starts with
Exhaustion
Feelings of being over-extended,
depleted of emotional and physical
resources, feeling "drained"
Next: Depersonalization, Cynicism & Detachment
• Human services occupations:
depersonalization – ceasing
to see one's students, clients,
patients, or customers as
individual human beings
• Non human-services
occupations: cynicism and
detachment
• Under the circumstances, this
can be adaptive
Finally: Reduced Efficacy
• Reduced feelings
of effectiveness
and personal
accomplishment
• Can result in less
effort and poorer
performance
Burnout
… if not addressed, burnout can lead to
increased turnover and absenteeism, greater
risk for physical and psychological illness,
spillover of stress to personal relationships
The Way Forward
Create the opposite of burnout
Employee Engagement!
Key Drivers
Engagement
• Campuses, colleges,
units & departments
build trust and create a
sense of collective
purpose
• Consistently effective
leaders and managers
Key Outcomes
• Individuals are
enthusiastic,
passionate, and
committed to
their work and
the University
• Challenging work that
provides a feeling of
mastery
Has to be a two-way street:
• Great work environment
and effective culture
• Discretionary effort
(going above-andbeyond)
• Performance and
innovation
• Recruitment and
retention of top talent
Individual
time, energy,
enthusiasm
Organization
Taking Ownership
Key Drivers
• Campuses, colleges,
units & departments
build trust and create a
sense of collective
purpose
• Consistently effective
leaders and managers
• Challenging work that
provides a feeling of
mastery
What can we do?
 Build and communicate a shared vision
 Set challenging goals that contribute to the vision
 Provide clear roles and expectations
 Ensure the free flow of timely, high-quality information
 Remove barriers to success with a sense of urgency
 Take every opportunity to recognize and reward good work
 Listen actively and seek to understand others' viewpoints
 Demonstrate concern and support for others' wellbeing
 Actively help others make progress toward career goals
Decades of research show these factors to be foundational for building highly
engaged, high performance teams
Activity
With a partner, discuss which drivers of engagement
are current pain points for your team or unit
Brainstorm some practical ideas your partner might
try to address these pain points
Questions?