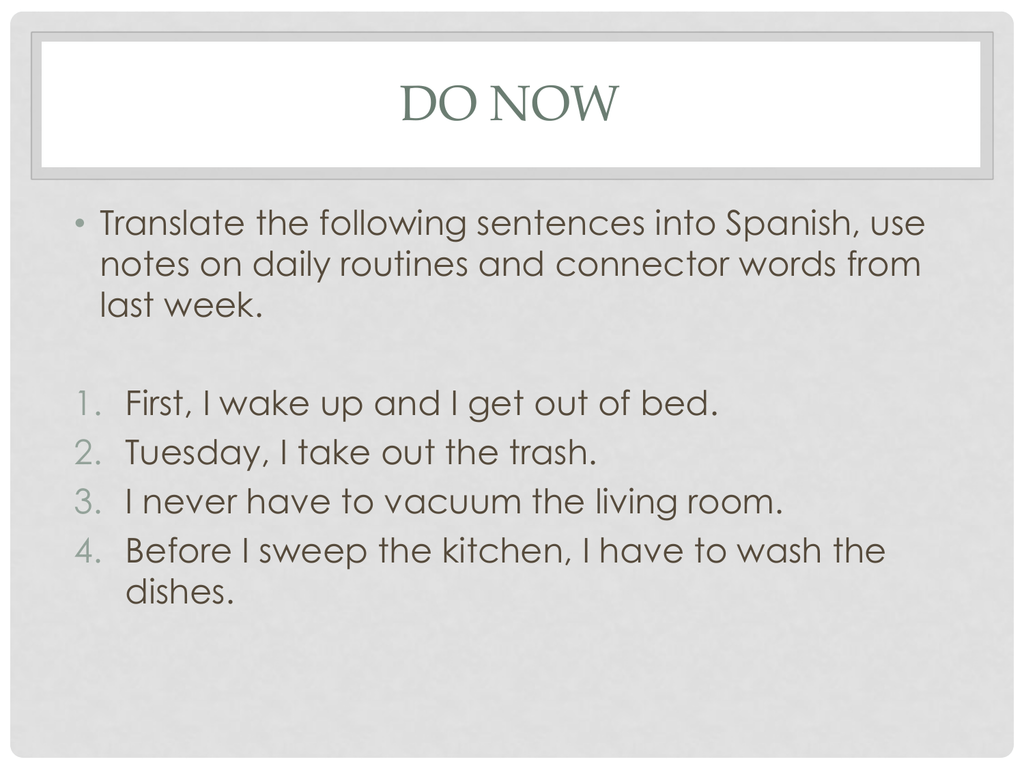 DO NOW
• Translate the following sentences into Spanish, use
notes on daily routines and connector words from
last week.
1.
2.
3.
4.
First, I wake up and I get out of bed.
Tuesday, I take out the trash.
I never have to vacuum the living room.
Before I sweep the kitchen, I have to wash the
dishes.
LAS NOTICIAS
•
•
•
•
•
Hoy = Tacky Day
Mañana: Dia de gemelos
Miercoles: dia de los 70s
Jueves: Dia de tu equipo favorito
Viernes: REHS Spirit Day
• Hay un partido de futbol a las 5pm en el estadio de
Raleigh Egypt
• Viernes es el homecoming para el equipo de futbol
americano
¡NO TE OLVIDES!
Classroom Phrases
• I need paper = Necesito papel.
• I have a question = Tengo una pregunta
• May I got to the restroom? = ¿Puedo ir al baño?
• I don't understand = No entiendo.
• I need help, please. = Necesito ayuda, por favor.
NUESTRO OBJETIVO
• En Español
• Yo puedo identificar los utiles que necesito
usar para mis rutinas.
• In English:
• I can identify different materials I use in my
everyday routines. (i.e. toothbrush, comb,
towel)
LOS UTILES PARA LAS
RUTINAS
29 DE SEPTIEMBRE 2014
CUANDO ME CEPILLO LOS DIENTES
NECESITO
La pasta de dientes
El cepillo de dientes
CUANDO ME DUCHO NECESITO
El jabon
La esponja de baño
TAMBIEN, CUANDO ME DUCHO
NECESITO
El champu
Una toalla
CUANDO ME AFEITO NECESITO
La crema de afeita
Una razuradora
CUANDO ME PEINO EL PELO NECESITO
Una penilla
EJEMPLOS DE FRASES
1.Primero, me cepillo los dientes con la pasta
de dientes y el cepillo de los dientes.
2.A las seis y cuarto, me ducho. Cuando me
ducho necesito el jabon y una toalla. No uso
champu cada dia.
3.Después de me ducho, me peino el pelo con
una peinilla.
4.Antes de salir me pongo la ropa en mi
dormitorio.
5.Me voy para escuela a las siete en el coche
de mi madre.
INDEPENDENT PRACTICE
• Match the daily vocab chunks to the appropriate
tools. Write out all vocab chunks and words and
match, not just the letters and numbers!
1.
2.
3.
4.
5.
6.
Me cepillo los dientes
Me peino el pelo
Me ducho
Me afeito
Me seco el cuerpo
Me lavo la cara
A.
B.
C.
D.
E.
F.
G.
H.
I.
J.
El champu
El cepillo de dientes
El jabon
Una razuradora
La toalla
La pasta de dientes
La peinilla
La toalla
La crema de afteite
La esponja de baño
QUICK REVIEW FOR
TICKETS!!!
RAISE YOUR HAND SILENTLY TO POSSIBLY BE CALLED ON
TO A NSWER A ND RECEIVE A TICKET
RAPIDA REVIEW - ¿QUE ES?
RAPIDA REVIEW - ¿QUE ES?
RAPIDA REVIEW - ¿QUE ES?
RAPIDA REVIEW - ¿QUE ES?
RAPIDA REVIEW - ¿QUE ES?
RAPIDA REVIEW - ¿QUE ES?
RAPIDA REVIEW - ¿QUE ES?
RAPIDA REVIEW - ¿QUE ES?
RAPIDA REVIEW - ¿QUE ES?
EXIT TICKET
• Write 3-4 sentences about what tools/supplies you
need for 3-4 different things you do in the morning.
• Con = with
• Necesito = I need
• Ejemplo: En la mañana me lavo la cara con el
jabon, la agua y una toalla.