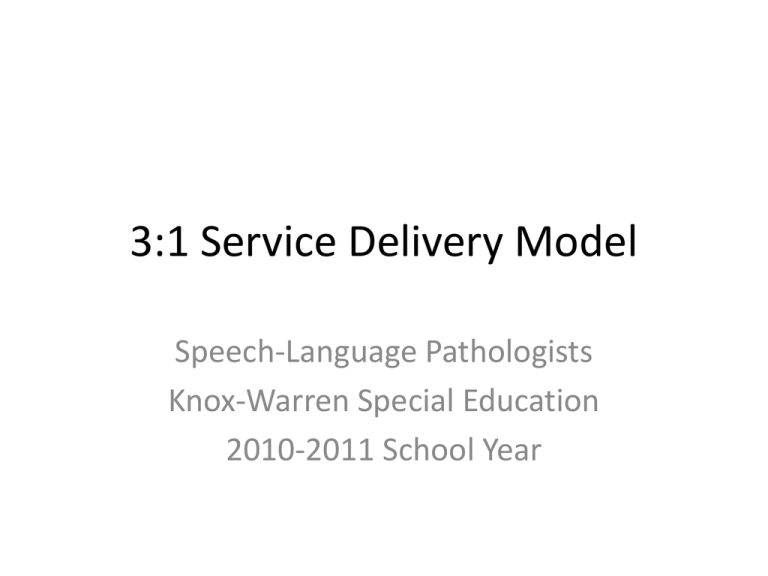 3:1 Service Delivery Model
Speech-Language Pathologists
Knox-Warren Special Education
2010-2011 School Year
What is the 3:1 Service Delivery
Model?
• The model follows a calendar in which speech pathologists provide
traditional, direct service to students for 3 consecutive weeks,
followed by a week of consultative services.
• The consultative week is an opportunity for the SLPs to consult with
teachers, parents, other specialists, in addition to other workload
related tasks.
• The primary goal is to help align speech and language services with
the student's curriculum and general education teacher's classroom
objectives so that generalization of skills occur. In other words
therapy objectives are better aligned with classroom curriculum.
Why Change?
• This model is the kind of new approach that ASHA
(American Speech and Hearing Association) has been
officially advocating since the 2002 adoption of its
policy on "Workload Analysis Approach for Establishing
Speech-Language Caseload Standards in the Schools".
(See attached Workload Activity Clusters)
• This service delivery approach also meets the demands
of the reauthorized Individuals with Disabilities
Education Act, (IDEA Amendments, 1997) to focus on
functional IEP goals to support the student's progress
in the general curriculum.
Why Change cont.
• Quality consultation with teachers could not be
done under the previous model of managing all
aspects of workload, without specific support
time.
• It improves the quality of service without
increasing costs.
• It will provide the structure to formally discuss
student needs, progress and strategies with
teachers, parents and other related staff.
Service Delivery Options
Direct Services
•
•
•
•
•
•
Screening students
Continued direct speech/language service
Student evaluations
Co-teaching in classroom
Direct instruction in classroom (push in)
RtI interventions
Service Delivery Options
Indirect Services to Support LRE
• Consultation with teachers, paraprofessionals,
parents, other related service staff
• Design pre-referral intervention activities
• Design adaptations, modifications to curriculum
• Observation of students in classroom setting
• Develop materials for use in classroom setting
Service Delivery Options
• Indirect Services to Support IEP
•
•
•
•
•
•
Align IEP goals with general ed curriculum
Develop materials for student use
Programming augmentative devices
Student observation in classroom setting
Staff development training
Analyze and engineer environment to increase
opportunities for communication
Service Delivery Options
Compliance and Must-Do's
• Participate in special ed meetings (IEPs)
• Participate in general ed meetings (RtI)
• Paperwork completion (IEP, RtI, data collection,
daily logs)
• 3rd party billing documentation/paperwork
• Funding report for Assistive Tech/Augmentative
devices
Information Sharing
• Informing Administrators/Staff: (Attached
letter to administrators)
• Informing Parents: (Attached letter to
parents)
• Calendar of Service: (Proposed Calendar of
Service Attached)
Data Collection
Consultation Week Data collected on services provided:
• Direct therapy
• Direct therapy in general ed
• Parent contacts
• Teacher consultation
• Consultation with other specialists
• Material development
• Make up sessions
• Completed paper work
• Medicaid billing
• Participated in IEP meetings
• Participated in RTI meetings
• Participated in small group workshop/instruction
References
• American Speech-Language-Hearing Association, (2000) Guidelines
for the Roles and Responsibilities of School-Based Speech-Language
Pathologists. Rockville, MD: Author
• Annett, M. (2003, April-June) Beyond School Caseloads; Looking at
Total Workload. The ASHA Leader, pp. 1, 17-18
• Annett, M. (2004, March 2) Service Delivery Success: SLPs in Oregon
Schools Tackle Workload, Enhance Recruitment. The ASHA Leader,
pp. 1, 12-13.
• Cirrin, F.M. Advocating for Workload Strategies: The Minnesota
Story. The ASHA Leader, pp. 1, 18-20.
• Throneburg, Calvert, Sturm, Paramboukas and Paul, A Comparison
of Service Delivery Models: Effects on Curricular Vocabulary Skills
in the School Setting, American Journal of Speech Language
Pathology, - 2/2009, Vol 9, 10-20.