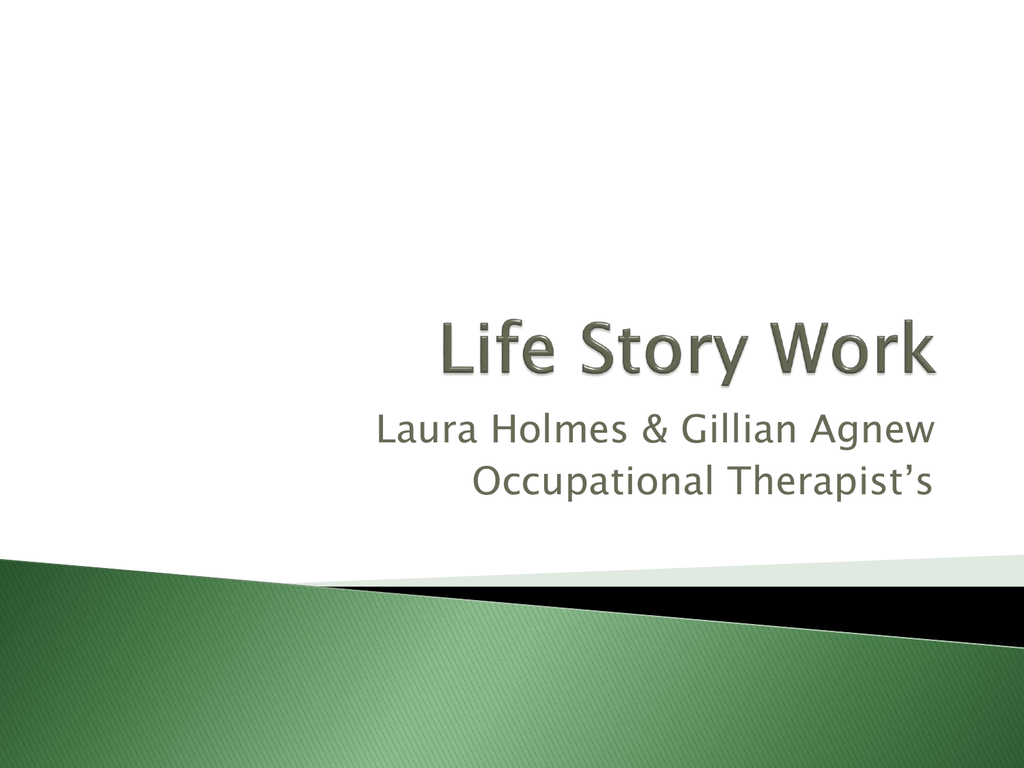 Laura Holmes & Gillian Agnew
Occupational Therapist's


Life Story Work is a record of the life of an
individual including their past, present and
future
It can be recorded in various formats such as
written log, photographs, scrap booking,
memory box, collage, digital/computerised




Everyone can use it in their professional or
personal lives
Within health & social care it is used within
community, hospital and care home settings
It is primarily used for people who have memory
problems or a dementia
The individual, their family/friends and staff
work together to create a record of Life Story
which best suits the individual
(McKeown, Clarke & Repper, 2006)
Person:–
Opportunity to share their story, interests and reminisce
Working to patient strengths
Informing present and future care - being involved
Building relationships with care staff

Family/Friends/Carers:Feeling involved in persons care
Opportunity to share memories, thoughts and opinions
Building relationships with care staff

Staff:Better understanding of the person
Building relationships with person and their family etc
Promoting person centred care
Improving assessment and communication

(Clark, Hanson & Ross, 2003).
Activity - Timeline
 Take 10/15 minutes and using the paper and pens
provided make your own life story timeline


Place a line from one side of the page to the other
then starting from your year of birth, place
words/drawings along the line relating to
significant life events until present day
Pick the year/age that makes you smile to share
with the group





www.nhsaaa.net/activelyengaged
www.alzhiemers.org.uk
www.lifestorynetwork.org.uk
www.dementiauk.org/
www.elderlyactivities.co.uk
References

Clark, Hanson & Ross, 2003. Seeing the person behind the
patient: enhancing the care of older people using a
biographical approach. Journal of Clinical Nursing 2003; 12:
697–706

McKeown, Clarke & Repper, 2006. Life story work in health
and social care: systematic literature review. Journal of
Advanced Nursing Volume 55 2: 237–247.