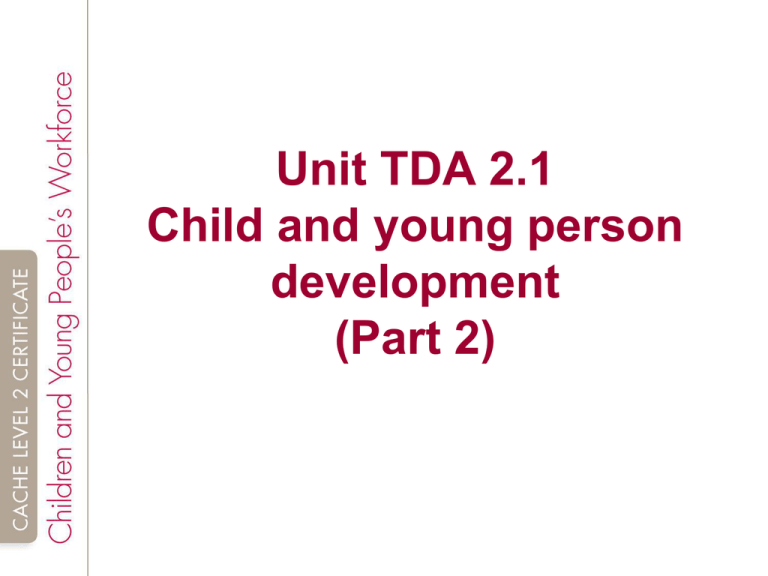 Unit TDA 2.1
Child and young person
development
(Part 2)
TDA 2.1 – Learning outcomes 2 &3
What can have an effect on children and
young people's development?
Learning Outcomes
• All will be able to identify factors that
influence health and development
• Most will know how different factors can
affect an individual's development
• Some will be able to know how health
related factors can influence their own
development
Connector
• With the person beside you, think about
what influences the development of
children and young people?
• Come up with as many ideas as possible
Influences on the development of
children and young people
2.1
Environmental
factors
Diet
Opportunities
for play
Housing
Poverty and social
disadvantage
Parental health and
lifestyle
Emotional
and social factors
Accidents
Infection
Diet
Obesity
What effects
might this have?
Possible
conditions
that may occur
due to a poor
diet
Dental caries /
tooth decay
Which foods and
drinks can cause
this?
Failure to thrive
More likely to
get colds and
bronchitis
What is this?
Anaemia (Nutritional)
Due to lack of iron, folic acid
and B12 vitamin
Which foods are good for
supplying these nutrients?
Infections
Diphtheria
Tetanus
Polio
Whooping Cough
Measles
Meningitis
Mumps
Rubella
Activity 1
Do some research on these
(2 infections per group) that
can have an effect on a
child/young person's heath
and development.
Feedback to class
Extension: Find out about
any other infections
Poverty and social disadvantage (1)
Poverty is the greatest threat to the healthy
development of children and young people in the
UK.
Possible effects:
• Young people and children may be more at risk of
an accident or illness. Why do you think this might
be?
• Children and young people may have to go
without meals, clothes etc.
Poverty and social
disadvantage (2)
• The child/young person's diet may not be
good. What foods do you think they might miss
out on and what would be the consequences?
• A child/young person's living conditions may
be poor.
Do you know anyone in this position?
• The child may be smaller at birth.
• The child/young person's education/work may
suffer.
Can you think why this might be the case?
Housing
Homes which are damp and/or unheated
Risk of infections
Low-income families
are more likely to live
in:
Densely populated and unattractive
neighbourhoods
Few gardens and play areas
Overcrowded conditions
Some families housed in
'hotels', B&Bs etc: shared
facilities.
Accidents
• Some childhood accidents have lasting effects
on a child's healthy growth and development.
• Many accidents are preventable.
Which accidents
could be
prevented?
How could
accidents
be
prevented?
Environmental Factors
Water
pollution
Noise
pollution
Air
pollution
How might these affect a child/young
person's health and development?
The importance of play for healthy child
development
• Through play, children
learn and understand
about the world and the
people they meet.
• Play influences all
aspects of a child's
development.
• Play is important for a
child's:
 relationships
 physical coordination
 ideas and creativity
 feelings
 spiritual development.
Emotional and social
factors
•
•
Socialisation (the
development of social skills)
is all about relating to
others.
Emotional development is
all about feelings. How a
child feels will be influenced
by many of the factors that
affect the development of
social skills.
•
Factors that affect the
development of social skills:




genetic inheritance
attachment
physical factors
economic and environmental
factors
upbringing
having role models
culture and gender
family size and position in
family
friends and peers.





Parental health and lifestyle
• The health and lifestyle of a parent/carer can have a
real effect on a child's development, e.g. mum suffers
from depression, dad is violent, mum is an alcoholic,
dad is a drug addict.
• Sometimes children have to take on a carer's role.
• Parents may not 'be available' (physically and
emotionally) for their children.
• Children may suffer physical neglect.
• Parents may not show much love and affection.
• Some living conditions may be poor and/or unsafe.
Poor parenting skills can affect a child's development.
Activity 2
Group 1: Diet and environmental factors
Group 2: Housing and poverty and social
disadvantage
Group 3: Opportunities for play and parental health and
lifestyle
Group 4: Accidents and infections
Work in groups. Discuss and make notes on how each
area can affect a child's growth and development in a
positive and negative way. Feedback to the class!
The potential effects of transitions on
children and young people's
development?
3.1
The arrival of a new baby
Starting school
Crawling
to walking
Activity 3
Complete the Predictable and Unpredictable
life events sheet 1.
Transitions
3.1
•
•
•
•
•
•
•
•
Children and young people naturally go through a number of
transitions as they grow up, for example:
being weaned onto solid food
progressing from crawling to walking
being potty trained
going from nursery to primary school
moving from primary to secondary school
transferring from secondary school to college/sixth form
starting work
leaving home.
• Can you think of any more?
Unexpected transitions
3.2
Not all transitions are experienced by every child/young person
What are they?
Parents divorcing
Having a new step-parent
Having a new step-family
Serious accident, illness
or death in the family
Moving house
The birth of a new baby
in the family
Some
unexpected
transitions
The unexpected change
of school or
childcare provider
Violence or abuse within
the family
Activity 2
Complete the effects of
different life events sheet
Effects of transitions
3.3
• Children and young people need to be supported
through transitions.
• Children and young people who have had many moves
or changes may feel a sense of loss or grief.
• Some changes may have a profound effect on their
emotional and social development.
DISCUSSION
How can children/young people be supported :
a. When starting college/school/nursery?
b. If their parents divorce/separate?
c. When a new baby arrives?
What effects might these transitions have?
Activity
3.3
• In groups, discuss the expected transitions that you
have gone through in your life so far.
•
•
•
•
Explain the effects these transitions had on you.
What support did you get from others?
What more could have been done to help you cope?
As a practitioner, how could you support children and
young people when they face similar transitions?
• Record the main points of these discussions in
preparation for the booklet you will need to produce for
Task 3 (Assessment criterion 3.1).
Activity
3.3
• Discuss the transitions that only some children may
experience, e.g. parents separating. Again, you can use
this information for your booklet.
• Your booklet will need to show the effects these
transitions may have on behaviour and development
(Assessment criteria 3.2 and 3.3).