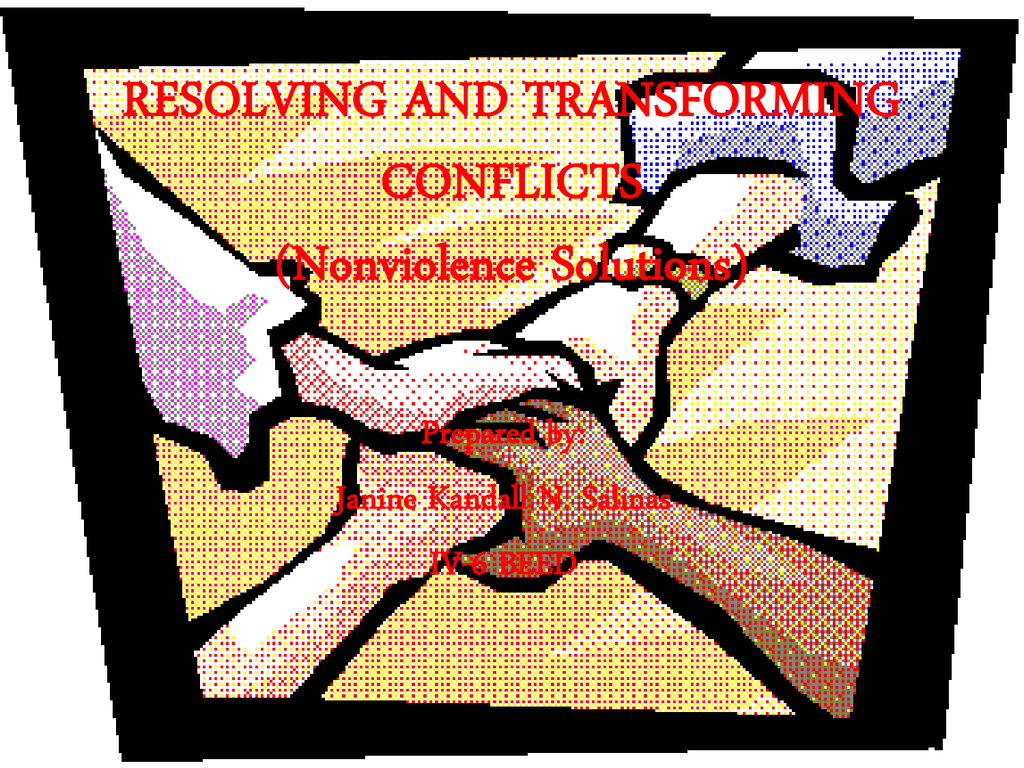 RESOLVING AND TRANSFORMING
CONFLICTS
(Nonviolence Solutions)
Prepared by:
Janine Kandall N. Salinas
IV-6 BEED
CONFLICT
• is from a Latin word conflictus which
means striking together.
• It occurs when one's actions or beliefs
are unacceptable to and, are, hence
resisted by the other.
• It can occur in dyads, groups or larger
societal structures.
What Prevents Us from Resolving
Our Conflicts?
• Fear, pride anger and desire
for revenge
• Indifference or apathy
• Lack of common interest
• Lack of communication
ANGER
• is not merely irritation or
disappointment but a combined
feeling of disappointment, anxiety
and indignation that signal our
body to prepare for fight.
How Do We Manage Our Anger?
•
•
•
•
Recognize that you are angry.
Distance yourself from the situation
Release anger physically in direct forms
Relaxation Techniques
Dealing With Conflicts
• FLIGHT
• FIGHT
• ACCOMODATE
• COMPROMISE
• FACE/COLLABORATE
NONVIOLENCE
SOLUTIONS
NONVIOLENCE
• It provides alternatives to violence. It is not
passive resistance, but an active strategy
with clear goals.
• It seeks to achieve peace, or a vicious political
campaign that says it seeks to achieve justice
or another beneficial results.
• It is the refusal to do harm to other humans
as life is sacred and is an absolute value. It is
anchored in belief that a human has a
potential to change.
WHY NONVIOLENCE?
• JAINISM: it is taught that a wise person
"does not kill, nor cause others to kill, nor
consent to the killings by others"
• TAOISM (Lao Tzu): "weapons are
instruments of evil and not of a good
ruler"
• BUDDHISM: the percept of "not to kill" is
the foundation for all Buddhist action.
• HINDUISM: ahimsa is considered as the
greatest gift and highest teaching.
• ISLAM: it is taught that anyone who "takes
one life without justification, it is he has
taken the lives of all humanity"
• JUDAISM: followers are urged :not to envy a
man of violence and not choose any of his
ways
• CHRISTIANS: "those who use the sword are
sooner or later destroyed by it"
NONVIOLENCE WORKS
• PEOPLE POWER I & II
NONVIOLENT ACTIONS








Petitions
Banners, posters
Singing
Marches
Prayer rallies
Mock funerals
Vigils
General strike
Teaching-Learning Ideas
• Be a good role model.
• Decide with the students some rules for
peaceful classroom.
• Encourage more cooperative rather than
competitive activities.
• Consider peaceful techniques of conflict
resolution over punitive action.
• Teach anger management techniques.
• Teach your students both love of country and
concern for the whole human community.