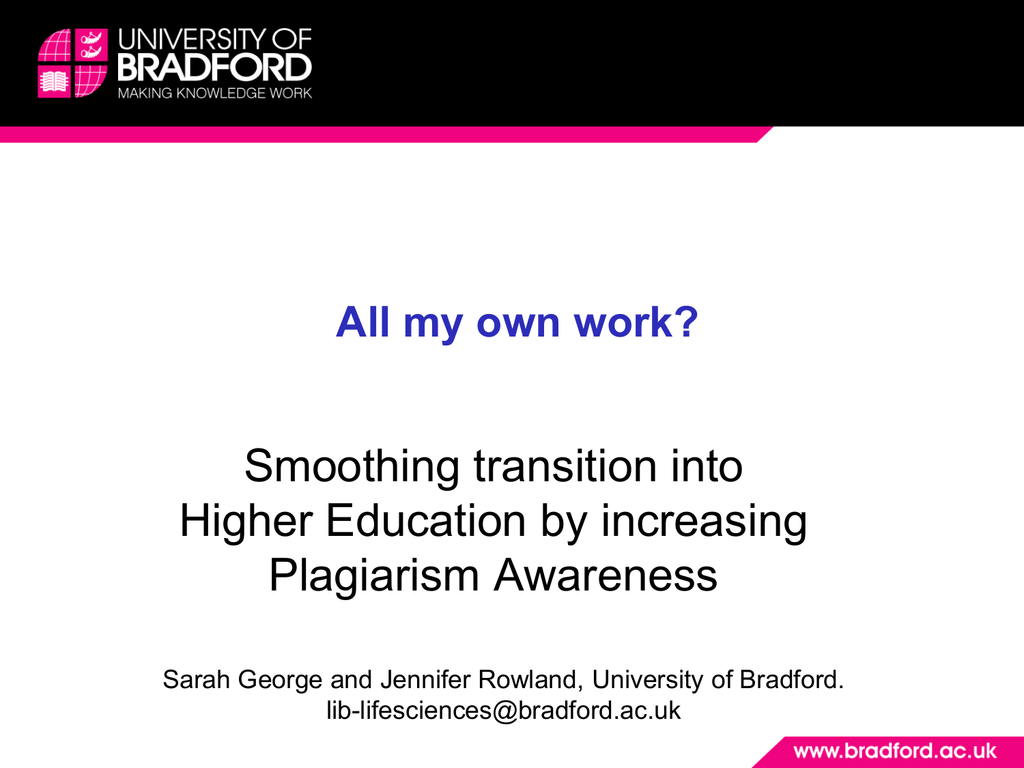 All my own work?
Smoothing transition into
Higher Education by increasing
Plagiarism Awareness
Sarah George and Jennifer Rowland, University of Bradford.
[email protected]
Transition from school to university
Expectation gap
– Independent study
– Level of referencing
– Acceptability of cut & paste
– Collaboration
Implicit rules disadvantage vulnerable
groups: International students, mature,
first-in-family
Plagiarism: a major issue?
Sector-wide issue
Area of student concern
– 703 responses to 2010 survey (no
inducements offered!)
Disconnect between student
misconceptions and university standards
Situation in 2008
Students punished for breaching rules they
had not been explicitly told?
Different experiences- some not penalised,
others harshly?
Punishment without educational value
Institutional use of Turnitin increases
detection
Plagiarism Awareness Programme
Compulsory disciplinary sanction following
breach of plagiarism regulations
4-5 hours per session
Lecture followed by online activities
Tested by online quiz and referencing
exercise
Very labour-intensive
 Surprisingly popular!
N=285;
2009-2014
Plagiarism Awareness Programme
Who plagiarises?
Home students from non-English
speaking backgrounds
WHAT IS PLAGIARISM?
Cheating by passing off someone else's work as your own
ANYTHING THAT SOMEONE
ELSE HAS CREATED
Avoid plagiarism by:
 Making it clear when you are
using someone else's work by
referencing
 Making good notes
 Managing your time
 Learn more about plagiarism in
the Plagiarism Avoidance for
New Students course.
Why start the Plagiarism Avoidance for New
Students course?
Pedagogically more satisfactory:
prevention rather than cure
– Feedback from Plagiarism Awareness
Programme
Workload of plagiarism referral process
– Appeals
Steer from University Learning and
Teaching Committee
The Plagiarism Avoidance course
 Started September 2011
 Compulsory for all new students
 Formative, not punitive
– Failure results in referral to Personal Academic Tutor
 Delivery through Virtual Learning Environment
 Either in taught sessions or independent study
– More successful in sessions & better feedback
 Needed to be:
– Robust
– Self-explanatory
– Easy!
#Screenshot of PANS
Problems
 Short time scale (no time to pilot)
 Technical hitches
–
–
–
–
Trying to make the VLE co-operate
Animation
Only tested on PCs
Bandwidth
 Modular organisation
– Identifying and tracking relevant students.
 Generic(ish): referencing styles
 Staff engagement
 Student uptake
 Collaborative partners
Feedback
Observing sessions
Analysis of questions
Student liaison
Staff feedback
Changes
 Top complaint: Not being able to see answers
– More questions added
– Semi-random pool
– Feedback and correct answers shown
 Problematic questions – why are they causing
problems?
– Re-wording
– Removing ambiguity
– More information in lessons
 Fewer locations in VLE
 Camtasia objects with voiceover for enhanced
accessibility
Does it work?
Developments: coming soon
Course will be freely available on website
Lessons will be deposited in repository as
Reusable Learning Objects
Version for final year undergraduates
Additional support for postgraduate
researchers
Do it yourself!
Limit number of versions
Test the technology
Engage all staff
Rationalise referencing styles!
Feel free to use
http://www.brad.ac.uk/library/help/plagiarism/
Any questions?