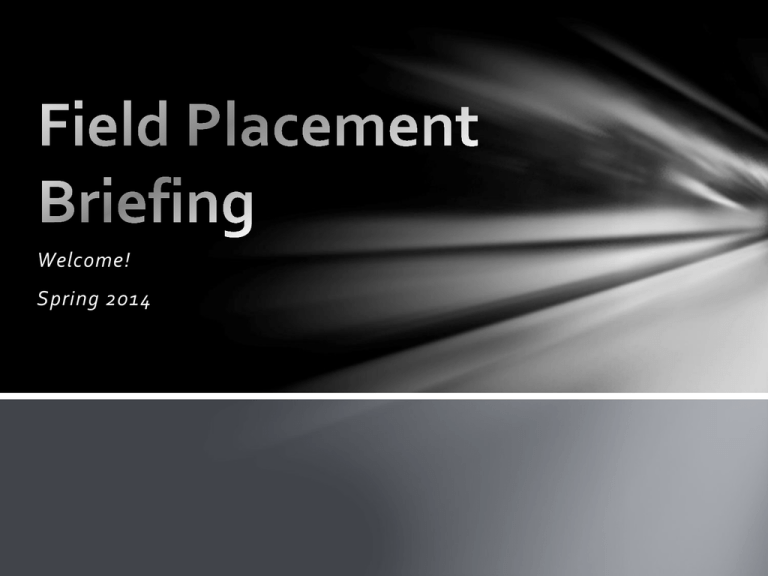 Welcome!
Spring 2014
You should have in place already:
• SIGNED APPROVAL FORMS, STUDENT APPLIED LEARNING
AGREEMENT AND RELEASE OF RECORDS
• REGISTERED FOR PBHL 7560 UNDER YOUR ADVISOR
• MAKE SURE ALL OF YOUR SITE HR PRE-INTERNSHIP REQUIRMENTS
ARE COMPLETE. ESPECIALLY IF YOU ARE GOING TO:
CDC
GEORGIA DEPARTMENT OF PUBLIC HEALH
GEORGIA HEALTH DISTRICTS
ATHENS REGIONAL MEDICAL CENTER
Bullet Points: During your internship
 Your advisor will be your instructor and assign your grade.
 The practice Coordinator will place an initial call/email to your
site supervisor at the beginning of the semester. At mid-point
the Practice Coordinator will arrange for a conference call
between all three, student, Coordinator and Site Supervisor.
 All links to all required forms can be found on our web page:
http://www.publichealth.uga.edu/fieldplacement
During your internship: continued
• Keep a copy of your internship proposal to write your report from. There
is a link to the template on the web page.
• All reports and evaluations have to be submitted to your Academic
Advisor and the Practice Coordinator
• Keep a log of your hours (found on the web page)
• Dual Degree internship placements have to meet guidelines of both
programs.
End of Semester
 Final reports, evaluations and time log are to be submitted to the Practice
Coordinator and your advisor ONE WEEK BEFORE the last day of classes.
 Spring 2014 Mid term evaluation: Feb. 27th
 Spring 2014 Final eval and report: the week of April 28th
 Your evaluation of your internship experience, site and supervisor will be
sent by Survey Monkey before the end of the semester. Completion of
this is required.
Professionalism: Going from Student to Public Health Professional
•
http://www.youtube.com/watch?v=Sz0o9clVQu8
•
http://www.youtube.com/watch?annotation_id=annotation_705879
&feature=iv&src_vid=Sz0o9clVQu8&v=C1a6M3dBNwc
First day on Site: School vs. work
Material Source: Dr. Edith Parsons, District 2 Public Health. In lecture for PBHL 3100 Spring 2012
entitled: Beginning Your New Job or Internship.
School
Work Place
•
Is About you
•
•
Has a destination
Is about the organization and its
mission.
•
Has Regular Deadlines
•
Is a Process
•
Has Regular rewards
•
Has sprints and Lulls
•
Has finite projects
•
Has less frequent or little feedback
•
Is ongoing and repetitive
On your first day….Professionalism
• Be on time. On time means 10 minutes early.
• Dress appropriately: dress the way your supervisor dresses.
• Get to know the culture….what is appropriate behavior?
As the placement progresses:
• Treat this placement as a job. Do your best.
• Always be professional and remain out of any politics
• Ask questions. Get clarification on projects and expectations.
• Stay within your site's policies
• Know the chain of command and who you are directly responsible to.
• The Practice Coordinator and your Advisors are good resources. Please
call on us.
• If you have any problems or issues, please do not hesitate to call me. I
can help if I know there is a problem
End of the placement
• End on a positive: your supervisor and colleagues are potential sources of
positions and references.
• Tie up loose ends to the best of your ability. Think of the person who will
be carrying on your projects.
• Follow HR policy on leaving a position. E.g. turning in badges, parking
decals, exit interviews.
Now, go forth and rock!