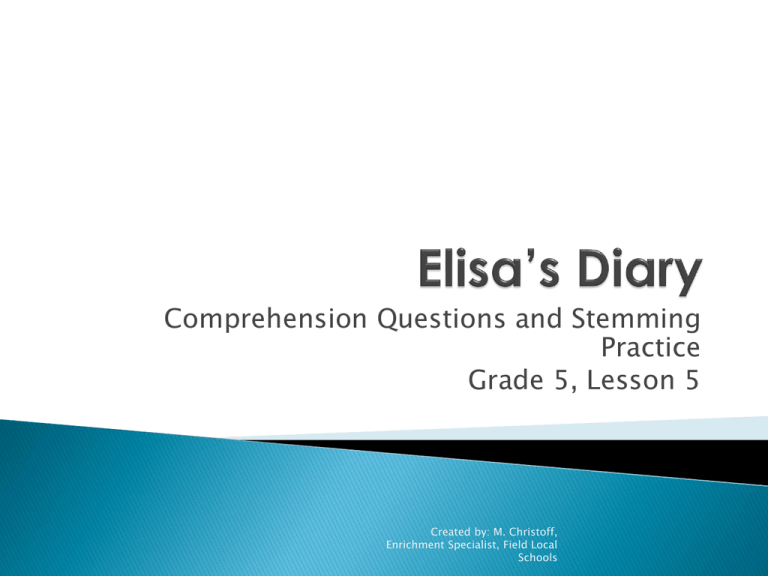 Comprehension Questions and Stemming
Practice
Grade 5, Lesson 5
Created by: M. Christoff,
Enrichment Specialist, Field Local
Schools
 Elisa
is
writing in a
diary …
because she
wants to record
events in her
life and
 make sense
our of her
feelings about
them.

 She
gave
Elisa the
figurine …
 at
the end of
her first visit
to the
United
States.
 Elisa
is …
 sad
about
moving to
the United
States.
 She misses
Puerto Rico.
Elisa has a
 negative
view of
being in
the United
States.

Her brother is
open to all the
changes he is
going through
in his new
home.
 Their different
feelings cause
tension between
them.

The
author
uses
words…
 such
as
 "unbearable,"
 "afraid," and
 "crazy"
 which sets a
frustrated
tone.
 The
author
has Elisa
describe her
own
problem…
by explaining to
her brother that
she feels lonely
and afraid
 because she
can't speak or
understand
spoken English
well.



Elisa's brother
tries to help her
by suggesting
ways she can
learn English.
The main theme
of pages 126127 is….
 that
you
must make
an effort to
overcome
your fear.
 Elisa
decides
that she will
"like this
school after
all" because:

she meets a
student from
Guatemala
who is sad and
quiet, and
thinks she may
have found a
friend.
 Elisa
calls
her
classmates
"opponents"
because …

she feels like
she is
competing
with them to
give the right
answer.
 The
details
used to
describe and
help the
reader
visualize the
quetzal
include….
soft feathers,
 green crest,
 red chest,
 gorgeous bird,
 and the
illustration on
page 129.

 Elisa
smiled
for the first
time since
classes
started
because…
 she
feels that
she has done
something to
feel good
about. She
received a "A"
on her
composition.
I
think that
Elisa's and
Jose's plan
will help…
them
overcome fear
of new things
by working
with someone
else to solve
the problem.

I think
Elisa
learned
that new
situations
…
are easier to
deal with when
you have
another
person to help
you.
 Elisa's
introduction
to "the
joining of
forces" shows
...


that she has
learned to
overcome fear
in new
situations.
She shares her
story of a first
day in a new
school.
 Elisa
shares
this story
with her
students
because …
 she
wants her
students to
discover that
they can work
with others to
overcome
their fears.