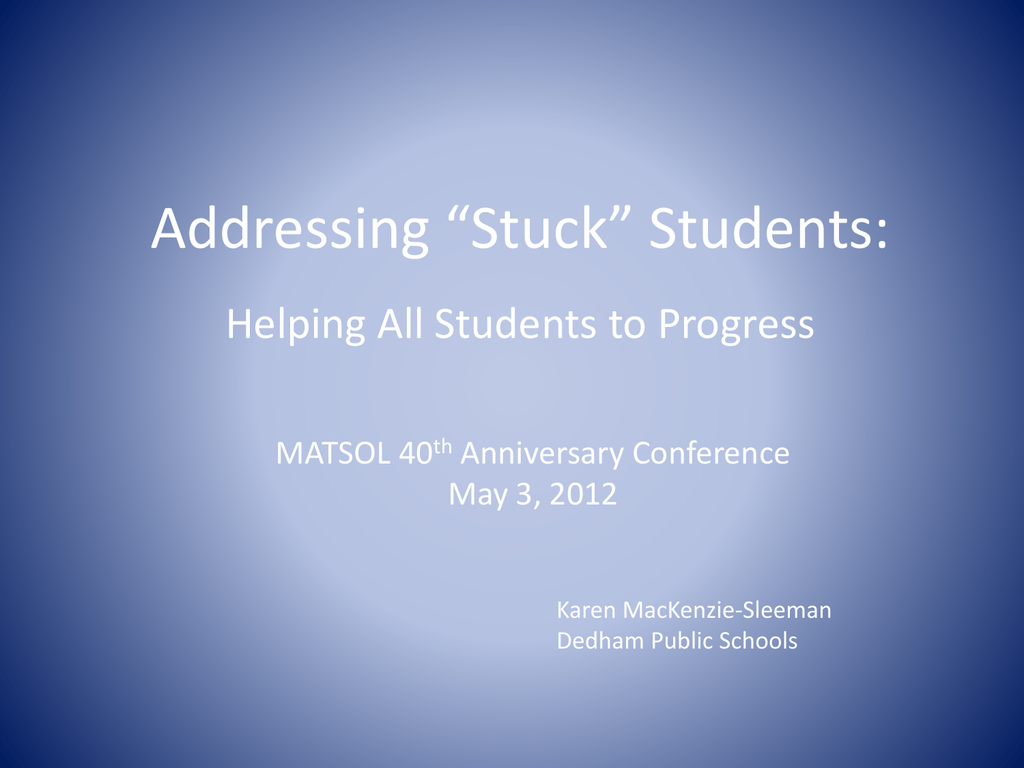 Addressing "Stuck" Students:
Helping All Students to Progress
MATSOL 40th Anniversary Conference
May 3, 2012
Karen MacKenzie-Sleeman
Dedham Public Schools
Presentation Objectives
• Participants will be able to:
1) Name 6 characteristics of Long Term ELLs.
2) Identify strategies for working with Long Term
ELLs at the district, school, and classroom level.
3) Explain to other ESL teachers, classroom
teachers, principals, or parents why Long Term
ELL students benefit from ESL
instruction/support.
Presentation Agenda:
I. A Story You May Find Familiar
II. What Research Tells Us About "Stuck"
Students
III. Strategies
A. District
B. School
C. Classroom
IV. Further Reading
A Story You May Find Familiar – Part I
As ELL teachers, we have a "few"
responsibilities …
A Story You May Find Familiar – Part I
• And an incredibly diverse population for
whom we are responsible …
And so we prioritize …
Time:
Group:
8:29-9:17
Grade 8 Team Meeting
9:17-10:05
Grade 8 Beginners
10:05-10:53
Grade 6 Intermediate
10:53-11:23
Lunch
11:23-12:11
Grade 6/ 7/8 Beginners
12:11-12:59
Grade 6 Beginners
12:59-1:47
Grade 7 Beginners
1:47-2:35
Grade 7/8 Intermediate
Does your schedule look like mine?
My Confessions
• I was frustrated by "advanced" students!
- Complicating my schedule.
- Wasting my time.
- More challenging students personally and
academically.
 Can't someone else help them?
• Began research on this topic.
– Partially for benevolent purposes.
– Partially to justify my attitude.
Long-Term ELLs: Characteristics
• Have attended U.S. schools for seven years or
more.
– NY state says "six".
•
•
•
•
Sound like native speakers.
Oral skills stronger than reading/writing skills.
Limited literacy skills in L1.
Inconsistent schooling/frequent moves between
countries, states, or districts.
• Perform below grade level in reading and writing.
Long Term ELLs in Our Classes
• Research from NY state in 2007 suggests 12.8% of
ELLs fit this criteria.
• Students have inconsistent experiences not only
in schools/language of education but in the ESL
program.
– Receive support in some districts/grades but not in all.
– Sometimes grouped according to proficiency but not
always.
– Sometimes self-identify as ELL but not always.
Results of Inconsistency
• Long term ELLs may have large gaps in their
education:
– Missed months/years of school in transition
– Missed grade level curriculum while in ESL classes
• Uneven content-area backgrounds
– Missed out on ESL curriculum/support
Results of Misplacement
• Placing Long Term ELLs in mixed or lower level
ESL classes:
– ESL is a "baby" class but mainstream ELA is too
challenging
• Tuning out because material is too simple or completely
mismatched to their needs
– False perception of their academic achievement
• My English is wonderful compared to [x]
Strategies – District:
• Ensure that there is uniform entrance and exit
criteria that is applied consistently.
– The same student who qualifies for ESL in one school
should qualify in another.
• Ensure that schedules/staffing of ESL personnel
allow time for advanced classes.
• Collect more data from students upon arrival.
– Any missed years of school?
– How many times has the student moved?
– What kinds of ESL support did the student receive?
Strategies – District (cont'd)
• Ensure that all decision makers (principals,
guidance counselors, classroom teachers,
parents) understand the benefits of ESL
support for long term ELLs.
– Professional development on this topic may be
necessary.
– See attached handout.
Strategies – School:
• Create separate classes/blocks of time for Long
Term ELLs to ensure that instruction matches
needs.
• If possible, create foreign language classes geared
towards improving literacy in L1.
– Dedham has started a "Spanish for Native Speakers"
course for the 2012-2013 school year.
• Encourage long term ELLs to seek out
teacher/peer tutoring for assistance with content
knowledge.
Strategies – Advanced/Long Term ELL
Class:
• Focus on grade-level reading skills (fiction and
nonfiction).
–
–
–
–
Novels/poetry for English class
Textbook reading for History/Science classes
Math word problems
MCAS preparation
• Teach prerequisite skills/topics from content classes:
– What background information does the content teacher
assume students have? Does your long term ELL have it?
EX. Does the history teacher think everyone knows who Harriet
Tubman is?
Strategies – Mixed Class:
• Consider aspects of your classroom
routines/assignments that may make a Long Term ELL
feel uncomfortable.
– Write about your home country.
– Flags on the wall.
• Have a readied response for the inevitable "Why is she
here, she speaks English? question you'll receive from
other students.
– Remember, speaking English and being able to understand
the English in the Biology book are 2 different things.
– We're happy to have [x] here, he always makes me
laugh/great baseball player/etc.
Strategies – Mixed Class (cont'd)
• Ask Long Term ELLs what role, if any, they'd
like to have in the class:
– Some long term ELLs may like helping other
students, but others may not.
• Make sure their helping time doesn't distract from their
own learning.
– Other ideas:
• Teen/Social Language Expert
• Spelling Expert
• School Activities Expert
Strategies – Either Class
• Allow time for Long Term ELLs to choose their own
topics/areas of concern to help direct instruction.
– Encourage students to bring vocabulary words they've
encountered but did not understand.
– Find newspaper articles or magazines on topics interesting
to students.
• Build your classroom/school library with books for
reluctant readers, books with characters representing
students' backgrounds, and young adult books.
– Encourage students to read independently.
– Read books along with students/ahead of time over the
summer so you can check in and discuss the book.
Suggestions for Further Reading
• Flores, E., Painter, G., & Pachon, H. (2009). Que Pasa?
Are ELL Students Remaining in English Learning Classes
Too Long? Los Angeles, California: Tomas Rivera Policy
Institute.
• Maxwell, L. (2011, December 15). Long-Term ELLs
More Likely to Drop Out, Study Finds. Education Week
• Menken, K., & Kleyn, T. (2009). The Difficult Road for
Long-Term English Learners. Educational Leadership ,
66.
• Menken, K., Kleyn, T., & Chae, N. (n.d.). When Change
is the Only Consistency: The Case of Long-Term English
Language Learners in Secondary Schools.