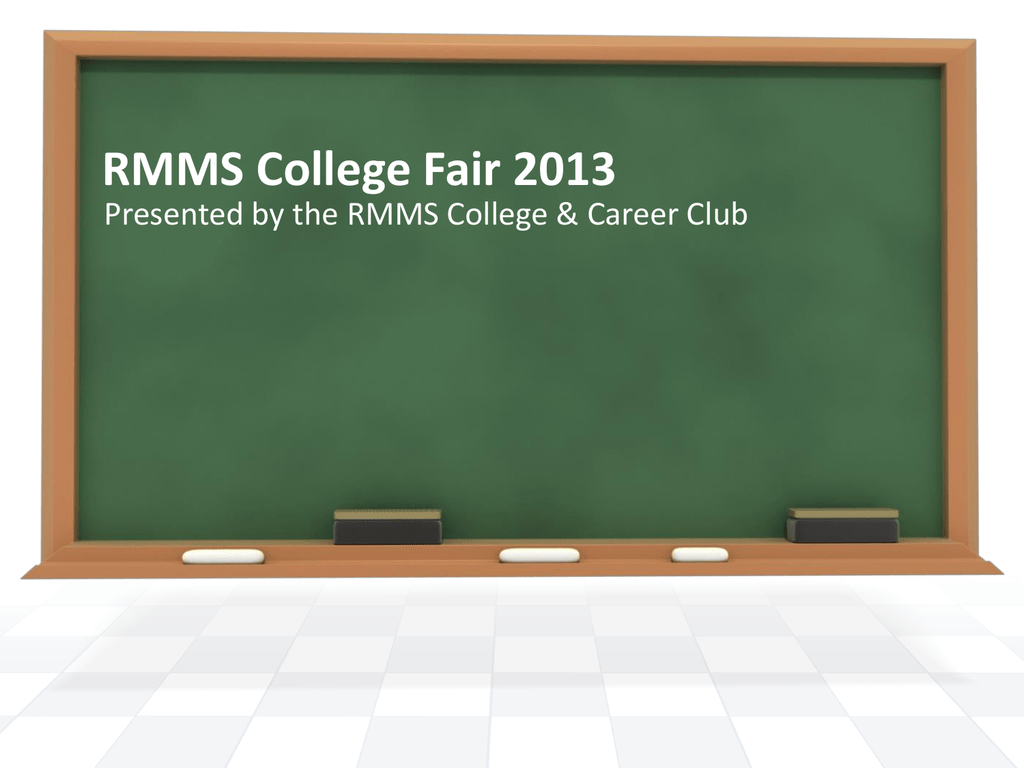 RMMS College Fair 2013
Presented by the RMMS College & Career Club
•How do we get started?
This slide show will help you to learn how to begin developing
your college fair presentation
Step 1
Know what a college fair is
Step 2
You and your university
Step 3
Step 4
Step 5
Figure out what to research (and who will
research it)
Make a plan of action
↳ How will this all come together?
Put it all together at the College Fair!
•STEP 1
What is a middle school College Fair?
A middle school College Fair is a
wonderful opportunity for students
to get an early start on the college
search. It can also can give students
a greater understanding of how to plan
their high school path with the
expectation of going to college.
Step 2
You and Your University
•
You and your teachers have already
chosen a college or university to
represent at the college fair.
•
Take five minutes to discuss the
following questions with your
teacher and CCC Mentors.
• Why did you choose this
university?
• What do you already know about
the university?
• What do you want to know about
the university?
Step 3
Research Groups!
A suggested list of major categories to research…
WHAT TO RESEARCH
•
•
•
•
•
•
Academics / Admissions (majors,
required GPA and test scores, etc.)
Athletics (major sports, rivalries,
minimum athletic GPA, etc.)
Campus Life (living on campus,
school events, etc.)
Clubs (academic and social clubs)
Finances (Tuition cost, average
scholarship for students, etc.)
Off-Campus (local restaurants,
things to do in town, etc.)
WHO WILL DO IT (AND HOW)!
•
•
•
Create groups of 4-7 students to
research each component of your
university.
Check in with your teacher and CCC
Mentors to ensure that you are
accumulating useful information.
Check in every two weeks with
your entire advisory to see if there
is any overlapping information.
Research Resources!
Here is a list of resources for your advisories to use…
COLLEGE INFORMATION
INFORMATION
1.
CSO College Center:
1.
Federal Student Aid: http://studentaid.ed.gov
www.CSOCollegeCenter.org
2.
Free Application for Federal Student Aid
2.
The College Board: www.collegeboard.com
(FAFSA): www.fafsa.gov
3.
KnowHow2Go: www.knowhow2go.org
3.
FAFSA4caster: www.fafsa4caster.ed.gov
4.
Hobson's CollegeView: www.collegeview.com 4. CSS/PROFILE:
https://profileonline.collegeboard.com
5.
Peterson's: www.petersons.com
5.
The Smart Student Guide to Financial Aid:
6.
The Common Application Online:
www.finaid.org
www.commonapp.org
6.
FastWeb: www.fastweb.com
7.
Colleges That Change Lives: www.ctcl.org
7.
FindTuition: www.findtuition.com
8.
Sallie Mae: www.salliemae.com
FINANCIAL AID AND SCHOLARSHIP
•Research Resources!
Here is a list of resources for your advisories to use…
TESTING
1.
National Association for College Admission Counseling:
www.nacacnet.org
MemberPortal/United Negro College Fund (UNCF):
www.uncf.org
Hispanic Association of Colleges and Universities:
www.hacu.net/hacu/Default_EN.asp
National Association for Equal Opportunity in Higher
Education: www.nafeo.org
First In The Family: www.firstinthefamily.org
7.
2.
ACT: www.act.org
CT Fee Waiver Instructions:
3.
www.actstudent.org/faq/answers/feewaiver.html
SAT: The College Board: www.collegeboard.com
4.
SAT Fee Waiver Instructions:
www.collegeboard.com/student/testing/sat/calenfees
5.
/feewaivers.html
Preliminary SAT (PSAT):
www.collegeboard.com/student/testing/psat/about.ht ATHLETICS
1.
The Official NCAA Initial-Eligibility Clearinghouse Web
ml
site: http://eligibilitycenter.org
Free Test Prep from Number2 .com:
2.
Campus Champs: www.campuschamps.org
www.number2.com
3.
Athletic Aid: www.athleticaid.com
The Princeton Review: www.princetonreview.com
8.
Kaplan's Test Prep: www.kaptest.com
1.
2.
3.
4.
5.
6.
ASSOCIATIONS/ORGANIZATIONS AND RESEARCH/POLICY
CAREERS
1.
The Occupational Outlook Handbook:
www.bls.gov/oco
Step 4
Make A Plan Of Action
Take five minutes with
your advisory to set
goals for completing
your college fair booth
(an example can be seen
to the right).
February 27, 2013
• All Research Groups Are Made
March 20, 2013
• All Information & Artifacts Collected
May 1, 2013
**Remember to set
yourself up for success!
Make sure your goals
reflect high standards
but are also realistic and
achievable.**
• Begin Construction of Booth
May 15, 2013
• Final Rehearsals for Presenters
•Review The Rubric!
Take ten minutes as a class to review the rubric with your
teacher and CCC Mentors.
•Step 5
Put It All Together!
Once you have completed the first
four steps, it is up to you to put it
together! Work as a class to
determine the best way to present
your university to the school. You
may choose any means necessary,
however, keep in mind how loud the
gym will be during the college fair
before you choose your presentation
method.
A few suggested methods for
presenting:
 Tri-fold Posters
 Banners
 Student-Made Pamphlets
 Oral Presentations
 Role-Playing
 Slide Show Presentation
 Promotional Booth
May 22, 2013
RMMS College
Fair
Presentations!
Practice Your
Presentation!
Create Your
Artifacts!
February 21,
2013
Meet Your
Mentors!
Make Your
Research
Teams!
Compile Your
Research!
**REMEMBER**
GOOD LUCK!
If you need any
help, your CCC
Mentors are here
for you!
You'll Do
Great!
Prizes will be
awarded to four
advisories for
their College Fair
efforts! Prizes
will be
announced
closer to the day
of the Fair.