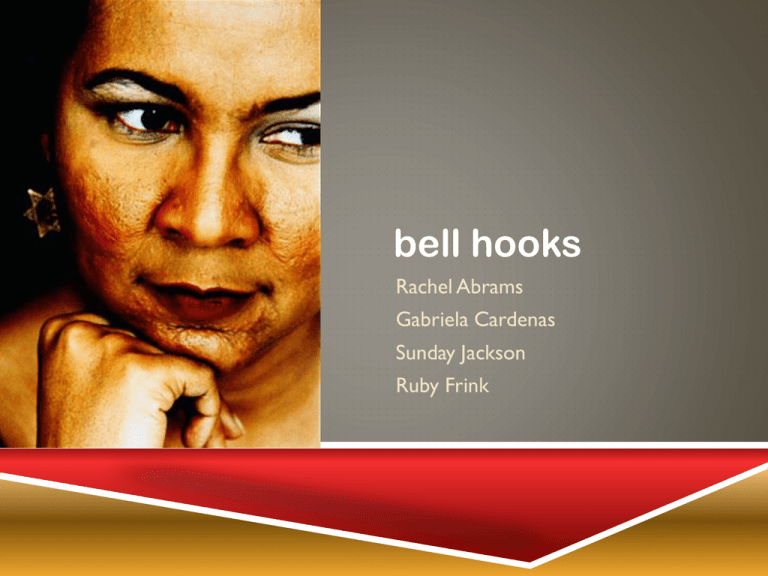 bell hooks
Rachel Abrams
Gabriela Cardenas
Sunday Jackson
Ruby Frink
HISTORY
• Born Gloria Watkins -1952 - in Hopkinsville
Kentucky
• B.A. Stanford University 1973
• M.A. University of Wisconsin Madison 1976
• Ph.D. University of California, Santa Cruz
1983
• inspired by family names of "Rosa Bell" and
"Hooks" created pseudonym "bell hooks"
• Published over 30 books
TALKING BACK
• Structures of domination: race, class, and sexism
• Revealing personal experiences: What should and
should not be said?
• Incorporating multiple and diverse perspectives
• Constructive dialogue as liberatory expression
ALL ABOUT LOVE
• bell hooks says that through love we possess the
power to end conflicts within ourselves, and
within our communities
• Spirituality: Divine Love
• Values: Living by a Love Ethic
TEACHING COMMUNITY
• Progressive Education
• Teacher responsibilities
• Classroom setting
SALVATION: BLACK PEOPLE AND LOVE
"In the presence of whites we are expected not to speak until we
are spoken to, never question anything a white person said, to
always allow them preferential treatment, to obey them, the list
could go on. Decolonized black people recognized not only that
these expectations were unjust but that if we all conform to them
we would both be accepting and perpetuating the notion that it was
our destiny to be second-class citizens."
"While we study the same lessons never studied in white
schools, art teachers at lessons in black history and
culture. Everyone in the school system was black, we had
perfect role models. No one doubted our ability to learn
to excel academically."
LESSON PLAN: AFRICAN-AMERICAN PIONEERS
IN DANCE – EXPERIENCE AND IDENTITY
 "But everything I do cannot be right. 'Cause there is no all the time
right. But all the time any hurt can be healed. All wrongs forgiven. And
all the world made peace again." – from Homemade Love
 Dance History Class with Movement
 Co-Ed Juniors (16-17) LaGuardia Second Semester
 Dance studio/Classroom
 Incorporates Mosston's Guided Discovery teaching style
 Vision: Develop dance literacy through movement, writing, and dialogue,
in order to investigate, think critically, and find inner voices within the
arts and academia.
PEARL PRIMUS
• Born in Port of Spain, Trinidad – November 29th
1919-1994
• Raised in NYC, attended Hunter College
• Completed MA and PhD at NYU
• 1943 Professional debut in New York in her
own "African Ceremonial"
• Known for her amazing quality of movement
and her abnormally high jumps
PEARL PRIMUS ARTICLE
PEARL PRIMUS (CONTINUED)
hooks hopes her students would notice:
Context/time period
Language that describes her dancing
Language that refers to her race
JUDITH JAMISON
• Born 1943 in Philadelphia PA
• Trained in Ballet (1964 performed with
ABT)
• Joined Alvin Ailey
• Powerhouse in world of dance
• Became Artistic Director at Ailey upon his
death in 1989
JUDITH JAMISON ARTICLE
Philadelphia Inquirer/Daily News
Jamison's Feet Accompli A Dance Is Born In Channel 12 Special
September 14, 1988|By Barbara Beck, Daily News Staff Writer
Judith Jamison always looked so much like an ebony goddess on stage that
you almost have to curb an impulse to kneel when you meet her up close
on television.
But this tall, angular woman, who has been one of America's greatest dance
talents for two decades, is demanding, warm, energetic and funny in
Channel 12's documentary "Dancemaker," airing at 9:30 tonight.
The 30-minute film follows Jamison through the long, arduous process of
creating a dance from ground zero - holding auditions, working with the
composer, imagining the steps and finally, watching the opening-night
performance.
http://articles.philly.com/1988-09-14/news/26230315_1_judith-jamisonstudy-modern-dance-alvin-ailey copyright 2011
ARTHUR MITCHELL
• Born in New York City, 1934
• Attended New York High School for the
Performing Arts and later SAB
• Joined NYCB in 1955 as first African
American dancer
• Martin Luther King's assassination inspired
him to open Dance Theatre of Harlem (first
African American Classical Ballet Company)
AGON
DISCUSSION/DIALOGUE/MOVEMENT
 Continues discussion on how students interpret the articles
and relate to the experiences of these artists
 bell hooks asks them:
 Do you relate to these people?
 Are you inspired by them?
 While considering your own identity, and exploring your
own voice let's move.
THE END
Thank you for listening to our AMAZING
presentation!
Have a great winter break
See you next year in 2012!