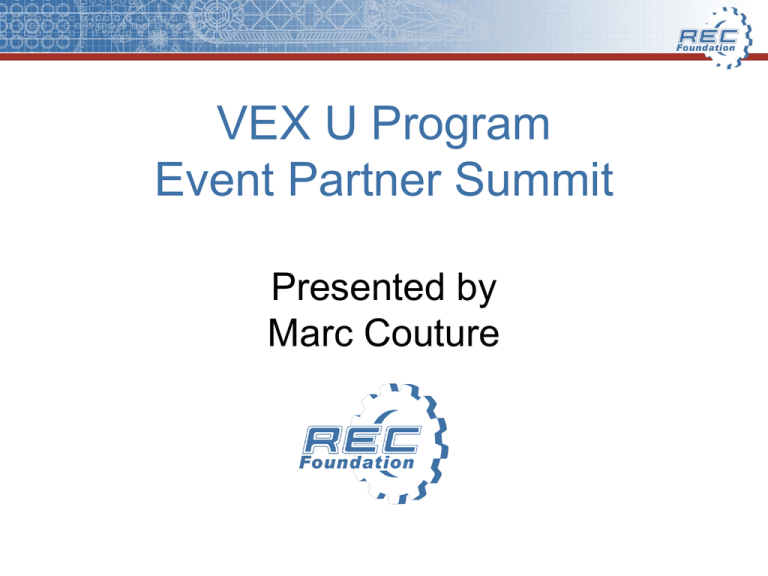 VEX U Program
Event Partner Summit
Presented by
Marc Couture
VEX U Program
AGENDA
• Benefits of college robotics
•
•
•
•
Outreach
Workforce Development
Student Achievement
Recruitment
• Participation
• 2014 WC Entry
• What does the future look like?
VEX U Program
Benefits of college robotics
Outreach:
• Be more visible in your communities youth initiatives by
enhancing the quantity and quality of STEM exposures for
students.
• Target the underserved and/or underrepresented groups
that the college would like to reach.
• Host tournaments so that area youth can play the game
locally and keep the cost of the program low by minimizing
travel. (Increase on campus visits to show off your facilities
and build awareness.)
VEX U Program
Benefits of college robotics
Workforce Development:
• Expose students to the increasing number of jobs that will
require knowledge and use of technology.
• Broaden the base of interest in STEM related fields as well
as manufacturing technologies.
• Offer workshops and classes that build on initial interest as
a way to maintain contact
– Too many exposure opportunities excite a students interest and then leave
them with no option to pursue the interest that was kindled. (Students need
options they can follow through on.)
VEX U Program
Benefits of college robotics
Student Achievement:
• Develop and exercise essential 21st Century Skills
• Let college students apply classroom knowledge through
program participation at the college level.
• Having competitive robotics experience on a resume is a
plus for students. Students make great event volunteers!
• Different applications help students to explore career
paths.
• Participants can learn C programming language skills
commonly used in industry.
VEX U Program
Benefits of college robotics
Recruitment:
• Use the VRC program to increase the quantity and
frequency of prospective students visiting campuses. Offer
workshops, help sessions and events to elevate exposure.
• Establish college scholarships/grants specific for high
school student VRC participants.
• Attract freshman by showing students that competitive
robotics does not have to end when they leave HS.
• Use On-Line Challenges to broaden the various majors that
welcome VRC participants. IT, Animation, CAD, PR &
Marketing, Media Production.
VEX U Program
Participation
USA Teams
Arizona (5)
California (5)
Florida (2)
Georgia (2)
Hawaii
Idaho
Illinois
Indiana
Maryland
Massachusetts (2)
(44 teams)
Michigan
Minnesota
New York (3)
Ohio
Oklahoma
Pennsylvania (4)
Tennessee
Texas (7)
Utah (2)
Virginia
VEX U Program – Participation
2012-2013
VEX U Program
Participation
International teams
(177 teams)
Brazil
1
China
8
India
2
Malaysia
1
Mexico
156
New Zealand
1
Puerto Rico
1
Saudi Arabia
2
Spain
2
United Kingdom
2
VEX U Program
What Does the Future Look Like?
• Focus on team growth, concentrate areas.
• Likely the last year that teams can
"register" to attend the World
Championship.
• All teams will be encouraged to have
played at a previous event to enhance
preparation for the World Championship.
VEX U Program
What Does the Future Look Like?
• Some type of qualification process will be
needed for VEX U in 2014-15.
• Grow the scholarship program.
• Increase the presence of college &
university recruiters at the VRC World
Championship.
Collaborate with Others
• VEX Forum for prospective college teams
– "VEX U - new team development" thread
• Work with your regional manager to network with
area organizations or teams.
• Use forums to seek out and identify VRC program
alumni.
REC Foundation Scholarship Program
• Colleges, universities and industry partners offer
scholarships for students in robotics
• Engage 7,300 robotics teams, well over 70,000
students, across the U.S. and 26 countries
• Nearly $1 million in scholarships available
• To learn more, visit:
www.roboticseducation.org/scholarships
• Contact us at:
scholarships@roboticseducation.org
VEX U Program
2014 World Championship Entry
• Domestic
– As soon as the event is opened for team registrations, it will be
first come first serve for domestic teams.
• International
– Countries with qualification events (example Mexico will have
several state championships and a National Championship), they
will send their appropriate qualifying representatives. These teams
must be identified no later then 3/1/14 and registered by 3/8/14.
– All other countries will be guaranteed one spot if registered by
1/15/2014. These countries may register a 2nd team if capacity is
available or add them to the wait list (explained in the next slide).
VEX U Program
2014 World Championship Entry
• Event capacity will be listed as 48 teams when the event
opens for registrations on October 1, 2013.
• Once capacity is reached a wait list will be started.
• There is potential for a second college division if the wait
list exceeds 32 teams by February 1, 2014.
• (Guaranteed spots will be reserved in advance to
accurately reflect total demand correctly.)
VEX U Program
Questions?