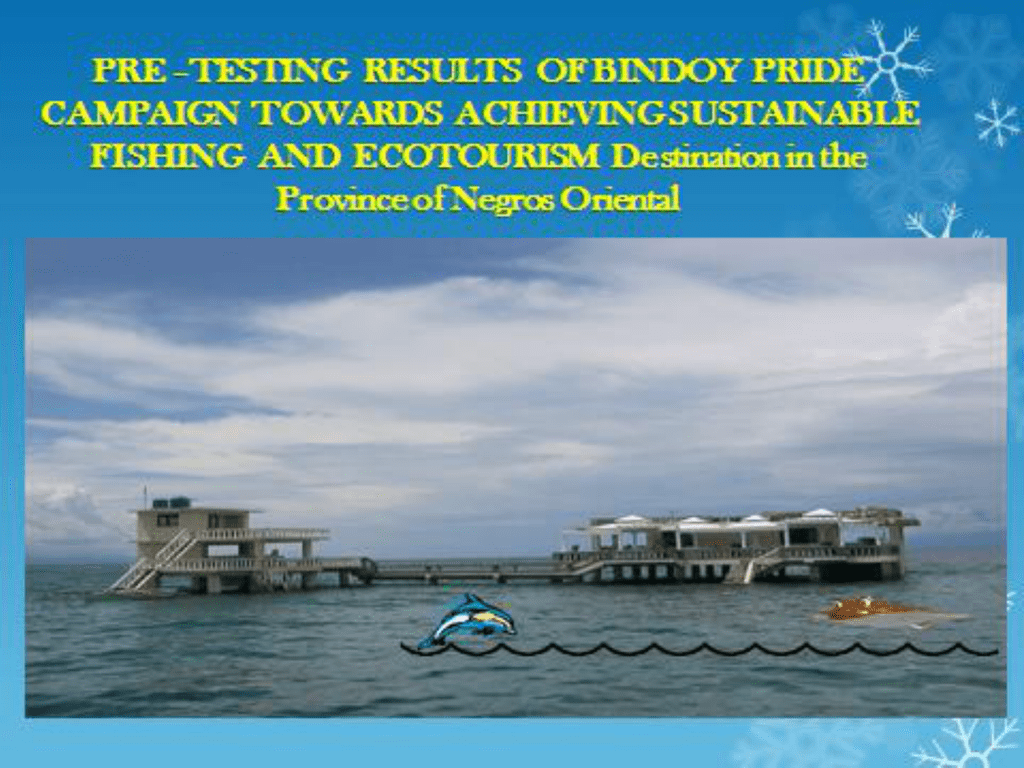 Activity: Pretesting the Campaign Logo
Activity Venue: MTWG/ManCom meeting and Discussion with Target Audiences
Activity Date: August 16-20, 2013
Pretesting Details
1.What have you understood of the picture that I have shown to you?
1. The picture represents the current activities of upland and coastal
resources of LGU-Bindoy.
2. The black spots remind us about the MANTALIP RESERVE
3. This picture would tell us of our responsibility towards concerning
the MPA more particularly its protection against the intruders.
4. No problem about the slogan "Ang mga Sangktwaryo: Atong
Bahandi, Atong Ampingan: because it can be understood easily .
2.What do you like about the campaign logo?
1. The picture of campaign logo looks like very good but we should add
another color to make it more attractive and all the fishers can distinguish it
very easily.
2. The tagline nga "Ang mga Sangktwaryo ; "Atong Bahandi ,Atong
ampingan" since this means Calling for action to protect the marine
resources.
3. The colors used are very appropriate for our on going activities in the
upland and marine resources.
4. Our campaign logo has originality and uniqueness.
3. What are your suggestions about the campaign logo?
1. Add more colours so that it will looks very nice and beautiful.
2. Instead of the word " sancutaries" change it to sanctuaries.
3. The sIlhouette of Mantalip marine guardhouse/facility appear on the black
spot cannot be easily be recognized and should be improved.
Activity: Pretesting of Mascot
Pre-Testing Details
What did you observed about the mascot?
-very cute and beautiful
-can be easily recognized as black spotted snapper
How do you know that fish is black spotted or
Labongan?
-Because of its distinguishing features of the mascot
which is the blackspots.
Suggestions:
- ready for production
What did you feel if you see this mascot?
 Malipay kay daghang labongan nga nagpuyo sa Mantalip Reserve, nga morag nag
bantay sa maong dapit.
You will not be afraid if this will become our campaign mascot ?
-Dili siya kahadlokan kay ilado man siya mga tawo ug mga bata
-Depende sa naggamit niini pod, kung maayo modala, makigsandurot sa mga tawo
mohalog-halog ug mo-akbay para dili na mahadlok ang mga bata ug ubang tawo.
What are your suggestions about the name of Mascot?
 labo
-Pero babaye man ang atong mascot
 lovi
-Mas maayo kay babaye man ang hitsura sa mascot ug mahigumaon nga ngalan
-Maanindot nga paminawon ang maong nga ngalan "lovi" ,dali ra nga
mahinumdoman
 Alo
- But it sounds not good because the "alo" means loko sa bisaya
What are the characteristics sa Mascot?
Hinayaw, kosog moabi-abi, hingumedya, makig hugoy-hugoy, abtik,
mahigalaon sa mga bata ug mga tigulang
Activity: Pre-testing of Billboard
What is your observation about the picture of Billboard?
-Lack of essentials elements that will explain the purpose of the picture
-Ang mensahe klaro nga mahalon nato ang mga sangtwaryo
-Dungagan ug laing mga picture
-Butangan ug asa mo taho sa mga tawo nga managat sa solud sa sangtwaryo ug
ilabina kon kinsa ang gapasiugda niini.
-Kinahanglan syang usbon ug lantawon namo ug osub.
- Dugangan ug colors ang poster
 Malipay mo makakita ani?
-Malipay kay maka-agni sa mga tawo sa pagbantay sa atong
sangktwaryo.
-aron ang tanan mga tawo mahibalo ug unsa ang sangtwaryo nganong
atong ampingan kini.
Magduha-duha na ang mananagat sa pagsulod sa sangtwaryo
aron managat kai basin sila ereport pinaagi sa hotline number.
 Unsay suggestion ninyo asa ibutang ang billboard?
-Adto ibutang kon asa mag stambay ang mga mananagat
-Kinihanglan daghan ang makakita niini bisan pa ang taga laing lugar
-Anha ibutang doul sa sangtwaryo.
-Butangan ug billboard ang entrada sa pagsolud ug gawas sa bindoy.
BINDOY PRIDE CAMPAIGN
GIDILI ANG TANANG KLASE SA PANAGAT SULOD SA
SANGTWARYO
ITAHO ANG KALAPASAN SA PAGSULOD SA MGA SANGKTWARYO SA BINDOY
SA PNP HOTLINE NO. 09176349171 UG CF NO. 09067256289
Sea Oil
JE Shell
Petron
 Results:
 - Campaign Logo – needs a little modification; just
add one color (yellow) to make it attractive.
 Mascot
– no changes and ready for production,
 Bill board
– majority decided to modify and right after it will be
pre-tested again by the MTWG/Mancom and the Fisher.
- Billboard will be installed where the fishers spend
their drinking session.
745 ha. Reef System
Mantalip Reserve
Legend:
----- 72 has. Mangrove
----- 52 has. Seagrass
----- 745 has Total Coral Reef System
THREATS:
 Encroachment of Commercial Fishing Boat near the
boundaries of the MPA Sites.
 Fishing with the use of compressor inside the MPA
area.
 Illegal fishing
 Fishing Pressure
Target Audience
Using fine-meshed
nets
Muro-ami fishers
Hook & Line fishers
Campaign Solutions: (Barrier Removal)
1. Alternative Livelihood Projects other than fishing
Seaweeds culture
Livestock dispersal
Mud crab Fattening
Swine Dispersal
Strict implementations Fishery Laws and
Ordinances and Seaborne Patrol Activities
conducted regularly by FLET.
Presence of
working
Speed boat
PL 480 from
BFAR-7 used
for seaborne
patrol
activities and
as deterrent
for the local
fishers from
doing illegal
fishing.
INTER –LGU
ALLIANCE:
( "A Network of Marine
Protected Area ")
BATMan
Municipalities:
Bindoy
Ayungon
Tayasan
Manjuyod
Pictures of Lead Agency Team and
Site Partners
 "Marine conservation is not only my concern but it is
everybody's concern"
 DAGHANG SALAMAT!
Definition of Theory of Change
(ToC):
 The Theory of Change is a general formula using
strategic plan that shows the conservation impact of our
Pride Campaign and also a complete package in a
simple way that We will be able to use to run at our
site. This strategy has concise documents which
biodiversity threat due to the negative actions of our
local fishers that i will focus on and how i will change this
group of behaviors so that the threat in our MPA sites
will be reduced and could possibly achieve our positive
target which is sustainable fishing because of our
environmental conservation in order for us to live and
survive .