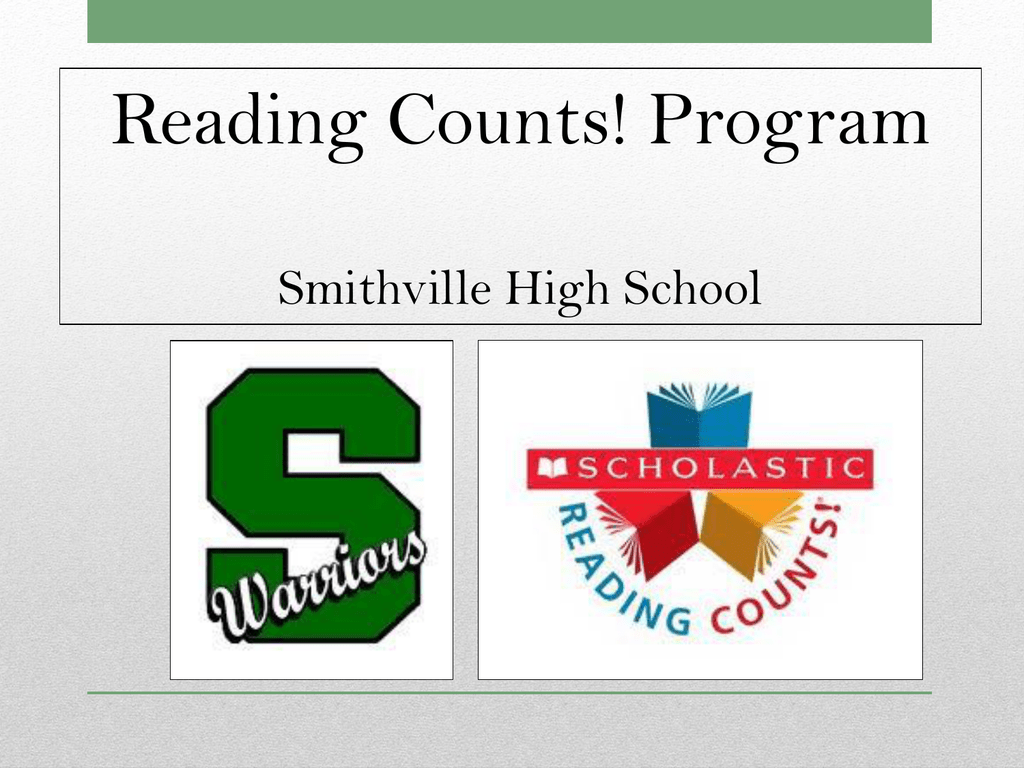 Reading Counts! Program
Smithville High School
The Smithville R-II school district is
committed to preparing our students for postsecondary success. Whether our students
attend college or move directly into the work
force, the ability to comprehend complex text
is a critical skill.
Research has shown that independent reading
is a vital component to increasing reading
level, comprehension, vocabulary, and general
background knowledge. In addition, students
who read independently consistently outperform their peers on standardized
achievement tests in all subject areas
(Cullinan, 2000). Reading Counts is a
program used by Smithville schools to help
promote rigorous independent reading to our
students.
Reading Counts!
S.H.S. Purpose Statement
Cullinan, B.E. (2000). Independent reading and school achievement. Retrieved
from
http://www.ala.org/ala/mgrps/divs/aasl/aaslpubsandjournals/slmrb/slmrcontents/vo
lume32000/independent.cfm
•
•
•
•
•
•
Communication Arts I 12 pts.
Communication Arts II 14 pts.
Communication Arts I (Honors) 14 pts.
Communication Arts II (Honors) 16 pts.
Communication Arts III: American Literature 16 pts.
Pre-AP English and AP English Literature have their
own unique text requirements. Check with the
instructor.
Quarterly Point Requirements
First Quarter
September 19
Second Quarter
November 14
Third Quarter
January 30
Fourth Quarter
April 10
Reading Counts! due dates are firm and do not fall under
the one free pass for late work.
2014-2015 Deadlines
As your Reading Counts! teacher, I commit to do
the following to help you in this journey:
I will set deadlines for book selection to ensure that you are able to
meet Reading Counts due dates.
I will help you select books that meet the Reading Counts
requirements.
I will conference with you upon request if you have trouble passing
quizzes to help prepare you for your next attempt.
I will offer additional accommodations if you have not been able to
pass a quiz for a book you have read.
Teacher Responsibilities
As a Reading Counts! student, you must
commit to the following:
I will select an appropriate book.
I will read the book selected by the due date.
I will take my quizzes by the due date.
I will ask my teacher for help if I have difficulty passing a
quiz.
Student Responsibilities
Support for Struggling/Reluctant Readers:
Teachers and librarians provide suggestions for RC book:
By the end of the school year, all students rate and make comments on books
they have read through a program linked to the electronic card catalogue.
Through the program created by Mr. Heslinga, student identifies date by
which he/she would like to be done with the book; goals are set for reading
with teacher and / or tutor's help if needed.
Teachers checks in with student to see how he/she is progressing toward goal
Students who fail RC and do not qualify for the alternative assessment
described below will join RC groups established by Mr. Heslinga.
Alternative Assessment:
Students who take 3 tries on a single book but are not successful in earning an
8 out of 10 on the Reading Counts test are given a credit recovery assignment
worth 50% of the points for the exam. It is due a week later.
If a student scores a 6 or a 7 with 2 tries, the teacher will print out a hard copy
of the third exam for the students to take as their third try. Students are
encouraged to tell their teachers when this occurs.
The library will print off bi-weekly reports as to student progress up to two
weeks before the due dates with it will become weekly. Teachers will try to
catch which students need to take advantage of this hard copy third try.
Students who earn a 6/7 on all three tries will be given a percentage based on
their score between 60-70%. If the student wishes to receive a higher score,
then if time permits they are encouraged to read another book and re-take the
test.