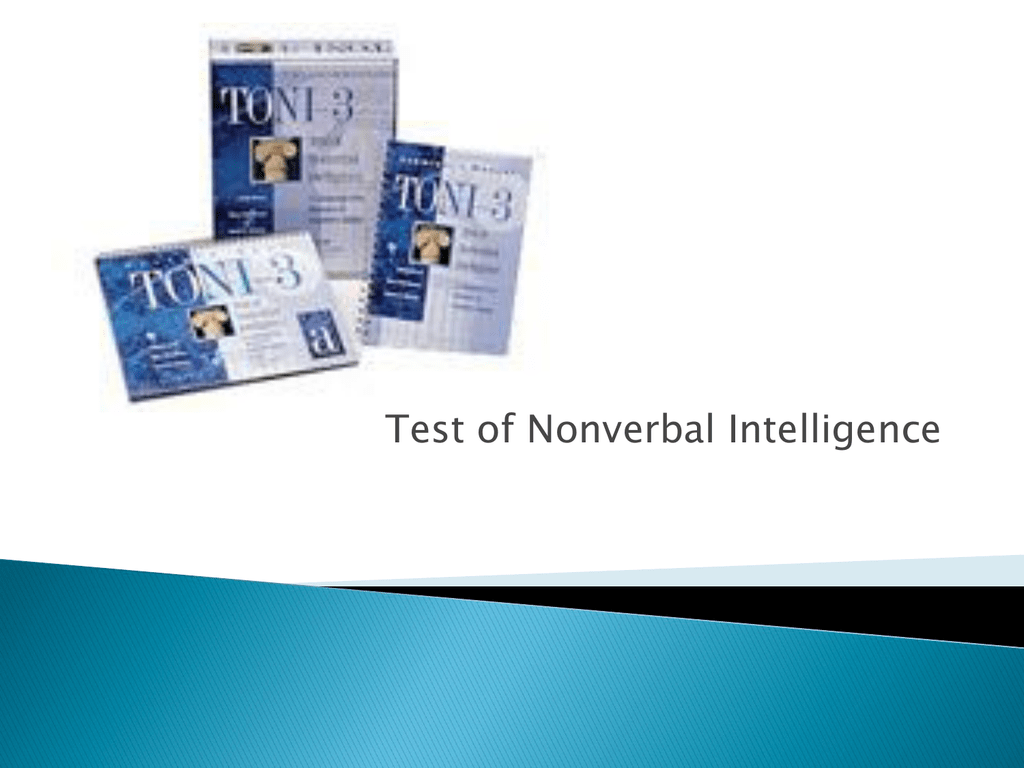 Test of Nonverbal Intelligence

Used for screening

Nonverbal intelligence test

Measures intelligence, aptitude, abstract
reasoning, and problem solving.


It's adaptable to individual disabilities/ cultural
variances (people who can't listen, speak, read,
write, who are from different cultural
backgrounds, or who have neurological
impairments)
It can be used with groups or individuals in or
out of schools
The Toni-3 clearly evidences a high degree of reliability. It was tested
for various types of potential test error and found to be reliable in three
major areas: Alternate form reliability, test-retest reliability, interscorer reliability. The magnitude of these coefficients strongly suggests
that the Toni-3 possesses relatively little test error and that users can
have confidence in the consistency and stability of its results.
Sources of
Error
Toni-3
Forms
Alternate
Form
Reliability
Test-Retest
Reliability
Inter-Scorer
Reliability
Averages
Form A
93
91
.99
.96
Forms B
93
92
.99
.96

National representative of more then 3000
people ages 6 to 89

Represented in a number of diversities

Stratified by:
◦
◦
◦
◦
◦
◦
◦
◦
age
gender
race
ethnicity
geography/location
community size
language spoken at home
and SES
Criterion Tests



CTONI
Pictorial Nonverbal IQ
Geometric Nonverbal IQ
Overall Nonverbal IQ
Form A
TONI -3
Form B
.74
.64
.76
.72
.64
.74
WISC-II
Verbal Scale IQ
Performance Scale IQ
Full Scale IQ
.59
.56
.63
.53
.58
.63
WAIS-R
Verbal Scale IQ
Performance Scale IQ
Full Scale IQ
.57
.75
.73
.51
.76
.71






It meets high standards for norms, reliability,
and validity
It language free allowing anyone who can see
to take it
It is mostly abstract eliminating cultural
differences
It is easy to administer and score
It is appropriate for any age
It has two forms to allow for retesting or post
testing




Only one subtest
There is a new version (TONI-4) to be
released soon
It is a supplemental IQ test, it should not be
used for broad spectrum IQ test
Compared to some other tests the TONI-3
may overestimate an individuals performance
Since the TONI-3 provides a strong norm sample
and high measures of validity and reliability we
would recommend the use of this test. It provides
an alternative form of assessment when subjects
cognitive, language, or motor impairments make
traditional tests inappropriate or ineffectual.
However, it is mainly a supplemental test and
should not be solely relied upon to test IQ.