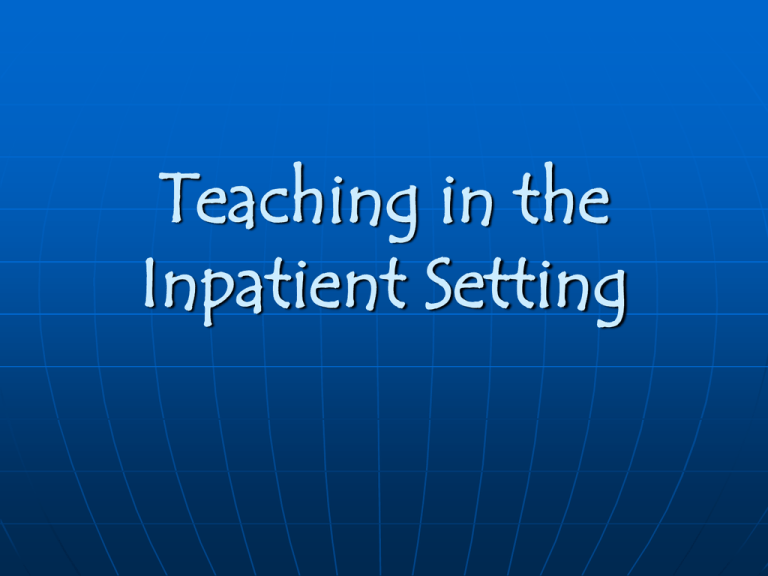 Teaching in the
Inpatient Setting
Characteristics of Good Teachers






Enthusiastic
Ask Questions
Nonthreatening
Promote self learning
Recognize the needs of the learner
Knowledgable
Inpatient vs Ambulatory Education






Team Learning
Time for Advanced Preparation
Number of Learners
Less time/patient pressures
Speed of evaluations
Educational intimacy
Orient Your Team





Outline Expectations
Assess their needs
Organize the month
Assign responsibilities
Explain your teaching and evaluation
style
Role Model





Be professional
Have a good attitude
Be on time
Pitch in/lead from the front
Treat everyone with respect
Create a Good Learning Environment





Show enthusiasm
Involve your learners
Be friendly
Be consistent
Ask questions in a non-threatening way
Put Forth an Effort



Take the time to teach!
Give assignments when things are busy
Get to the bedside
Teach What You Know/ What the
learners need



Students need to know how to present,
how to write orders, how to examine
patients, how to read EKGs, how to
replace K+, where the bathroom is, etc.
Recognize that different levels of
learners will benefit from the same
discussion
Get to the bedside!
Give Feedback


Let your team know what they are doing
well and where they can improve
Feedback is absolutely crucial for
improvement
Pitfalls in Clinical Teaching





Taking over the patient
Inappropriate lecturing
Insufficient "wait time" on questions
Leading questions
-"Could this be a PE?"
Pushing Past Ability
Teacher Reasoning and Action



Diagnose the Patient
Diagnose the Learner
1. Get a commitment
2. Probe for evidence
Teach
Teach general rules. Provide
feedback. Correct mistakes.