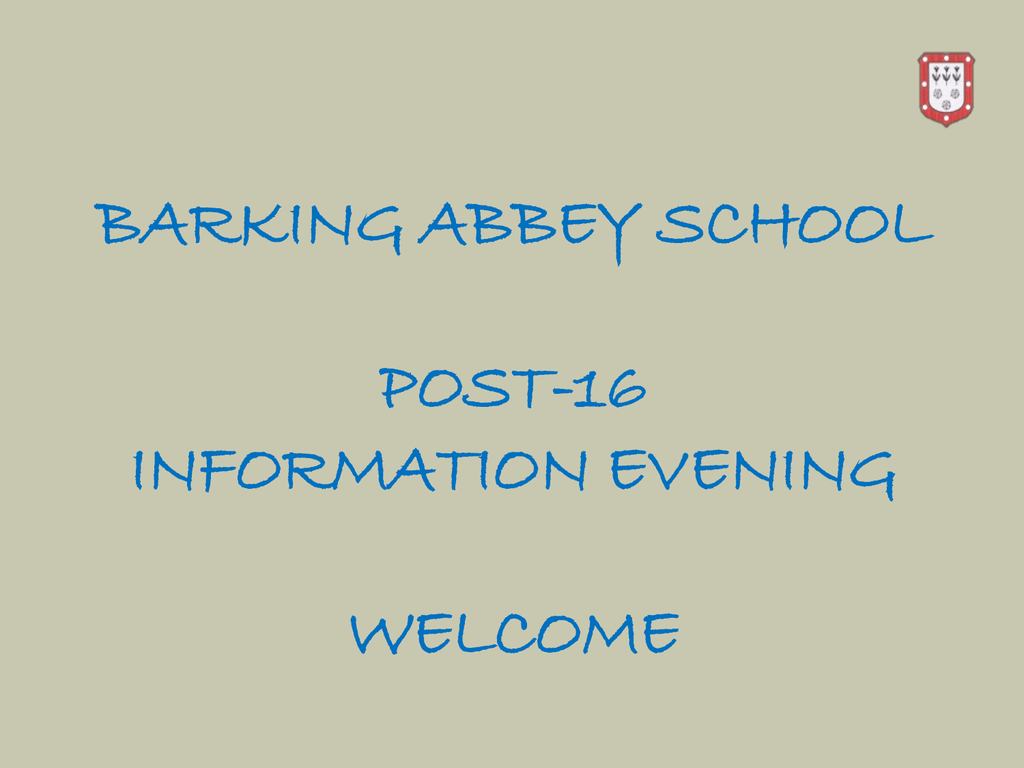 BARKING ABBEY SCHOOL
POST-16
INFORMATION EVENING
WELCOME
2014 EXAMINATION RESULTS
How well did we do?
Barking Abbey
All Saints
Dagenham Park
Eastbrook
Eastbury
Jo Richardson
Robert Clack
Sydney Russell
Warren
73%
69%
55%
39%
59%
61%
65%
63%
53%
2014 EXAMINATION RESULTS
SIXTH FORM
A* - E Grades: 98%
A*- C Grades: 72%
Average Points Score Per Entry: 216
(National = 212)
BTEC Points Score Per Entry: 221
Over 600 in the Sixth Form
NEXT STEPS
You should already be thinking about your next career step
If you are thinking of a degree and career in medicine, dentistry,
veterinary surgery or law, you should already be planning a related
work experience during this coming year.
Your also need to be reading more widely around your subject
WE DO NOT SELECT ONLY ON
THE HIGHEST QUALIFICATIONS
You need to get the minimum requirements for A level or BTEC courses
But other than that, we do not select on ability
Other schools and colleges do select
This means that their "Headline" figures might be higher than ours
But do not be fooled into thinking that this means you will get better results at
these places
WE ADD VALUE
"Value Added" measures how well students
do at A level compared with their predicted
grades based on their GCSE results
Barking Abbey's Value Added scores are
above the national figures for both A level
and BTEC courses
THE RUSSELL GROUP
Cambridge
Oxford
Imperial College London
King's College London
London School of Economics
Queen Mary
University College London
Birmingham
Bristol
Cardiff
Durham
Edinburgh
Exeter
Glasgow
Leeds
Liverpool
Manchester
Newcastle
Nottingham
St. Andrew's
Sheffield
Southampton
Warwick
THE FACILITATING SUBJECTS
Biology
History
Chemistry
Maths
Economics
Modern Language
English Literature
Physics
Further Maths
Religious Studies
Geography
A FULL RANGE OF SUBJECTS
23 A levels
12 different combinations of BTECs
Sports Leaders Award
Duke of Edinburgh Award
SO…
Don't fall into the trap of thinking that the grass is greener somewhere else!
Students left this year to go to other sixth forms. 60% have already come straight
back!
STRUCTURE OF YOUR DAY
Each AS level has 5 hours per subject per week
BTEC Extended Diploma has 15 hours per week
Plus additional mentoring hour
Computer rooms, common room and library
available for private study lessons
YOUR CHOICES
Options are :-
4 AS levels ( Need mainly B grades or higher)
BTEC Extended Diploma with or without an AS
level (need C grades or higher)
BTEC Diploma with 2 AS levels
BTEC Subsidiary Diploma with 3 AS levels
SUPPORT AND GUIDANCE
Strong aspect of the school
Support from teachers who always go the 'extra mile'
Support from your mentor
Support from the pastoral team
Support from the careers advisors
Open door policy across the school
MAKING THE RIGHT CHOICES FOR
YOUR FUTURE
Almost 90% of Barking Abbey Sixth Formers students go to university
All students take part in variety of preparatory conferences and open days
Guidance given with personal statements
References written by committed, knowledgeable staff and mentors
Our reputation precedes us with university admissions officers
Students who do not go on to Further and Higher Education are given
specialist careers advice and support
OPPORTUNITIES TO HELP YOU SHINE
IN YOUR APPLICATION
Visits to: National Gallery; Tate Modern &
Britain; Victoria & Albert Museum; Natural
History/ Science Museum; National Portrait
Gallery; British Museum ; Imperial War
Museum and several university's specialist
collections (UCL; Imperial; Oxford & King's
College)
OPPORTUNITIES TO HELP YOU SHINE
IN YOUR APPLICATION
Pathways to Law Programme (collaboration with LSE and UCL)
King's College K+ programme
Speakers from Politics, Media, Science, Engineering, Business for the Speakers For
Schools and Female Futures collaborations
Advanced Debate Mate programme to develop public speaking in Years 12/13
STEM Potential Programme with Imperial College
Summer School programmes with UCL, St George's (University of London), LSE,
QMUL, UEA, Southampton, Birmingham, Sutton Trust (Nottingham, Durham ,
Edinburgh, St. Andrews, Bristol); Oxford (UNIQ); King's College London; Warwick
University; University of Manchester
SUPPORTING AMBITION
Oxbridge Application Evenings held and hosted by the school (in
conjunction with Wadham College, Oxford & Newnham College,
Cambridge)
Cambridge University Shadowing Scheme in January (Year 12)
Further Maths STEP programme (UCL)
Collaborative work with History and English Departments at
King's College London
KPMG: Price Waterhouse Cooper; Institute of Chartered Accountants
and Ernest & Young collaborations Re: Finance; Business and
Maths Careers & Support Opportunities
Pathways to Law Programme (collaboration with LSE and UCL)
SPECIAL SUPPORT FOR
MEDICS/DENTISTRY
We have close links built up over years with a variety of universities and institutions
Medicine and Dentistry Outreach programmes with the University of London;
Medicine Work Experience Programme with King's College Hospital
Gresham College , Royal Society of Chemistry and Wellcome Centre lecture series for
schools and public
Cambridge Science Festival and Festival of Ideas events (lectures, exhibitions and
debates
Medlink/Vetlink and Preparation for the BMAT and UKCAT Tests
BREADTH OF APPLICATIONS
Barking Abbey students apply for a huge range of university courses
from the highly academic at Oxford and Cambridge to more
vocational courses in Teaching, Sport, Dance and Drama
Every student is encouraged and supported in finding their
pathway and pursuing it at the best university for their course.
Many students apply and are offered places at the most prestigious
Art Colleges in the country such as The Slade School of Art
Students have the opportunity for Personal Statement, Admission
Test and Interview Workshops run by experts from Russell Group
Universities
APPLICATION PROCESS
Taster day on December 18th
Initial application due in Monday 2nd February (after the
parents evening and mock results)
Choices made through :- love of subject and ability of
subject.
APPLICATION PROCESS
Taster day on December 18th
Initial application due in Monday 2nd February (after the
parents evening and mock results)
Choices made through :- your love of, and ability in, the
subject.