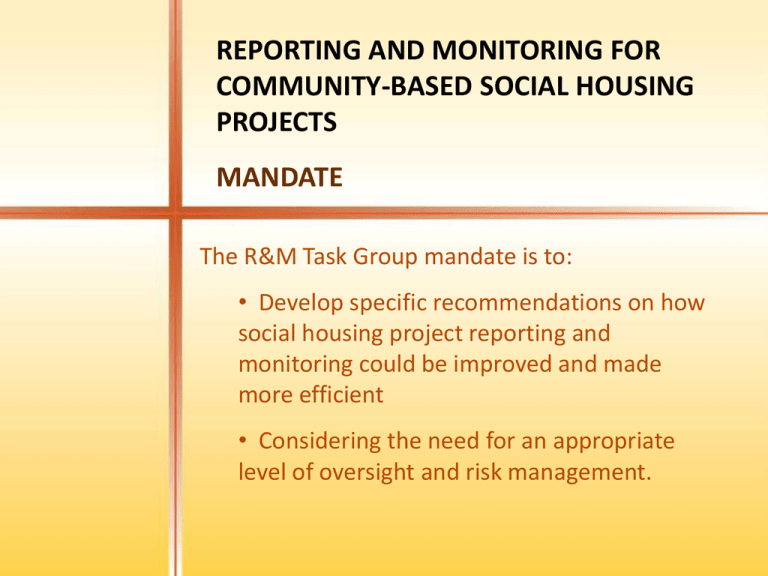 REPORTING AND MONITORING FOR
COMMUNITY-BASED SOCIAL HOUSING
PROJECTS
MANDATE
The R&M Task Group mandate is to:
• Develop specific recommendations on how
social housing project reporting and
monitoring could be improved and made
more efficient
• Considering the need for an appropriate
level of oversight and risk management.
SCOPE, ISSUES & CONSTRAINTS
• Develop a project monitoring framework that
allows BC Housing to focus on program rather than
project management
 Develop standard reporting forms and formats
that enable appropriate risk management but are
not unreasonably detailed
 Explore and assess the feasibility of electronic file
sharing
KEY PARTICIPANTS
REPORTING & MONITORING
FRAMEWORK
Top Level Forms
REPORTING & MONITORING
FRAMEWORK
Subsidiary Forms
and Risk Items
PROJECT REPORTING FORMS
Performance Specification
Main Project Forms
1.
2.
3.
4.
5.
6.
Funding Guidelines
• Feasibility study
• Operating program description
Proposal Contents
• Evaluation matrix
PPA Format
• Monthly report contents
• PDF Application
Request for Commitment
• Evaluation matrix
Commitment Request Contents
• Claim process detail
• Change Order process specifics
• Operating agreements
Final Project Report
Funding Guidelines
PURPOSE:
• To inform potential proponents of the housing
services BCH wants to acquire and the assistance
they are able to provide
• With sufficient clarity to enable proponents to
evaluate the fit with their objectives,
opportunities and capabilities and
• To prepare a proposal which responds to which
responds to BCH's requirements and evaluation
criteria
Proposal
PURPOSE:
• To provide a complete, coherent
description of the proposed project in
sufficient detail to allow BCH to evaluate
the proposal's match to BCH's objectives
and the costs and risks to attaining them.
PPA
PURPOSE:
• To identify and ameliorate the main risks
to BCH of meeting their objectives by
setting conditions for the sponsor to meet
prior to irrevocably committing BCH's full
resources to the project.
• The form and content of the PPA letter
will set the form and content of the
progress reports by the sponsor to BCH
during the development phase.
ELECTRONIC FILING
AND FILE SHARING
THE FIRST STEPS
• BC Housing's policy objectives and funding
information should be available on the web and
actively distributed electronically
• Project information should be exchanged by
electronic means
RFP Table of Contents
FUNDING GUIDELINES
PURPOSE: To
identify optimal funding opportunities
by soliciting responses filter to meet BC Housing's
objectives:
• Service objectives
• Target areas
• Cost expectations
• Building program expectations
• Schedule expectations
• Funding available
• Other evaluation criteria
Proposal Table of Contents
PROPOSAL
PURPOSE:
To further the proponent's objectives by
developing a proposal which combines:
• The proponent's objectives and
• A specific development opportunity to
• Meeting BC Housing's objectives
Provisional Project Approval 1
Sample BCH PPA
Purpose: To establish an approval framework
• Specific to a proposed project which
• Maximizes the likelihood that the project
submitted for funding commitment will meet BC
Housing's objectives by
• Outlining conditions for funding which include:
o General funding requirements
o Project-specific risks to be mitigated
The PPA letter establishes the administrative
framework for the development phase
PROVISIONAL
PROJECT APPROVAL 2
Responses to the PPA Letter:
• Regular letter addressing specific conditions
• Project documents (e.g. DP, BP)
• Budget
• Schedule
• Team data
• Site data
• Building data
Sample Request for Commitment
REQUEST FOR COMMITMENT
PURPOSE:
To confirm that all conditions precedent to
project funding have been met and
documented as required.
COMMITMENT
Sample Claim Form
PURPOSE:
To communicate funding approval and to establish the
specific legal framework within which funds will be
made available
• Amount
• Security documents required
• Advancing requirements
o Claim form and advancing process
o Change order process
FINAL REPORT
PURPOSE:
To document fulfillment of the project
approval conditions
TASK GROUP STAFF
• Marleen Morris
• Jennifer Hall
TASK GROUP MEMBERS
• Stuart Thomas | TASK GROUP CHAIR
Principal, Terra Housing Consultants
• Barbara Bacon
Executive Director, BC Housing Foundation
• Caroline Bonesky
Executive Director, Fraserside Community Services
• Genevieve Bucher
Project Officer, BC Housing
CONTINUED ON NEXT SLIDE
TASK GROUP MEMBERS
CONTINUED
• Casey Clerkson
Associate, CPA Development Consultants
• Janis Gauthier
JG Consulting Services Ltd.
• Janine Ryder
Senior Project Officer, BC Housing
• Luke Stack
Executive Director, National Society of Hope
• Amy Wong
Senior Project Officer, BC Housing
The End!