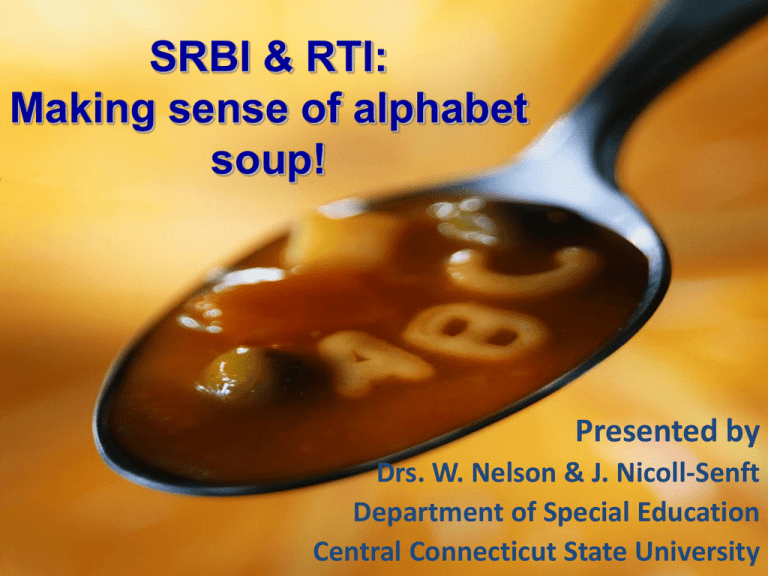 SRBI & RTI:
Making sense of alphabet
soup!
Presented by
Drs. W. Nelson & J. Nicoll-Senft
Department of Special Education
Central Connecticut State University
(more) Food for Thought…
• The quality of a school as a learning
community can be measured by how
effectively it addresses the needs of all
learners (Wright, 2005).
• Turn & Talk: Introduce yourself to your
neighbor. Do you AGREE or DISAGREE with
this statement? Why?
But first…some background
information…
Shifts in THINKING…
Shifts in the LAW…
Over the last 30 years how we address
the needs of students has evolved:
ESEA & NCLB 2001:
•Accountability for learning
•School improvement
•Adequate yearly progress (AYP)
•Ensuring academic achievement for all
students
•A demographic group that was once not
counted is now counted
•We have changed our thinking on how
we teach and how children learn
•These discoveries have resulted in
educational laws and practices
Reauthorization of IDEA 2004:
•Effective (research-based) instruction)
•Progress monitoring
•Early intervening services (vs. "wait to
fail")
•Educational benefit and FAPE
Response to Intervention (RTI) is:
1. A process for determining eligibility for special
education services. An alternative to the
IQ/Achievement discrepancy approach for
determining the presence of a learning disability
2. A coordinated school-wide approach for
intensifying instruction and intervention for all
students at risk for not meeting grade level
academic or behavioral goals
RTI in action…
Response to Intervention (RTI) isn't:
 A program, package, or product
 One size fits all
 Only top-down or bottom-up
 A special education initiative
 Just for kids who are struggling
 Anything new
 Business as usual
Scientific Research Based Intervention (SRBI):
Connecticut's implementation of RTI
…providing more effective instruction for all
children through sound core curricula in key
academic areas and positive behavioral
supports, as well as through early
interventions for youngsters experiencing
learning or behavioral difficulties, using core
curricular and interventions that are
research-based.
Response
to
intervention
(RtI)
Scientific Research
Based
Intervention
(SRBI)
SRBI because:
• Many of CT's entering kindergarten students do not
have the expected language and literacy skills
• CMT & CAPT reading scores continue to be flat over
the past decade
• English language learners and students with disabilities
perform at very low levels on the CMT & CAPT
• Many regular education students fail to meet state
goals across grades.
• There are persistent gaps in performance between
non-poor and poor students and between white and
their black and Hispanic classmates.
A recipe for SRBI:
 Comprehensive & coordinated classroom instruction for
all students. The effectiveness of classroom instruction is
evaluated through universal assessments.
 Universal assessments are also used to identify students
who require additional intervention
 Supplemental intervention and ongoing progress
monitoring for students at risk for performing below grade
level
 Intensified intervention support for students who do not
respond to core instruction and targeted intervention
The three tiers of SRBI…
SRBI in action…
~5%
Tier 3:
Specialized, Individualized
Intervention for Students
with Intensive Needs
~15%
Tier 2:
Supplemental
Intervention for Students
Performing Below Grade
Level
Tier 1:
Comprehensive &
Coordinated
Instruction
for All Students
~80% of Students
SRBI in action…
Comprehensive & Coordinated Classroom
Instruction for All Students
 Aligned with key student outcomes
 Evidence based program(s) & materials
 Comprehensive, consistent, & high quality
 Implementation is coordinated & prioritized
 Ongoing teacher support
100% of Students
SRBI in action…
The goal of classroom instruction is to
enable a high percentage of students
to meet grade level goals
80% of Students
SRBI in action…
Supplemental Intervention For Students at Risk
for Performing Below Grade Level
 Screening data used to identify students
needing additional intervention
 Intervention options are evidencebased, consistent, and coordinated
 Intervention is planned, scheduled
and implemented to best leverage resources
 Assessment data is used to adjust and
intensify intervention
5%
15%
80% of Students
SRBI in action…
Intensive Intervention Support
5%
• Schools use individual student progress
monitoring data to identify students with the
most intensive learning and behavioral needs
based on lack of response to core instruction
and targeted intervention
• Students at high risk receive individualized
intervention at higher levels of intensity (e.g.,
more time, smaller group size, with highly
trained professional, etc.)
SRBI…an opportunity to:
Significantly increase the effectiveness of
schools' educational practices so as to
enable a higher percentage of students to
meet essential academic and behavioral
goals
Make more efficient use of existing
resources
Focus on preventing learning and
behavioral difficulties before they become
entrenched and intractable
How does all of this apply to you?
 Knowledge of SRBI/RTI logic
 Ability to deliver differentiated core academic and
behavioral instruction to all students.
 Ability to provide targeted supplemental or specialized
academic and behavioral intervention to students who
don't respond to primary instruction alone.
 Ability to select, administer and interpret a variety of
assessments to evaluate the effectiveness of instruction
and intervention and to document students' learning
and growth to inform planning and instruction
 Ability to adjust instruction and intervention in response
to information gathered from ongoing assessment and
monitoring of performance and progress.
A pop quiz!
• Practice with the tiers
Final Thoughts…
• Define SRBI with a neighbor. What does SRBI
mean to you as a teacher candidate?
A virtual buffet of SRBI Resources!
• Connecticut's Framework for SRBI:
http://www.sde.ct.gov/sde/lib/sde/pdf/pressr
oom/SRBI_full.pdf
• The Iris Center:
http://iris.peabody.vanderbilt.edu/
• Connecticut's Department of of Education
Website:
http://www.sde.ct.gov/sde/lib/sde/PDF/DEPS
/Special/Web_Resources_Extension.pdf
Bon
Appétit!