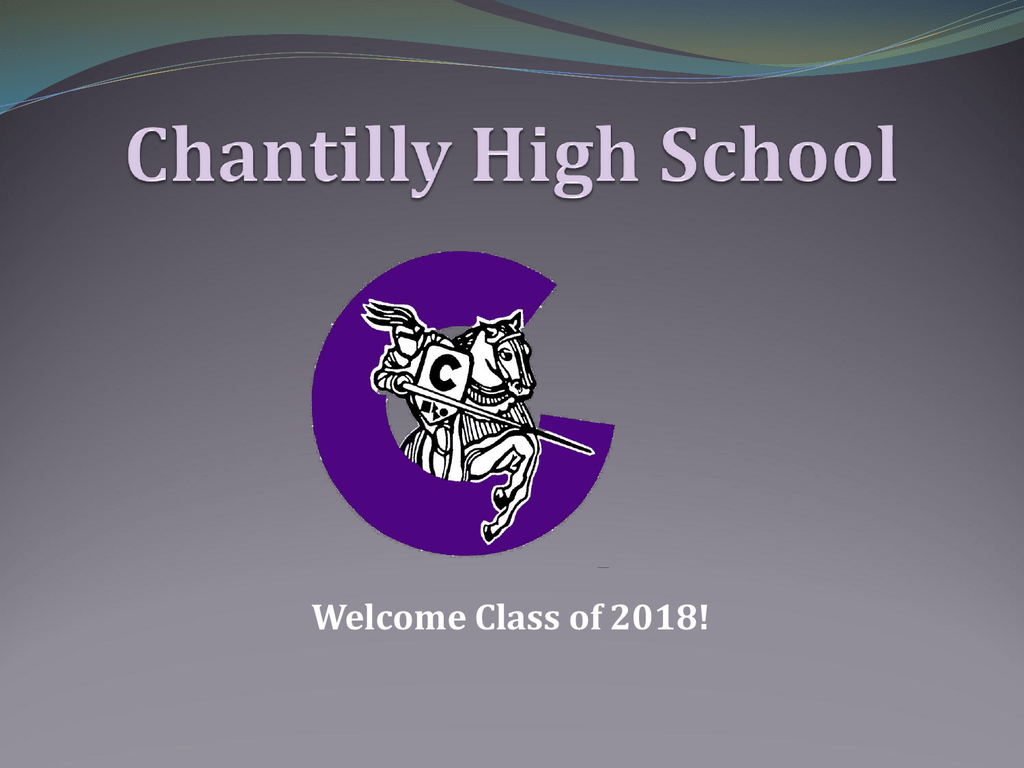 Welcome Class of 2018!
Objectives for the Evening:
 Meet the Student Services Department
 Learning as a focus and being prepared as an
outcome
 What is different about high school?
 Diploma Types for Rising 9th Graders
 Overview of the Curriculum at Chantilly
Focus on Learning over Grades!
 Understand the difference between homework and
studying
 Read what is assigned
 Persevere when things are difficult
 Ask for help as needed
 Understand the "why"
 Practice, Practice, Practice
 Then…you will earn good grades
What do Chantilly Students do
after Graduation?
 69% matriculated to a four-year college
or university
 25% matriculated to a two-year school
 6% entered the workforce and/or
military
What does it mean to be College &
Career Ready?
Virginia Department of Education (VDOE)
 Content Knowledge – 3 R's

English (reading & writing) and Mathematics
Partnership for 21st Century Skills
 Skills – 4 C's




Critical Thinking & Problem Solving
Communication
Collaboration
Creativity & Innovation
Chantilly High School is committed to both!
VDOE Indicators of College Readiness
Include:
(Prepared for credit-bearing courses)
 Successful completion of Algebra II and Chemistry
 Earning Advanced Proficient scores on the math,
reading and writing SOL test
 Earning an Advanced Studies Diploma
 Participating in AP classes
What if the Standard Diploma is the
Best Option for my Child?
 Successful completion of Algebra II and Chemistry
 Earn Advanced Proficient scores on the math,
reading and writing SOL test
 Take math and science every year
 Earn a B average in core classes
 Ignore the pecking order of rankings
 Chantilly Academy – certifications/training
No teams!
We keep track of you through
sub-schools!!
SUB-SCHOOL #1:
SUB-SCHOOL #2:
SUB-SCHOOL #3:
SUB-SCHOOL #4:
A-GAZ
GB-MEIJ
MEIK-SAK
SAL-Z
SCHOOL HOURS – 7:20am to 2:05pm
SHORTER DAY ON FRIDAY! – School starts at 7:56am. Buses
still come on time.
DIPLOMA TYPES
STANDARD
ADVANCED
22 CREDIT DIPLOMA
•
•
•
•
•
•
•
•
•
•
English - 4
Social Studies - 4
Math – 3
Science – 3
PE – 2
World Language, Fine Arts/
CTE – 2
Econ/Personal Finance - 1
Electives – 3
Sequential electives required
6 SOL/verified credits
26 CREDIT DIPLOMA
•
•
•
•
•
•
•
•
•
•
English - 4
Social Studies - 4
Math – 4
Science – 4
PE – 2
World Language– 3
Econ/Personal Finance - 1
Fine Arts/CTE – 1
Electives – 3
9 SOL/verified credits
English:
English 9
English 9 HNs
English 9 HNs Civ
Social Studies:
World Hist. 1
World 1 HNs
World 1 HNs Civ
Science:
Biology
Biology HNs (Science Fair Required)
Mathematics
Algebra 1 Part 1 & Algebra 1
(Double blocked class that takes place every day fulfills one math credit)
Algebra 1
Geometry
Algebra 2
Algebra 1 HNs (Repeating Alg. 1)
Geometry HNs
Algebra 2 HNs
Please do NOT take a NEW math course in the summer!
FRESHMAN SCHEDULE
REQUIRED CLASSES:
1. English 9
2. Math
3. World History/Geography 1
4. Biology
5. PE
YOUR CHOICE:
6. World Language or elective
7. Elective
SHOULD I TAKE AN HONORS CLASS?
 YES, IF I AM A STUDENT WHO:
Is currently earning an A or B+ in that subject.
Is an independent learner.
Loves the subject and wants to go more in depth in this area.
Is a good note taker.
Is self-disciplined.
Is organized.
Is an independent reader.
Desires an academic challenge.
Is willing to commit extra time.
Consider the balance of your schedule and factor in outside
activities.
 Enjoys reading.










HONORS OVERVIEW
 Independent research project is required for Honors
Biology.
 Honors World Civilization is a linked Honors English and
Honors World History 1 class. Literature and History
overlap.
 You have the option of taking Honors English and Honors
World History 1 separately.
 Independent reading is required.
HONORS OVERVIEW
CONTINUED
 You must love reading – there is a lot of it.
 Most honors classes have a summer packet. Please
check the CHS Website in June for summer
assignments.
 Students will be tested on summer material at the
beginning of the school year.
HONORS/AP MATRIX EXAMPLE
GEOMETRY
 HOMEWORK: 45 MINUTES A DAY
 2-3 TESTS PER QUARTER
 1 STUDY HOUR FOR TESTS
 MORE EXAMPLES & PRACTICE
 FOCUS ON ESSENTIAL SKILLS
GEOMETRY HN
 HOMEWORK: 1 HOUR A DAY
 2-3 TESTS PER QUARTER
 1-2 STUDY HOURS FOR TESTS
 SUMMER PACKET REQUIRED
 SUMMER PACKET TEST
 LOGIC UNIT
 APPLICATION OF GEOMETRY
CONCEPTS THROUGH PROOFS
 RETAIN CONCEPTS WITH MINIMAL
EXAMPLES
 22 MORE TOPICS TAUGHT THAN IN
THE NON-HONORS CLASS
SHOULD I TAKE A WORLD LANGUAGE?
YES, IF I AM A STUDENT WHO:
- Has good study habits.
- Is willing to commit to spending time DAILY to
studying the language.
- Wants the Advanced Studies Diploma.*
*You can still earn the Advanced Diploma and WAIT
until 10th grade to begin taking a World Language.
Chantilly Players
I am on stimulus overload
– who do I listen to?
Academic Advising Materials
http://www.fcps.edu/ChantillyHS/StudentServices/Advi
sing.shtml
 On Line Resources
 Course Catalog
 Course Selection Sheet
 9th Grade Electives
 AP & Honors Information
 FCPS Policies & Regulations
Curriculum Information
ELECTIVE HINTS
 Only one elective spot in the schedule if you take a World Language.
 Choose something fun that will allow you to explore your creativity
and/or career interests.
 The grade counts and will average into your GPA.
 Use course booklet to get more information about the electives.
 Choose wisely and carefully. Schedules CANNOT be changed in
September.
 IMPORTANT: CHOOSE TWO ALTERNATIVE ELECTIVES
9TH GRADE ELECTIVE CHOICES
ART:
-STUDIO ART & DESIGN 1
-PHOTOGRAPHY
-COMPUTER GRAPHICS
BUSINESS:
-INFORMATION SYSTEMS
-ADVANCED INFORMATION SYSTEMS
-DESIGN MULTIMEDIA
-PROGRAMMING
-WEB PAGE DEVELOPMENT
ENGLISH ELECTIVES
-JOURNALISM
-FILM STUDY
-CREATIVE WRITING
-DEBATE
-SPEECH COMMUNICATION
-FORENSICS
WORLD LANGUAGE
-FRENCH
-GERMAN
-LATIN
-SPANISH
-SPANISH FOR FLUENT SPEAKERS
9TH GRADE ELECTIVE CHOICES
MARKETING
-INTRO TO MARKETING
-FASHION MARKETING
MATH
-COMPUTER SCIENCE
TECHNOLOGY EDUCATION
-BASIC TECHNICAL DRAWING
-DESIGN & TECHNOLOGY
MUSIC
-BAND (WITH MARCHING BAND)
-BAND (WITHOUT MARCHING BAND)
-ORCHESTRA
-Choir
-GUITAR
-PIANO
-MUSIC THEORY
THEATRE
-THEATRE 1
-TECH THEATRE 1
Involvement in Student Activities
 100 clubs and organizations
 20+ sport teams
 3 student publications
 Performing arts (choir, band, orchestra, theatre)
 Visual arts
 Church, scouts, community groups, etc.
Students that are involved perform better
academically.
A time to reflect:
Celebrate What's Right
with the World.
Like Michaelangelo………………
The Chantilly High School faculty and staff………………….
See an angel in the stone
and carve to set it free!
Or, in the words of Oscar Wilde
Be yourself. Everyone
else is already taken!
Create a four-year plan based on your
intellectual curiosity, talents, interests and
post graduation plans.