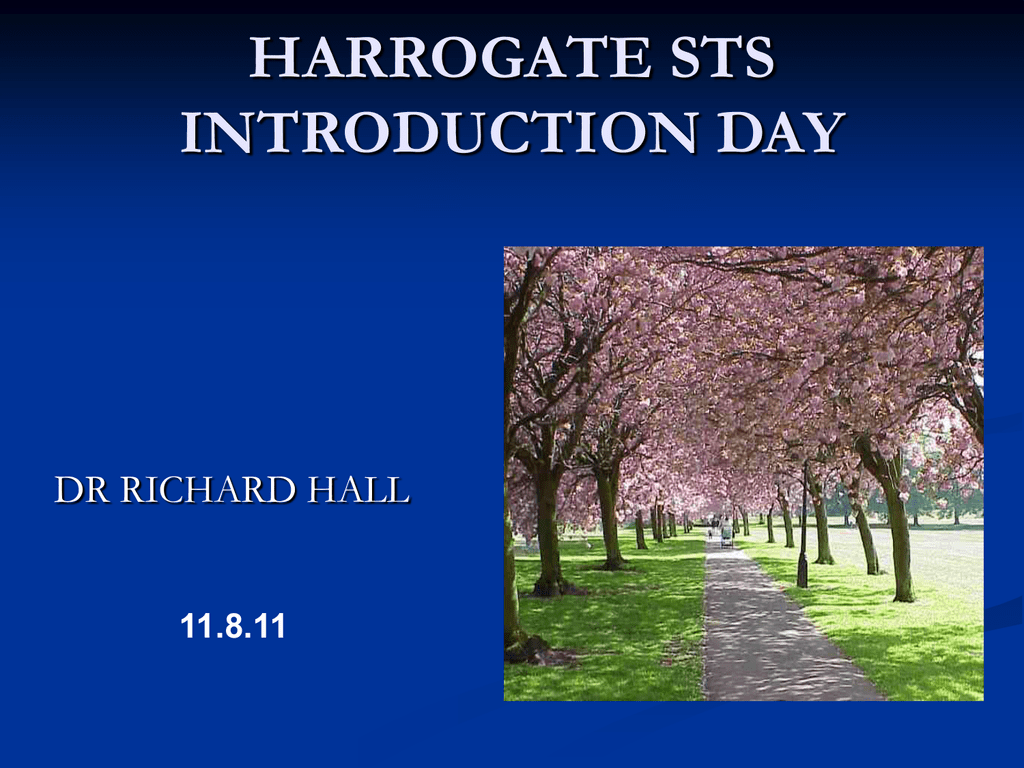 HARROGATE STS
INTRODUCTION DAY
DR RICHARD HALL
11.8.11
PROGRAMME







1215-1300 Lunch
1300-1400 Introduction to Harrogate STS
(Richard Hall)
1400-1500 Work Place Based Assessments
(Chris Walsh)
1500-1515 Coffee/tea break
1515-1545 Vital facts for ST1s- Dr M Locke
1545-1630 Small group work
1630-1700 Looking at portfoliosintroduction
CONTENT







Our educational
philosophy.
How to work together
and group rules
Planning your learning
Assessments
Communication skills
E-portfolio
Some housekeeping
matters
INTRODUCTIONS





Facilitators Richard Hall and Chris Walsh-Harrogate
STS
APD John Hain
Introductions -all new Harrogate STS trainees
STS Administrator. Mrs Lisa Adams. Strayside
Education Centre, Harrogate Hospital. Telephone
01423 553094. [email protected]
WEBSITE http://www.harrogategpsts.co.uk/
AIMS




To consider the statutory
educational requirements.
To look at the (hopefully
not new to you) concept
of adult learning.
Plan your learning-study
leave budgets!
How to engage with the
e-portfolio
Aims - Getting YOU To:





Start to think about looking
after yourself.
Start to think about the
consultation process.
Consider the organisation of
primary care.
Accelerate learning
Dealing with uncertainty
To consider comparisons
between primary and
secondary care.
PHILOSOPHY



3 years isn't long enough to
learn all the skills and
knowledge for a lifetime in
practice.
Some of the stuff you learnt
in medical school is out of
date (most of what I learnt)
General practice is a lot
about rather soft knowledge,
not so much the hard facts
of textbooks.
PHILOSOPHY CONT


These skills remain constant
despite changing knowledge
and the changes of
deckchairs in health delivery
structures
A good GP is particularly
skilled in higher order social
skills that revolve around
consultation and
interpersonal skills
ADULT LEARNING
"The purpose of adult
education is to help them
to learn, not to teach
them all they know and
thus stop them from
carrying on learning"
Rogers 1988
ICE BREAKER


GETTING TO KNOW YOUR GROUP
HOPES AND FEARS
GROUP LEARNING


Most of the work you
will be doing is in small
groups.
What skills does this
develop?
Group Rules





Confidentiality –
Respect
Listening
Contributing in a dominant way
Contributing in a passive way
Acronym quiz









AIT
AKT
ARCP
CSA
WPBA
DOPS
COT
CBD
NOE
WHAT IS INVOLVED WITH STS









REGISTER AIT @ RCGP
GET LOST IN SEA OF ACRONYMS
ATTEND HDR-80%
KEEP ePORTFOLIO UP TO DATE
EDUCATIONAL SUPERVISION
ARCP PANELS
CONTRACTS
OOH
HAVE FUN
HDR







Thursday afternoons 2-5pm
Attendance "Mandatory" –80%
attendance – either HDH or
equivalent approved education.
If there is no HDR session then
you should be in practice/
hospital post.
If you are unable to attend please
inform Lisa well in advance (as it
counts towards your study leave)
Timekeeping/Respect
Mobile phones Off –unless on
call.
Parking
STUDY LEAVE






15 days every 6 months,
including HDR.
Plan ahead and discuss with
your trainer / clinical
supervisor/educational
supervisor
Must be in PDP.
Must be relevant and local.
Apply well in advance – 4
weeks notice - using the
forms available from Lisa
Adams.
Remember budget is limited
to £400pa-approval TPD
discretion.
EDUCATIONAL
SUPERVISION









1 ES allocated for whole scheme
Meetings 1 in first 2m
Then 6 monthlyRole of ES
Guide through WPBA
Facilitate PDP
Assess progress to competences
Report pre ARCP
Pastoral
OOH
36 hours in 6m
 Book via website-Linda parkinson
[email protected]
Or Jude [email protected]
 Telephone triage/pcc consults/home visits
 Book sessions early –difficult just pre ARCP
 With trainer or approved supervisor or partner
of practice where work.

nMRCGP




Components:1 AKT – applied
knowledge test
2 CSA – clinical skills
assessment
3 WPBA – workplace
based assessment.
AKT


The AKT is designed to
test the application of
knowledge and
interpretation of
information
Each question is
intended to explore a
topic of which an
ordinary GP could be
expected to have a
working knowledge
AKT Format:







An "evolution" from the previous
MCQ
A three hour, 200 item multiplechoice
Delivered on a computer terminal at
an invigilated test centre
Offered initially three times a year
Oct/Nov, Jan/Feb, April/May
No limit to the number of attempts
A pass will be valid for three years
only
Can be attempted at any time during
GP specialist training (GPST), but
most appropriately at end ST2beginning ST3
Question writing



Scenarios derived from clinical work
Practice issues
Topical

All questions are referenced and the draft questions are then
carefully scrutinised by a panel of other question writers.

Remember that all question writers are working GPs
AKT subject content

Core clinical medicine and its application to problem
solving in a general practice context
–

Critical appraisal and evidence based clinical practice
–

80% of items
10% of items
Ethical and legal issues as well as the organisational
structures that support UK general practice
–
10% of items
AKT Stats –May 2011








Pass mark 69%
Overall pass rate 72.6%
ST2 75% /ST3 81.9% 1st time takers
The mean scores by subject area were:
'Clinical medicine' 74 %
'Evidence interpretation' 74 %
'Administration questions' 73 %
See regular feedback RCGP
CSA





Takes place in the 'NLA Tower' in Croydon
13 patients – all trained simulators of which 12 scenarios are assessed.
10 minute consultations at the end of which buzzer will sound – 2
minutes then next buzzer and new consultation begins
Patients and assessors come to you
OK to examine (not intimate examinations!) if appropriate. You may be
given a card of relevant findings
CSA Continued:


Bring your own equipment – stethoscope, sphyg.,
patella hammer, auri/ophthalmoscope, PEFR meter/
mouthpieces etc (typical Drs. Bag and it's all on the
website www.rcgp.org.uk)
domains assessed – data gathering, technical and
assessments skills, clinical management skills and
interpersonal skills.
4 Grades – CP, MP, MF, CF
CSA Continued:


Results given via ePortfolios
after approximately 3 weeks
as grades of the 12 assessed
cases and an overall pass or
fail.
4 sittings per year –
Feb/May/September and
November – dates on
website
There are periodic "Mock
CSA's" run locally either at
scheme level or Deanery –
get your name down and
have a go!
Data On CSA-May 2011




Overall Pass rate 64%
The mean score for the entire cohort was 77.2 out of 117
The pass rate for first time applicants was 77.9%
Pass rate 4th time applicants 30%
Pass Rates by Country of Qualification
 UK Graduates 91.6% (AKT-90%)
 EEA Graduates 72.0%(AKT-65%)
 Non EEA Graduates 54.0%(AKT-70%)
CSA -marking







13 cases
Each case is marked by a different examiner
3 domains-carry equal weight -3 per case
Data Gathering
Clinical Management
Interpersonal Skills
Total –from all 13 cases-no standard-total 117
CSA-tests the following areas

Primary Care Management - recognition /management of

Problem Solving Skills - gathering / using data for clinical

Person-centred Care - communication with patient and the use of

Attitudinal Aspects - practising ethically with respect for equality and

Clinical Practical Skills - proficiency physical examinations and using
common medical conditions
judgment, choice of examination, investigations and their interpretation.
Demonstration of a structured and flexible approach to decision making.
 Comprehensive Approach - proficiency in the management of comorbidity and risk.
recognised consultation techniques to promote a shared approach to
managing problems.
diversity, with accepted professional codes of conduct.
diagnostic/therapeutic instruments
TOPICS
ePortfolio
 nMRCGP components
–WPBA/AKT/CSA
 "The Curriculum"
 HDR
 CONTRACTS
 Educational Supervison
 CSR reports
 ARCP panels-how to prepare
 What is a good log entry
 Consultation skills

LINKS




HARROGATE STS WEBSITEhttp://www.harrogategpsts.co.uk/
updates/index.html
YORKSHIRE AND HUMBER
SCHOOL OF PRIMARY CAREhttp://www.yorksandhumberdeane
ry.nhs.uk/general_practice/
BRADFORD STSwww.bradfordvts.co.uk
PENNINE STS-www.pennine-gptraining.co.uk
Finally
Ideas to cover in small groups

You will decide !

"Leaders" have two roles

"Facilitator"
Encourage active
participation and
identification of
learning needs.
 "Expert"
Experienced GP
TOPICS







GP culture v secondary
care
Consultation process
Difficult consultations
Role of video
Adult learning/ Styles
Hospital jobs
Half/Day release
Team building activity







40 mins /4 groups
Design a marketing plan for marketing the Harrogate
Vocational training scheme.
Appoint a team leader
Give a presentation for about 5 mins at end (use as
many of team as possible-and ensure mix all ST
groups).
Target audience FY2s applying for GP Training
You can use any resources visual aids,leaflets , even
song ,dance and humour
Max points for variety of resources used and interest.