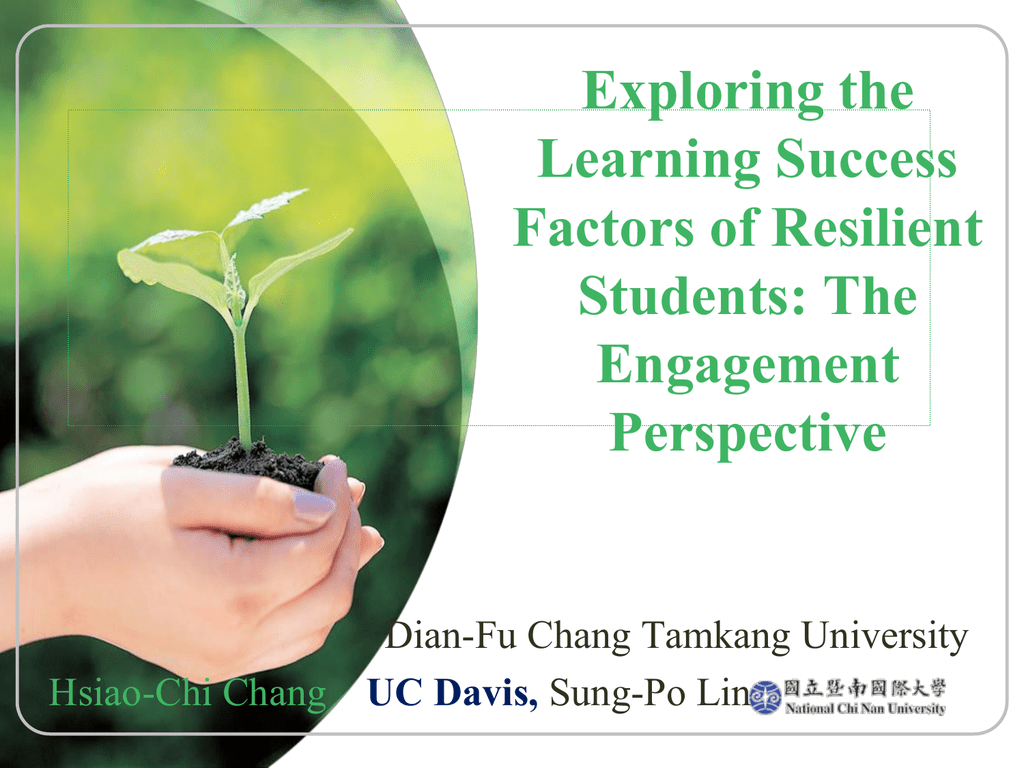 Exploring the
Learning Success
Factors of Resilient
Students: The
Engagement
Perspective
Dian-Fu Chang Tamkang University
Hsiao-Chi Chang UC Davis, Sung-Po Lin
Definition of Resilient Students
They espouse psychological features of
resilience.
They are students who are willing to
conquer the barriers during their academic
journey and eventually reward by their
excellent academic achievement.
 Resilient student in this study are students
with an economically disadvantaged family
background.
Purpose of the Study
Investigate the factors that underlying
the success of resilient students.
Previous Studies focus on personality
rather than engagement of resilient
students.
This study employs engagement theory
to explore the factors that promote the
success of resilient students.
Literature Review
Context of the Study
Global:
 PISA Report did not further discuss the
backgrounds, motivation,
characteristics and learning related
factors of resilient of students.
Taiwan:
 Students are deeply influenced by
Confucianism and its belief system.
Characteristics of Resilient Students
Psychological:
 Strong will
 Self-efficacy
 Positive Attitudes or Positive thinking
 Behaviors go beyond the confinement
Contextual:
 Strong Family support
 Teachers providing opportunity
Theoretical Framework
Engagement is positively correlated to
academic achievement
Engagement versus Personality
Engagement theory in this study:
 Behavioral engagement
 Cognitive engagement
 Emotional engagement
Data Collection
Sampling population:
 1,323 senior high school students
Demographic backgrounds of Students:
 Age ranged from 15 to18 years old
 34 Senior High Schools
Instrument
Academic performance is the score of General
Scholastic Ability Test (GSAT):
 Academic proficiency of
•
•
•
•
•
Chinese Language Art
English
Mathematics
Social Study
Science
 18 items regarding student engagement.
Method
Factor Analysis
ANOVA
Multiple Regression
Distribution of resilient students
91 resilient students (6.9%), 131 nonresilient students (9.9%), and 1,101
average students (83.2%)
Backgrounds of Resilient students:
 Low socio-economic backgrounds
 High Academic Performance
Engagement Levels of Students
0.5
0.4
0.3
0.2
0.1
0
-0.1
-0.2
-0.3
-0.4
Non-resilient
Resilient
Cognitive
Engagement
Average
Non-resilient
Resilient
Emotional
Engagement
Average
Non-resilient
Resilient
Direct-behavioral
Engagement
Average
Non-resilient
Resilient
Average
Indirectbehavioral
Engagement
Regression Models
Model
R2
.130
Z𝑌
= −0.077 × 𝑍𝑋1 + 0.240 × 𝑍𝑋2 + 0.070
× 𝑍𝑋3 + 0.251 × 𝑍𝑋4
.124
Z𝑌
Average
= −0.050 × 𝑍𝑋1 + 0.223 × 𝑍𝑋2 + 0.053
Students
× 𝑍𝑋3 + 0.260 × 𝑍𝑋4
.203
Z𝑌
Resilient
= −0.027 × 𝑍𝑋1 + 0.199 × 𝑍𝑋2 + 0.376
Students
× 𝑍𝑋3 + 0.154 × 𝑍𝑋4
.269
Z𝑌
Non-resilient
Y:GSAT
Score; X1:Indirect-behavioral
X2:Direct-behavioral
= −0.238 × 𝑍Engagement;
+
0.359
×
𝑍𝑋2 − 0.034
Students
𝑋1
Engagement; X3:Emotional
Engagement
× 𝑍𝑋3Engagement;
+ 0.267 × 𝑍X4:Cognitive
𝑋4
Group
All students
Discussion
The personality of resilient students is a key
factor to their levels of engagement,
specifically their enjoyment in learning.
Resilient students have better interaction with
others, thus able to obtain the assistance from
others.
Self-regulation of resilient students is crucial
to keep their positive attitudes toward
learning.
Conclusion
Stimulating student engagement is more
important than providing resources,
specifically to economically
disadvantaged students.
Emotional engagement is the key factor
behind the academic success of resilient
students.
Questions?