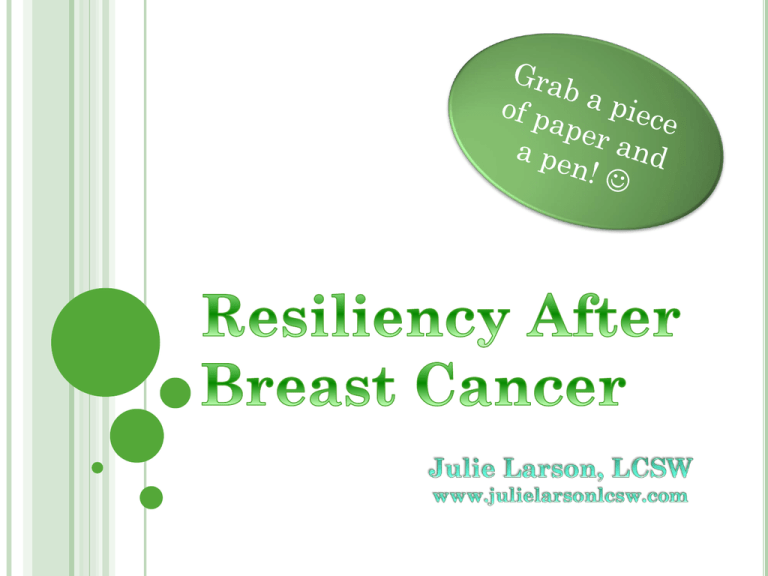 NOUN
1. The ability to return to the original form, position, etc…
after being bent, compressed or stretched.
2. Ability to recover readily from illness, depression,
adversity or the like; buoyancy.
WHAT IS RESILIENCE?
MYTH: Resilience is a genetic trait. You either
have it or you don't.
 We are all born with innate resiliency. An inborn
capacity for "self-righting".
 Resilience is found in a variety of thought
processes and behaviors that can be learned
throughout a lifetime.
 Resilience develops as people grow
and develop better thinking,
self-management skills and knowledge.

WHEN ACTIVE TREATMENT ENDS
When others are ready to celebrate the end of your
treatment, cancer survivors often experience a
mix of emotions/reactions after treatment ends.
THE POSITIVE FEELINGS:
Acknowledging personal strengths
 Deepened relationships with loved ones
 Excited about the future
 New desire to set personal goals
 A sense of gratitude and appreciation for life

…. RESILIENCE!
WHEN ACTIVE TREATMENT ENDS
THE "Not-so-Positive" FEELINGS
Fear of Recurrence: Worry about future unknowns
 Anxiety: Concern about not being in active treatment
 Concerns about physical appearance
 Sadness
 Depression
 Grief
 Anger about having had the life disruption of cancer
 Financial concerns
 Guilt or Regret
 Emotional numbness
 Spiritual uncertainty
 Learning new ways to care for yourself

PERSONAL GROWTH – RESILIENCY!
Most people who experience a major life crisis or
event experience feelings of grief, anxiety, anger,
and other negative emotions.
 Growth comes not from the avoidance of these
negative emotions but rather from the struggle
to cope with them.
Positive

Feelings
Gain
confidence
Frame of mind
to explore the
world
Find meaning,
fulfillment and
satisfaction
Build skills & internal
resources
(manifestation of
Resilience)
SO WHO HERE IS RESILIENT?
Of course you are!
But…What is your personal "brand" of resiliency?
Can you articulate how you've made it this far?
What habits or qualities would you like to cultivate
within yourself as you move forward in your
survivorship?
YOUR "PERSONAL BRAND" OF
RESILIENCE



Make a list of different ways you care for
yourself
Consider your five senses
How do you care for yourself at:





Work?
Home?
When you are out socially?
In the middle of the night?
If being with people is
part of your list, what
are you doing together?
GETTING TO KNOW YOU…
The "YOU INVENTORY"
The best parts of being me!
 What
underlying qualities would you want
others to know about you?
 Did you learn anything new about
yourself since you were diagnosed
with cancer?
 How are these qualities important in your
relationships with others?
 What one, two or three things can I do better
than everyone else in this room?
COMMON TRAITS OF RESILIENT
PEOPLE:

Social Competence:







Responsive
Flexible
Empathetic
Caring
Communicative
Sense of humor
Problem Solvers:
Planning
 Help-seeking
 Critical thinkers
 Creative.

Benard, B. (1991). Fostering Resiliency in Kids:
Protective Factors in the Family, School, and
Community. Portland, OR: Western Center for
Drug-Free Schools and Communities.
COMMON TRAITS OF RESILIENT
PEOPLE

Autonomous:
Strong sense of identity
 Self-aware
 Task mastery oriented
 Adaptive
 Able to set boundaries from negative
messages/conditions.


Sense of Purpose & Belief in the future:





Goal oriented
Educational aspirations
Optimism
Faith
Spiritual connectedness
Benard, B. (1991). Fostering Resiliency in Kids:
Protective Factors in the Family, School, and
Community. Portland, OR: Western Center for DrugFree Schools and Communities.
PERSONAL RESILIENCY BUILDERS
Relationships

Service

Humor

Inner Direction

Perceptiveness

Independence

Positive View of Personal Future
Henderson, N. (2003). Hard-wired to
bounce back. Prevention Researcher (10),
1, 5 – 7.

PERSONAL RESILIENCY BUILDERS
Flexibility

Love of Learning

Self-motivation

Competence

Self-Worth

Spirituality

Perseverance

Creativity
Henderson, N. (2003). Hard-wired to
bounce back. Prevention Researcher (10),
1, 5 – 7.

ACTIVITY:
ROLE MODEL SEARCH!
Who are the people you admire?
(or who inspire you, are enjoyable and feel "good to you")





You might have different role models for different
aspects of your identity.
You may know these folks: family members, friends,
colleagues, people in your larger community
Role models can also be people you don't personally
know (or characters who aren't even real!)
Bottom line: What are the qualities or characteristics
about this person that you like?
It is highly likely that those qualities or
characteristics are traits you'd want to embody as
well. So… give it a go!
WHY DOES RESILIENCY MATTER?
Resilient people often find meaning even in times
of trouble and gain confidence from overcoming
adversity. In this way, resilience can contribute
to a deeply satisfying life.
 Resiliency and Happiness are closely linked
 Happiness involves feeling more positive
emotions than negative emotions.
 Positive emotions help us build skills and
internal resources…a larger repertoire of assets
that we can draw on in stressful times.
 In other words, "Happy people become more
satisfied not simply because they feel better, but
because they develop resources for living well."

Bauer & Bonanno
THE UPWARD SPIRAL OF
WELLBEING
Positive
Feelings
Gain
confidence
Find meaning,
fulfillment and
satisfaction
Frame of
mind to
explore the
world
Build skills & internal
resources
(manifestation of
Resilience)
REACTING TO STRESS
Stress, itself is not the solitary issue.
Its how we react to the circumstances and events in our life that can
be healthy or "not so healthy".

Distressed

Strong

Tired

Character Building

Sick

Growth

Overwhelmed

Reward

Emotional

Fulfillment
AFFIRMATIONS
 Affirmations
are healing, positive messages
you give to yourself to counter your negative
self-talk.
 Three Types of Affirmations:



"I am…" (A statement about you)
"I can…" (A statement of your potential)
"I will…" (A statement of change in your life)
"The real tragedy of life is not that each
of us doesn't have enough strengths,
its that we fail to use the ones we have" –
Gallop Organization
CULTIVATING RESILIENCY
Be mindfully present
 Celebrate everyday successes
 Play to your strengths (that list we just made!)
 Nurture gratitude
Emmons & McCollough, 2005
Lyubomirsky, 2005
 Random acts of kindness

…

Glorified
Make it Real…
Honest.
Mystical
Real.