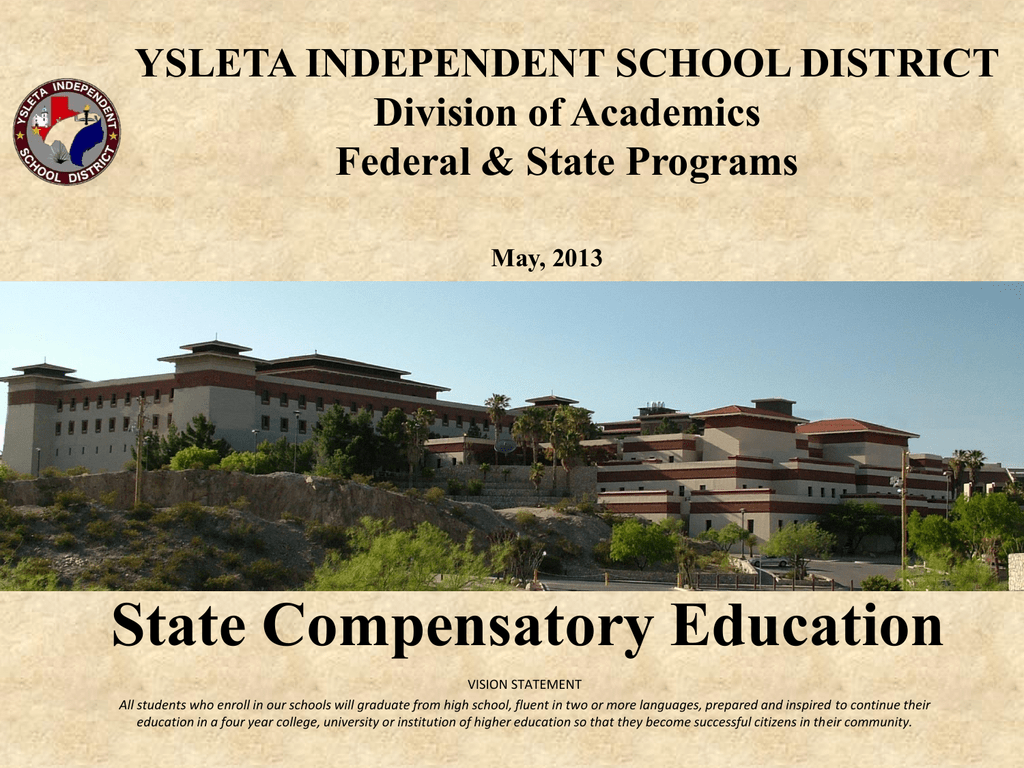 YSLETA INDEPENDENT SCHOOL DISTRICT
Division of Academics
Federal & State Programs
May, 2013
State Compensatory Education
VISION STATEMENT
All students who enroll in our schools will graduate from high school, fluent in two or more languages, prepared and inspired to continue their
education in a four year college, university or institution of higher education so that they become successful citizens in their community.
State Compensatory Education
YISD CONTACTS
Gilbert Rodriguez
[email protected]
(915) 434-0792
Alice Garcia
[email protected]
(915) 434-0796
Jackie Saenz
[email protected]
(915) 434-0793
SCE References
• Financial Accountability System Resource Guide (FASRG) Module 9
http://www.tea.state.tx.us/index4.aspx?id=1222
SCE References
• Texas Education Code, Section 29.081
http://www.statutes.legis.state.tx.us/Docs/ED/htm/ED.29.htm#29.081
SCE References
• Q & A on State Compensatory Education
http://www.tea.state.tx.us/index4.aspx?id=4082
State Compensatory Education
Rules and Regulations
SCE –State Mandated Program
Programs and/or Services designed to
supplement the regular education program for
at-risk students.
• Goal: Improve TAKS/STAAR scores
• Purpose: Increase academic Achievement
Decrease drop out rate
Planning
District/Campus Improvement Plans (D/CIP)
Serves as the Primary Record, supporting expenditures
• Comprehensive Needs Assessment
• CIP/Goals, objectives, and strategies
• Total SCE funds allocated for resources and staff
• Actual dollar amounts for activities
• Supplemental FTE's for SCE
• Timelines for monitoring strategies/activities
• Formative and summative evaluation criteria
Planning
The district must design the State Compensatory
Education Program based on the identified needs of
students at risk of dropping out of school.
The Comprehensive Needs Assessment is the Driving
Force behind District/Campus Planning.
Planning
The District/Campus Improvement Plan must include the
following:
• Total amount of SCE funds allocated for resources & staff
• Actual dollar amounts for the activities and SCE dollars that
show 52% of the entitlement
• Cumulative summary of program and entire budget in the
DIP
• Specific campus activities and campus budget in the CIPs
Staff Development
• School Personnel – Receive training designed to
assist students at risk of dropping out of school
-Training & training expense must be reasonable and
necessary
-Training must be aligned with the needs of at-risk students
-District must ensure training is not a "one time" event
• District must maintain documentation
-Training was evaluated for effectiveness
-District established written policies regarding attendance of
staff development
Evaluation of SCE
• SCE program must be evaluated and documented by
showing the effectiveness of reducing disparity in
₋ Assessments performed between at risk students and all
district students
₋ Rates of high school completion
₋ Effectiveness of the SCE program
₋ Assure strategies have been implemented as designed
₋ SCE resources must be Redirected when
programs/services are unsuccessful
State Compensatory Education
13 @ Risk Indicators
Texas Education Code §29.081
A student at risk of dropping out of school includes each student who is under 21
years of age and who…
1. Unsatisfactory performance on a readiness test (PK -3)
2. Did not maintain an average of 70 in two or more subjects
3. Not promoted for one or more school years (R)
4. Did not perform satisfactorily on an assessment instrument
5. Is pregnant or is a parent (R) http://www.tea.state.tx.us/PRS.html
6. Placed in an alternative education program (TEC37.006)
7. Expelled (TEC37.007)
8. Parole, probation, deferred prosecution, or other conditional release
9. Dropped out of school as reported PEIMS (R)
10. Is a student of Limited English Proficiency
11. Custody or care of the Department of Protective and Regulatory Services
12. Homeless
13. Resides in a residential placement facility.
Local Student Eligibility
Module 9, Section 9.2.3.2
o Local criteria must be adopted by the board of
trustees
o Adopted criteria must be clearly defined in the
district improvement plan for districts or the
instructional plan for charter schools
o Number of students may not exceed 10% of the
number of students who received services during
the preceding school year
o Students identified using local criteria - Not
reported through PEIMS
Local Student Eligibility (cont.)
o LEA must maintain current auditable documentation
regarding the locally identified at risk students
o Documentation indicating the compliance with the 10
percent cap must be:
-maintained at the LEA level
-addressed in the district/charter improvement plan
o SCE allotment may not be used to serve students on a
particular campus if:
-the LEA has not identified any students on the same
campus that meet any of the state criteria
SCE Funding
Direct Cost: 52% may be used to meet the costs of
(1) a supplemental compensatory, intensive, or accelerated
instruction program under Section 29.081; or
(2) an alternative education program established under Section
37.008; or
(3) support to a program at a campus at which at least 40% of the
students are low income; or
(4) a program specifically designed to serve students at risk of
dropping out of school as defined by TEC Section 29.081.
SCE Funding (cont.)
Indirect Cost : 48% may be attributed in the General Fund to
the following expenditure function codes:
•
•
•
•
34-Student Transportation
41-General Administration
81- Facilities Acquisition and Construction
Function 90 series of the General Fund, as defined in the
TEA Financial Accountability System Resource Guide
(FASRG).
SCE Funding (cont.)
Understanding Program Intent codes (PIC)
•
•
•
•
•
•
•
•
•
PIC 24 – Accelerated Instruction
PIC 26 – SCE: Non-Disciplinary Alternative Ed (Basic)
PIC 28 – SCE: Disciplinary Alternative Ed (Basic)
PIC 29 – SCE: Disciplinary Alternative Ed (Supplemental)
PIC 30 – Title I School-Wide Activities
PIC 32 – Pre-Kindergarten (Basic)
PIC 33 – Pre-Kindergarten (Special Education)
PIC 34 – Pre-Kindergarten (State Compensatory Education)
PIC 35 – Pre-Kindergarten (Bilingual Education)
State Compensatory Education
Ysleta ISD Model
Ysleta ISD Model
PEIMS
SCE
•
•
•
•
•
•
Identify-Students
Enter/Exit-Students
Interventions/RTI
Goals/Benchmarks
Reports/Evaluation
Data Archiving
@ Risk
L
E
P
ALPS
CAMPUS
Ysleta ISD Statistics
• Total Enrollment:
43,504
• Total Campuses:
62
• School-wide Campuses:
61
• Total At-Risk Students
21,889
Criteria #1 Pre-K thru 3rd Grade
Reading Assessments
Pre-K:
CIRCLE/C-PALLS+ (Center for
Improving the Readiness of Children
for Learning and Education) /
(Phonological Awareness Language
and Literacy Screener)
K-2:
TPRI/Tejas LEE (Texas Primary
Reading Inventory)
3rd Grade: WRAP (Writing, Reading Assessment
Protocol)
Criteria #1 Pre-K thru 3rd Grade
Math Assessments
Pre-K:
CIRCLE/C-PALLS+ (Center for
Improving the Readiness of Children
for Learning and Education) /
(Phonological Awareness Language
and Literacy Screener) + = Math Screener
K-2:
TCM (Teacher Created Materials)
3rd Grade:
TCM (Teacher Created Materials)
Criteria 4
TAKS 110% Calculation
Excel Spreadsheet- Example of 110%
Calculation
110% Rule:
Student Needs to Pass Re-Test with 110% of Failed
Score
Step 1: Total Test Questions
Quantity of Questions Answered Correctly
Test Score
Step 2:
110% Rule: 28 X .110 =
28 + 3 =
Required Correct Answer
44
28
63.4%
(Failed)
3
31
31
Procedures and Program
Description
•
•
•
•
•
•
•
Program Overview
Campus Committee
Campus Contact
Student Eligibility
Student Identification
Student Exit
Program Evaluation
Ysleta ISD –Funding
SCE Funds for 2012-13 (Approx. $22 Million)
• Compensatory
Educational enrichment activities
• Intensive
Extended day, week, year
E2020
•Accelerated
TAKS/STAAR remediation
Specialized Reading & Math Programs
Individualized Computer-Assisted Instruction
SCE Campus Trainings
•
•
•
•
•
•
•
•
Area Learning Communities
Counselors Professional Development
One-on-One Campus
Clerks
Principals/Administrators
PEIMS Data Quality Control Conferences
YISD Data Quality, Policies, and Procedures
Teachers – Holiday Exchange
At-Risk Identification Process
• Committee
Reviews Student Cum Folders
Identify At –Risk Students (13 At-Risk Criteria)
Enter/Exit Students from At-Risk Criteria/Status
• Administrators/Teachers
Interventions- Strategies and Activities
• Administrators/Clerks
Data entry @ Risk students
SCE Module
Review/Monitoring Process
August – September 30
 Students transitioning from:
- Pre-K to elementary
- Elementary to middle & middle to high schools
 New Identified At-Risk Students (30-days)
October-January
 Ongoing review of interventions/cum folders of all identified
at-risk students
March-May
 Final Updates –SCE module records and end of year student
cum folders (Exit – Transition)
Ysleta ISD Elementary
Student Performance Comparison
TAKS
Subject
Grade Tests
2009-10 Difference
2010-11
At Risk Other
At Risk Other
3rd
Reading 79% 79%
0%
90%
75%
3rd
Math
70% 50%
20%
90%
80%
4th
Reading 63% 93%
-30%
86%
81%
4th
Math
61% 100% -39%
78%
100%
5th
Reading 79% 83%
-4%
75%
86%
5th
Math
74% 88%
-14%
73%
86%
6th
Reading 50% 92%
-42%
72%
70%
6th
Math
81% 92%
-11%
83%
85%
Total: Reading 67% 86%
-19%
77%
78%
Total: Math
71% 79%
-8%
83%
87%
•
•
Where are the concerns for the campus?
Have gains or losses been analyzed?
Difference
15%
10%
5%
-22%
-11%
-13%
2%
-2%
-1%
-4%
State Compensatory Education
TAKS Percent Passing
Students At-Risk and All Other District Students
2009-2010
2010-2011
READING/ELA
Number
Number
Percent
Number
Number
Percent
Tested
Passing
Passing
Tested
Passing
Passing
At-Risk
13,392
11,293
84%
13,748
11,323
82%
All Others
13,846
13,371
97%
13,704
13,157
96%
14%
MATHEMATICS
At-Risk
Number
Number
Percent
Number
Number
Percent
Tested
Passing
Passing
Tested
Passing
Passing
13,212
9,838
74%
13,575
10,154
75%
17%
All Others
13,821
12,956
94%
13,714
12,681
92%
Ysleta Independent School District
State Compensatory Education
At-Risk Student Dropout Rate
2008-2009
2009-2010
2010-11
9.9%
9.8%
8.7%
At Risk Students/Interventions
30,000
25,000
23,927
24,389
23,431
21,761
19,743
20,000
20,290
# of At Risk
Students
16,734
15,000
15,191
# of Students
with
Interventions
10,000
5,000
0
June 2010
June 2011
June 2012
April 2013
Electronic Student
Data Entry System
State Comp Ed – Content Screen
Search Screen
56321
Arellano
Mickey
Avila
Goofy
Contreras
Donald
Davis
Daffy
32547
Fernandez
Bugs
69821
Garcia
Porky
45873
Garcia
Sylvester
63251
Hernandez
Popeye
85691
Herrera
Elmer
32687
Jacquez
Daisy
19648
Martinez
Petunia
98564
86524
96587
13 At-Risk Data
Enter/Edit At-Risk Data
13 At-Risk Data
Entry Date
Withdraw Date
09/01/2008
09/01/2008
01/10/2009
06/06/2010
06/12/2012
09/04/2012
2nd Grade
2009-10
1
Pretest - Failed reading portion of TPRI
Midtest – Passed reading portion of TPRI
09/20/2012
Intervention Screen
Interventions – Drop Down Box
Intervention Screen
20%
Tutoring will take place Monday-Thursday from 3:00-4:00 in a small group setting. Student progress
will be monitored every six weeks and will need to have gained 5%. If student does not meet
progress within the 6 weeks, reevaluate intervention and possibly assign an alternate.
Intervention Panel
State Comp Ed – Content Screen
Reports Screen
Campus Summary Report
Standard Student Report
12345
Avila, Joseph
85632
Campos, Ana
96587
Davis, Greg
23658
Garcia, Robert
12587
Garcia, Shawn
36521
Lopez, Jaime
32547
Murray, John
12547
Smith, Albert
Questions?