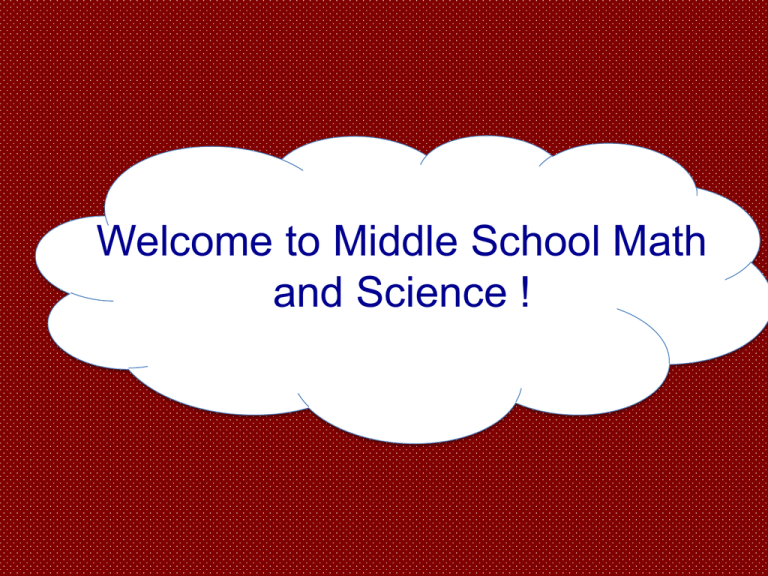 Welcome to Middle School Math
and Science !
A Little About Miss Sciba
Originally from New York (Go Yankees!)
Graduated from the College of Saint Rose with
my Bachelor's of Science in Childhood
Education and Mathematics
Attending California State University at
Fullerton for my Master's of Education in
Educational Technology
1st Year Teaching at Saint Jerome (middle
school science and 7th and 8th grade math)
Class Expectations
Be on time, ready to work by the start of class
Respect the teacher, other students and
yourself at all times
Be responsible for your school work
Make sure you leave the class the way you
found it by picking up any papers, pens pencils
and by making sure you have any necessary
books, papers or materials needed for
homework.
Grading
Summative Assessments- 80%
This Includes tests, projects and labs
Formative Assessments – 20%
This includes all quizzes, Exit tickets, discussions,
participation ect.
All grades will be given using a point system of
total points awarded over the total possible
points
Absences and Tardies
Students who have an excused absence may turn
in work without penalty.
They are given one additional day for each missed
day to turn in work.
It is the students responsibility to contact the
teacher, check the missing work bin or the website
for any missed assignments.
In the case of an unexcused absence, the student
must turn in all work the day the day they return to
class.
Homework/Late Work
Homework will be posted on the board daily.
Math homework (7th and 8th) will be assigned
every day.
Science homework and projects will be given
throughout the unit but not daily.
All homework is due the next day unless otherwise
stated.
 Late homework must come back with a missing
homework slip filled out by the student and signed
by his/her parent.
Late projects will be deducted 10 points per day
late.
Labs
We will complete a variety of labs this year.
Labs will coincide with the material covered in
each chapter.
After a lab is finished students will complete a
lab write-up.
Students will follow the Scientific Method to
complete these labs. Lab write-ups are due
two days after a lab is completed.
Science Fair
The Science Fair will be held on Thursday, January 22.
Students will display their projects for the school
community to see.
 These projects will be judged, and three winners
from 7th and 8th grade will continue onto the
Diocesan Science Fair.
 The categories to choose from are: Behavioral and
Social Sciences, Biological Sciences, Math and
Computer Sciences, Physical Sciences, Engineering
and Computer Applications, and Environmental
Sciences. More information will be given to students
in mid-September.
Physical Science Course Content
The following are the
major topics that we
will be discussing this
year in science
Motion
Forces
Structures of Matter
Periodic Table
Reactions
Chemistry of Living
Systems
Physical Principles in
Living Systems
Density, Buoyancy,
Fluids, and Pressures
Waves, Sound Waves,
Light Waves
 Environmental Science
Health Science
 Investigation and
Experimentation
th
7
Grade Math Course Content
The following are the Units that we will be
covering this year in math.
Numbers and Operations: Rational and Real
Numbers
Patterns, Relationships, and Algebraic Thinking
Geometry and Measurement
Algebraic Thinking: Linear and Nonlinear Functions
Statistics, Data Analysis and Probability
8th Grade Math Course Content
The following are the Units that we will be
covering this year in math.
Unit 1 Foundations and Functions
Unit 2 Linear Functions
Unit 3 Polynomials and Nonlinear Functions
Unit 4 Advanced Expressions and Data Analysis
I am looking forward to a
great year!