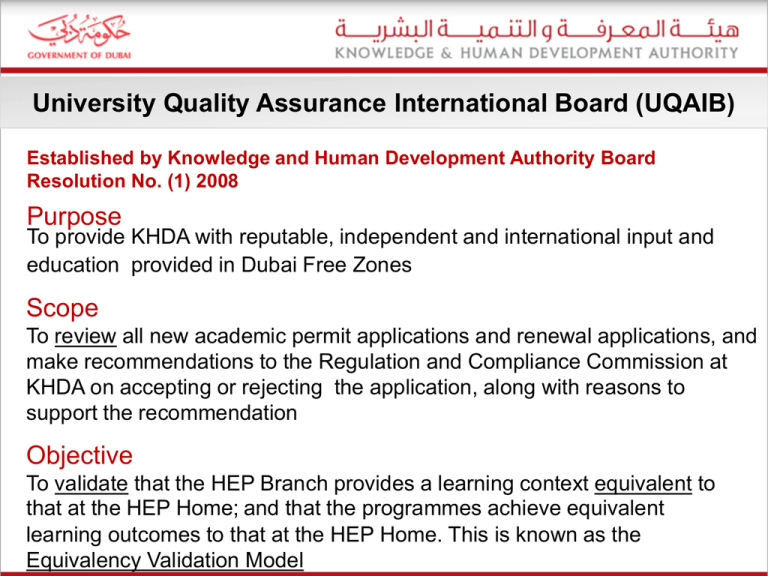 University Quality Assurance International Board (UQAIB)
Established by Knowledge and Human Development Authority Board
Resolution No. (1) 2008
Purpose
To provide KHDA with reputable, independent and international input and
education provided in Dubai Free Zones
Scope
To review all new academic permit applications and renewal applications, and
make recommendations to the Regulation and Compliance Commission at
KHDA on accepting or rejecting the application, along with reasons to
support the recommendation
Objective
To validate that the HEP Branch provides a learning context equivalent to
that at the HEP Home; and that the programmes achieve equivalent
learning outcomes to that at the HEP Home. This is known as the
Equivalency Validation Model
International Accreditation and Quality Assurance
UQAIB places reliance on the quality assurance and accreditation from the Home Country. Our current
institutions are already accredited and quality assured by agencies including the QAA (UK), NAAC (INDIA),
NEASC and Middle States (USA), TEQSA (Australia)
Institutions
UQAIB currently reviews 20 International Branch Campuses located in Dubai Free Zones. UQAIB has denied
Academic Authorizations to 3 institutions in the past.
Programmes
UQAIB reviews programmes of the 20 International Branch Campuses. UQAIB has approved over 125 new
programmes between 2009 and 2012.
Executive Council Resolution 21 (2011)
 Decree announced in June 2011
 Higher Education institutions in the Free Zones to be regulated by the Knowledge
and Human Development Authority (KHDA)
 Academic Qualifications of students from approved institutions to be certified
(attested) by KHDA
 Academic Qualifications granted by the Academic Institutions and certified by the
KHDA shall be recognized in the Emirate by all public and private entities for all
purposes.
UQAIB Board MEMBERS
UK
USA
FRANCE
HONG KONG
UAE
INDIA
SAUDI ARABIA
KENYA
MALAYSIA
AUSTRALIA
NEW ZEALAND
What do we ask for? (onus on institutions)










Endorsement at most senior level
Evidence of accreditation status/quality agency report
Evidence that agency has been advised of Dubai activity
Details of internal transnational QA processes.
Evidence of programme equivalence (side-by-side)
Target market and evidence of demand
External examiner reports or equivalent process
Progression statistics and staffing details
Library adequacy, student grievance process
Prove that you have a validated/accredited programme at home and that you can run the
same in Dubai
Does the UQAIB process work?
 Novel process: rapid buy-in by the original Board
 Efficient, minimum documentation (Trust other agencies)
 Strong: constant review initially; must fulfil requirements exactly; interventionist
where necessary
 Consistent: same people review everything (hard work for the Board)
 Effective: removed 'problems', helped 'novices', encouraged 'good performers' and
ensured high quality of HE in the Free Zones.
 Enjoyable: excellent team, best Board I've been on!