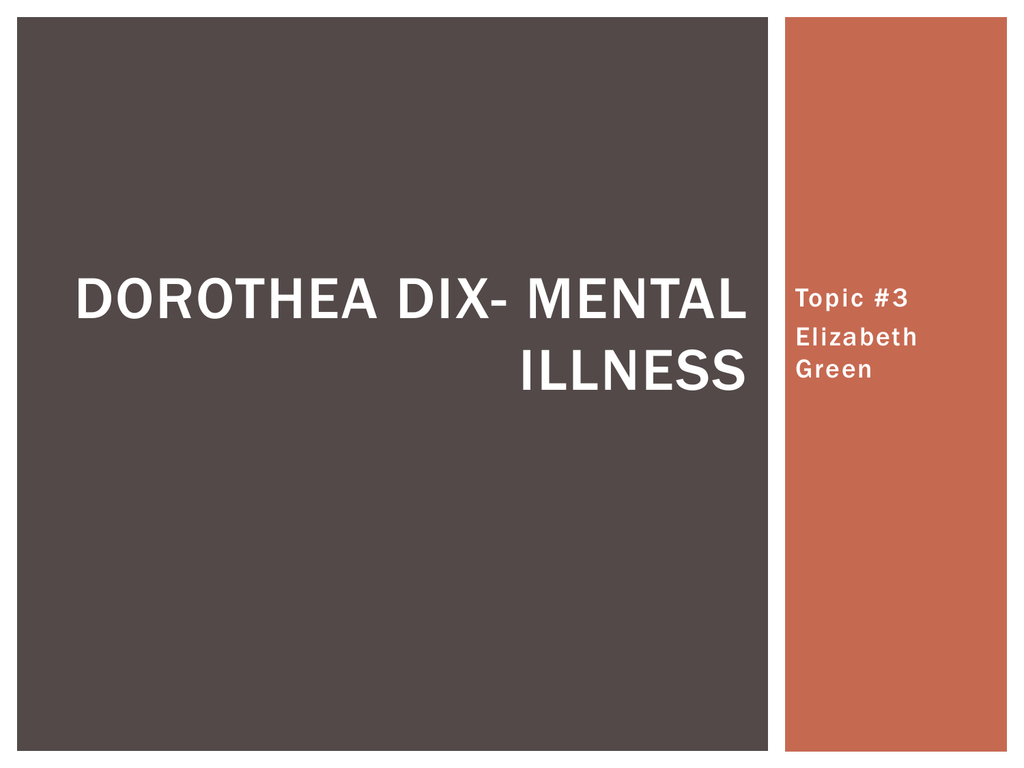 DOROTHEA DIX- MENTAL
ILLNESS
Topic #3
Elizabeth
Green
BACKGROUND
Dorothea Dix- most well known for work with
the mentally ill
Starting as a teacher at age 14, she soon
discovered treatment of mentally ill inmates
at a nearby prison was horrendous
She took her aim across the country and even
to Europe, always lobbying for more support
for hospitals for the mentally ill
Her actions directly affected at least 32
institutions
DESCRIPTION
 Dix showed no shame.
 Despite being a woman, and being frowned upon for being so
outspoken, she stood up for the mentally ill and withheld no
cruel facts from her listeners
 Many of the mentally ill she spoke of in jails were simply
there because there were no asylums to house them
 She also described many as being locked in stalls, pens, and
gates; some of them were chained, beaten and naked
 Dix's actions nearly led to a miniature revolution as she bore
the cruel facts in her devoted ef forts to win rights for those
wronged
DESCRIPTION (HOW SHE DID IT)
 Dix used many dif ferent methods to gain what she was
looking for- better treatment and acknowledgement of the
mentally ill
 She often wrote to the various governments (whichever state
she was visiting at the time) to plead her case for what she
wanted: more asylums, better treatment for the mentally ill,
acknowledgement of mental illness as a true illness,
recognizing the mentally ill as people
 When necessary, she gladly met with those who could change
things if it meant making the situations better
 Also raised awareness for all those aside from government
of ficials, winning over many who backed up her goals
SIGNIFICANCE IN AMERICAN HISTORY
 "The tapestry of history has no point at which you can cut it
and leave the design intelligible." –Dorothea Dix
 Dorothea's most direct contribution to American history was
as the chief superintendent of nurses in the Civil War
 Dix's words helped soften and warp the minds of all sorts of
Americans- leaving us as a more understanding and well educated people
One of the first to stand up for the rights of
the mentally ill, starting a movement that has
been growing up until this very day!
SUB-MOVEMENT (THE MOVEMENT
TOWARDS SOCIAL REFORM)
 Dix attempted and succeeded in a goal that is hard to
accomplish, even much then than now - changing the minds of
her listeners
 Dix's actions spawned hospitals in 14 dif ferent states for the
mentally ill, continuously pushing the idea of mentally ill
people deserving of the same amount of respect
 In a time period where many were biased towards other
people (she lived during the Civil War) Dix was a figure to put
mentally ill persons on the same level as the rest of the
population
 She was strongly convinced of her own, unselfish motives
which allowed her to convince others to invest time and
money in those considered corrupted for the longest time.
QUIZ
TIME
Q: HOW MANY STATES CREATED
ASYLUMS FOR THE MENTALLY INSANE
THANKS TO DOROTHEA DIX?
A: 17
B:37
C: 59
D: 14
THE ANSWER IS…
DOROTHEA'S ACTIONS DIRECTLY
IMPACTED HOW MANY INSTITUTIONS?
A: 52
B: 103
C: 32
D: 79
THE ANSWER IS…
DOROTHEA DIX IS A CHAMPION FOR…
A: The Slaves
B: The Mentally Ill
C: The Soldiers
D: The Poor
THE ANSWER IS…
ALL OF THEM! Dorothea Dix invested
every drop of her energy to ensure that
all people became enlightened, thus not
only improving conditions tremendously
for the mentally ill but all opening our
eyes and bringing us closer to the truth.
MISS DIX
SOURCES
 Dix, Dorothea L. "11 .8 Dorothea Dix Pleads for a State Mental
Hospital." Dorothea Dix Pleads for a State Mental Hospital .
N.p., n.d. Web. 10 Sept. 2013.
 Dix, Dorothea L. "Dorothea Dix Quotes." About.com Women's
Histor y. About.com, n.d. Web. 10 Sept. 2013.
 Dix, Dorothea L. "Dorothea Dix Speaks out on Behalf of the
Insane (1848) Primary Source Document." Histor ymar tinezs
Blog. N.p., n.d. Web. 10 Sept. 2013.
 "Dorothea Dix Biography." Bio.com. A&E Networks Television,
2013. Web. 10 Sept. 2013.
 "Dorothea Lynde Dix." Histor y.com. A&E Television Networks,
n.d. Web. 10 Sept. 2013.
 Viney, Wayne. "Dorothea Dix." Dorothea Dix. N.p., n.d. Web. 10
Sept. 2013.