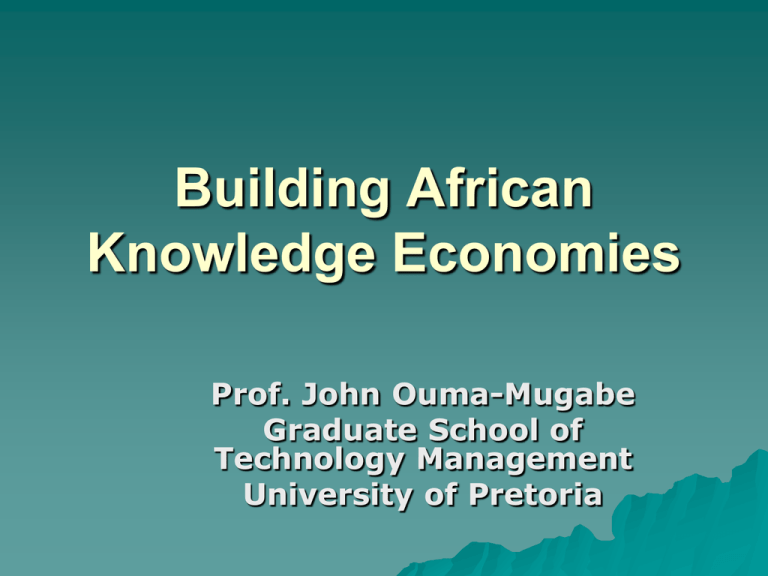 Building African
Knowledge Economies
Prof. John Ouma-Mugabe
Graduate School of
Technology Management
University of Pretoria
Outline
What is a knowledge economy?
 Pillars of a knowledge economy
 Why African countries should focus on
knowledge
 State of Knowledge Assets in Africa
 Opportunities to Build African Knowledge
Economies
 Strategic
Actions to Build Knowledge
Economies in Africa

What is a knowledge
economy?
 an
economy in which productivity,
growth
and
sustainability
are
dependent
on
the
production,
diffusion and use of knowledge,
rather than the traditional means of
production (OECD 1996)
 Economy that is based on the quality
and efficient use of human capital
rather
than
land,
labour
and
machinery
Pillars of a knowledge economy
 Education
& Training
 The quality of institutional Regimes
(Normative e.g. IPP and agency
types e.g. councils)
 Infrastructure (Internet, electricity,
etc)
 Innovation
systems (network of
organizations
for
production,
diffusion and use of knowledge)
Why Africa should focus on
knowledge: Limits to Growth
 2000-2011
Africa's economic growth
averaged 5% of gross domestic
product
but
the
growth
is
unsustainable and inorganic
 Natural resource/commodity based
growth
 Vulnerable to ecological changes
 Vulnerable
to
global
economic
instabilities and disruptions
Limits of FDI
 Foreign
Direct Investment (FDI)
inflows have increased considerably
(approx. US$ 71 billion in 2012 from
approx. US$ 20 billion in 1998)
 At least 65% of FDI targeting natural
resources and services sectors
 No evidence of FDI being a source of
new technologies and promoting local
technological learning in Africa
State of Knowledge Assets
 Education
and training still underfunded
and
underperforming
(
Burundi 16% of the national budget
on education compared to approx.
25% on defence; Uganda 20% on
education compared to 23% on
defence and security)
 In South Africa just about 5% of
grade 5s are capable of reading (The
Star 22 Oct. 2013)
State of Knowledge Assets
 In
Kenya less than 30% of grade 8
pupils pass mathematics (last 15
years)
 Expenditure on R&D still below target
of 1% of GDP. Most countries with
GERD of less than 0.5% of GDP
 Sub-Saharan Africa produced less
than 25% of combined Brazil and
India's
scientific
publication
in
biosciences (2006-2008)
State of Knowledge Assets
 According
UNESCO
surveys,
engineering faculties have outdated
and poorly maintained facilities in
many countries
 Improving
IT infrastructure but
challenges with other infrastructures
e.g. reliable electricity
 Institutional
regimes characterized
by policy deficits
Knowledge Assets
 National
innovation systems' quality
undermined by weak intra- and
inter-institutional linkages (e.g. Ref:
DST Ministerial Committee report on
RSA innovation system)
Opportunities to Build
Knowledge Economies
 Recognition
of the critical need to
transform economies from natural
resource-based to knowledge-based
(Policy
Instruments
e.g.
South
Africa's Ten-Year Innovation Plan;
Kenya's Vision 2030, Uganda's STI
Policy, ….)
 Globalization
and
increasing
exposure to global knowledge pools
Opportunities (cont.)
 The
demise of the Washington
Consensus and the emergence of
alternative loci of aid and policy
innovations
 AU@50 and the search for sustained
African development
 Better governance conditions in most
of Africa and strong civil society
A Strategy to Build
Knowledge Economies
 Qualitative
reform of education and
training systems with emphasis on
building know-how and know-why
capabilities
 From statements of intent to policy
actions on GERD (at national and AU
levels)
 Intensify knowledge diplomacy with
BRICS, EU and other regional blocs
Strategy for Knowledge
Economy
 Conduct
comprehensive reviews of
national innovation systems and
establish programmes for building
NISs
 Promote
efficient
use
of
IT
infrastructure
for
economic
production
and
improve
other
infrastructures
Strategy for Knowledge
Economy
 Renew
political commitment to STI
(at
national
level
through
presidential/executive initiatives and
at AU level through strengthening of
AUC and AMCOST)
 Harness the will and power of the
corporate sector (Roundtables on
Public-Private Partnerships for a
Knowledge Economy
Strategy for Knowledge
Economy
 Mobilize
civil society and build sense
of urgency and restlessness among
the African youth (Pan African Youth
Conference
on
the
Knowledge
Economy)
Africa@50
THANK YOU!