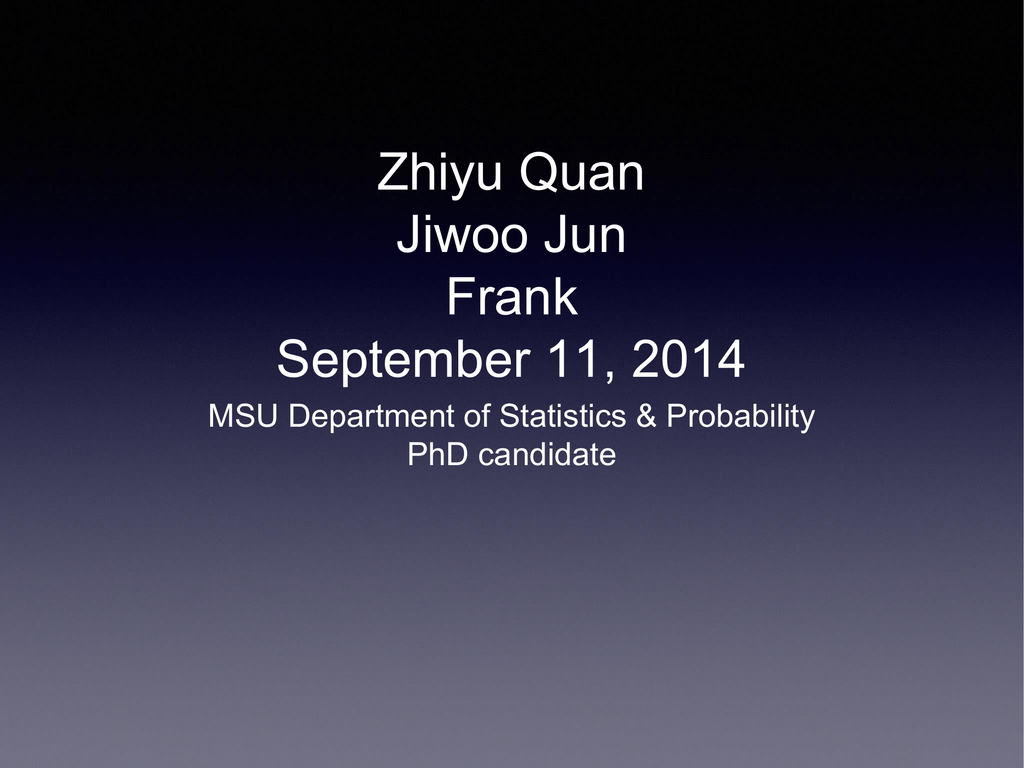 Zhiyu Quan
Jiwoo Jun
Frank
September 11, 2014
MSU Department of Statistics & Probability
PhD candidate
Contact
information
[email protected]
􏰀
Passed Exam 1/P
Passed Exam 2/FM
􏰀
Working on MLC MFE….
The 5 preliminary exams are necessary to become an A.S.A. (with
a few additional requirements), after which you can branch out into
more specialized fields to obtain an F.S.A.. To become an F.S.A. is
one of the highest accomplishments in the actuarial field. The CAS
has analogous certifications on the Casualty side of things.
In order to sign up for exams, visit
www.prometric.com/soa to identify computer
based testing centers. There is one located in
East Lansing. You can sign up for the exam
there. The price of exam varies from $200-$375
You can always apply for student
discount.
It may save a lot of money if you
cannot pass the first time.
Exam P/1, Probability
Exam FM/2, Financial Mathematics
Exam MFE/3F, Models for Financial Economics
Exam MLC/3L, Models for Life Contingencies
Exam C/4, Construction and Evaluation of Actuarial
Models
Exam 1/P is traditionally the first exam taken by
aspiring actuaries. It is the contender for "easiest" exam
(other candidate is 2/FM).
Covers: Undergraduate probability, including some
actuarial applications.
MSU Courses with similar material: STT441
Exam FM/2. Another contender for easiest exam. This
exam is traditionally taken second, though it is sometimes
taken out of order if you have a finance background.
Covers: Interest rate theory, introductory financial
derivatives
MSU Courses with similar material: MTH360, FI379
Exam MFE/3F is in the harder tier of exams. The last three
exams are generally taken in any order, mostly as to whatever
preference you have in course material.
Covers: Financial derivatives, more advanced interest rate
models, basic stochastic analysis, simulation.
MSU Courses with similar material: FI379, MTH457, MTH458
Exam MLC/3L recently had a syllabus change, but still
generally covers the same material.
Covers: Models used to model decrements used in
insurance and annuities, benefit reserves, stochastic
models
MSU Courses with similar material: STT455, STT456
Exam C covers an introduction to modeling and covers important
actuarial methods that are useful in modeling. It is the most "statistical"
out of the 5 preliminary exams, and is usually taken last.
Covers: Statistical models (construction and analysis of), Risk
Measures, Statistical Methods, Credibility, Simulation
MSU Courses with similar material: No undergraduate courses, though
topics are touched upon in a variety of courses (STT442 in particular).
Picking an exam should be based on several things:
Pick an exam related to material you are studying right now (i.e. exam 1/P if
you are taking STT441, exam 2/FM if you are taking MTH360, and so on).
Pick an exam for material that you are interested in and what your
background is. For example, if you are a finance major, maybe 2/FM is better
than 1/P.
Take the exams in a reasonable order. You should take 1/P and 2/FM before
you take the last three.
The two top"brands"of study manuals are ACTEX and ASM.
ACTEX manuals tend to teach material more thoroughly, and
are less difficult than ASM manuals.
ASM manuals generally have more difficult problems.
Both manuals have their upsides. It is generally accepted that ACTEX is better for P and ASM
is better for the other four. A lot of it is up to preference, however.
Make sure to get a manual that is relevant. You can buy used manuals for cheaper, but make
sure that they cover the material on the exam syllabus, since the material can change.
exam syllabus can be found in the SOA website.
There are two recommended calculators, "BA II Plus," It is a financial calculator
and has a lot of useful commands for 2/FM.
The other is the "TI-30X II," (and similar), which is useful because you can look
back on what you've input.
Basically, they are the same. Personally, recommend "TI-30X II" which is easy to
click.
In other words, you can save precious time when you plug in the numbers to TI30X II.
It always good to have two calculators when you take exam.
Online Resources
ADAPT
The Infinite Actuary
Society of Actuaries
Actuarial Outpost
Be an Actuary
ADAPT (www.coachingactuaries.com) has online coaching for studying. For a higher
$ amount, it has entire learning courses.
It has bundles (i.e. pay $150 for a study manual (regular $50) and a 180 day pass to
their online content) and passes to access their online material for periods of time.
It also has online exams that you can customize difficulty-wise and it mimics the CBT
experience.
I have not personally used it (since I did not actually know about it until halfway
through studying for MLC), but it seems extremely useful and I plan on using it for
Exam 4/C.
The Infinite Actuary (www.theinfiniteactuary.com) is similar to ADAPT, but it is
strictly an online learning course.
It has amazing lecture videos, and you can view the first few for each exam for
free.
It has free practice exams for exam P (and $35 for two practice exams for FM) that
have online video solutions (VERY helpful!)
The downside is that it is very expensive. The exam P course is $400, while an
ASM exam P manual is $100.
Regardless of purchasing, the free material is amazingly useful.
The Society of Actuaries (www.soa.org) are the guys that run everything.
It is a good place to look for miscellaneous information.
It also has a large database of sample questions, and it is recommended
to do every question in that database before sitting for an exam.
This is also where you will sign up and register for exams, and register
your VEE credits.
SOA website is the OFFICIAL website.
The Actuarial Outpost (www.actuarialoutpost.com) is one of the most useful sites to an
actuary.
It a forum with millions of posts on all sorts of things. You can literally post anything actuarial
related and you will get an answer.
Examples of things I've asked (and gotten answers for): What is the best study manual for
exam X/X? Is getting a masters degree useful in attaining an actuarial job? How do you do
question X in Y manual? (and more...)
They also have a section for resume critique and job postings. I posted my resume on there
and got it critiqued by several F.S.A.'s and A.S.A.'s that handle hiring at insurance companies.
Be an Actuary (www.beanactuary.org) is a catchall site for miscellaneous
information.
It tells you: what is an actuary, what do they do, finding jobs, college
study, and has information on actuarial exams.
It is especially useful for its information on actuarial exams, as it includes
the sitting schedule for all exams, the syllabus for the exams, and a lot of
other miscellaneous information that you'd like to know.
Personally, I use this website a lot.
The Actuarial Club (this thing going on right now) is absolutely
great for social networking and asking people for information.
As well, you can visit msuactuarialscienceclub.yolasite.com with
lots of useful information.
The website also includes a list of members with what exam they
are studying for, so that is a good way to meet new friends and
people to study with and ask questions to.
MSU Actuarial Science
Program
https://actuarialscience.natsci.msu.edu/
Resources for Exam Preparation
How to passed exam P and FM by yourself?
If you are good at statistics and interest theory, just go to
SOA website and download sample test. There are 100+
sample problem which will be similar to exam.
If you are totally new bee, study ACTEX or ASM and
solve the sample problem.
HH
What if I failed exam at first time?
Am I not smart enough to pass the exam?
Before ask these question, you have to ask
yourself "Do I really put my effort in it?"
Thanks to James Risk.
who is PhD candidate in
UCSB.