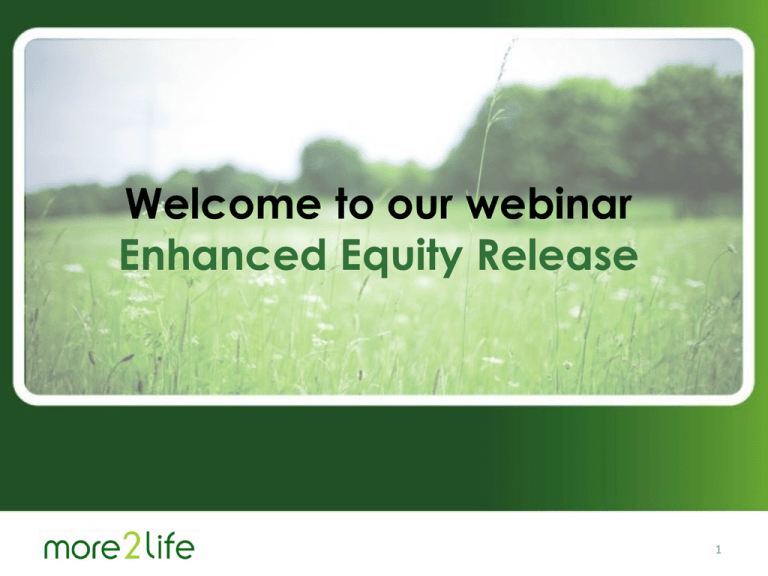 more 2 life
Welcome to our webinar
Welcome to our webinar
Enhanced Equity Release
1
Introductions
Stuart Wilson
Channel Marketing Director
•
•
25 years' Financial Services experience
Worked for Primetime Retirement/Living Time, LV=,
Just Retirement and Friends Life
Mike Millar
Head of Sales
•
•
Previously Equity Release Director at Partnership
Focused on product development and worked on
pioneering products including introducing enhanced
equity release into the market
2
Agenda
• Learning outcomes
• more 2 life
• The market
• Drivers for change/growth
• The challenge
• Asking the right questions
• Enhanced Plan
• Q&A
Learning outcomes
• After this webinar you will have an
understanding of and be able to identify:
1. The opportunities and growth in the lifetime
mortgage market
2. The challenges in the market and the need
to ask your clients about their health and
lifestyle
3. The benefits of asking the right health
questions
Housekeeping
• Raise a hand
• Ask a question
Will copies of the slides be available?
Send
5
Enhanced Equity Release:
Are you asking the right questions?
Mike Millar
About us
• more 2 life is an innovator and pioneer in LTM
market.
• New management team Dave Harris, M.D, Will
Hale, Business Development Director, Stuart
Wilson, Channel Marketing Director and Mike
Millar, Head of Sales.
• Continues to focus on adviser firms with marketleading products and special deals.
• Looking at new funders
Growth of Lifetime Mortgage market
• Market enjoying new boom
• Lending levels back to pre-credit crunch levels
and set to grow further
2011
£788.6M
Source: Equity Release Council
2012
£925.7M
2013
£1.07B
Drivers for change/growth…
• Ageing population – average male life
expectancy at age 65 now 22 years, will be 25
by 2050
• Retirement saving shortfall
• Rise of retirees who are asset rich / cash poor
• Cultural shift to lifestyle vs. inheritance
obligation
• Long-term care funding need
Drivers for change/growth…
• Recent Budget announcements will stimulate
innovation and awareness
changes to annuities will require
"a whole different approach to
funding retirement"
Paul Smee, Director-General, CML
Drivers for change/growth…
Changing face of retirement
Harold
Harry (great grandson)
•
•
•
•
•
•
Retired at 65
Life expectancy limited
(c.5 years)
Retirement planning
choices limited (annuity)
Retirement is phased
Life expectancy 20+ years
Holistic retirement
planning choices
huge…and about to get
bigger
Drivers for change/growth…
Equity Release following annuity model
Standard
Lifetime
Annuities
Standard
Equity
Release
Enhanced
Annuities
(Over 1000
conditions)
Smoker
Annuities
Enhanced
Equity
Release
The challenge
• PAFS introduced medically underwritten
annuities into the UK in 1995
• By 2004 less than 10% of the annuities bought
were enhanced.
• Heightened awareness and the introduction of
TCF meant that by 2013 as many as 60% of
annuitants could qualify for some form of
enhancement.
The challenge
• Around 2009 a website appeared
www.missoldannuity.co.uk
• The ambulance chasers are now on the case
"Have you been
asked medical
questions?"
"No, why?"
"You could be
entitled to
compensation"
The challenge
What's this got to do with equity release?
Everything
• Under TCF outcome 4 you must take all your
client's circumstances into consideration.
• Do you always ask your clients about their
health?
The challenge
How many clients who would have
qualified for an enhanced LTV
received a standard one instead?
2007
Enhanced Equity
Release first
launched in UK
2014
Did you know?
Did you know?
The question you shouldn't ask
Are you fit
and
healthy?
He doesn't
need to know
about the
statins I take…
Fit as a
butcher's
dog!
The questions you should be asking
+
Health Questions
NO
YES
OR
If you smoke manufactured cigarettes, have you
smoked 10 or more cigarettes per day for the last 10
years?
The questions you should be asking
+
Health Questions
NO
YES
OR
Have you suffered from a stroke (CVA), excluding ministrokes (TIAs) ?
Our Enhanced Plan at a glance
• Takes into account health and lifestyle
conditions to allow a larger release
No medical examination required
No monthly repayments
The loan, plus interest, is repaid when the property is sold
Cash facility available so your client can release more money in stages if
they wish to*
– Protected Equity Guarantee option meaning an inheritance can be
guaranteed to your clients' beneficiaries
– Straightforward application process
–
–
–
–
* Subject to prevailing criteria at the time of application for further funds.
Enhanced Plan eligibility
• For our Enhanced Plan, clients must meet the
following lending criteria:
– There is no maximum age
– Have a health or lifestyle condition which makes them eligible for the
Enhanced Plan.
– Have UK or EU citizenship with permanent rights of residency in the UK
– Resident in the UK and able to provide an address history covering the last
36 months
– Property must have a minimum valuation of £60,000. Maximum loan
amount is 100% of the LTV on first million and 50% of the LTV on second
million.
– If the property is leasehold, our criteria for the minimum number of years
left on the leasehold must be met.
Enhanced LTVs - examples
5minutes
13questions
+£15,000
USPs
• Enhanced/Max cash
– Enhanced terms based on age, lifestyle and
health (higher LTVs )
– Drawdown available
– Protected Equity Guarantee (PEG)
– Medical questions
• Cancer not restricted to last 5 years
• Parkinson's no requirement for aids for everyday living
• MS no requirement for aids for everyday living
Questions…
More information…
This is a lifetime mortgage. To understand the features and risks
ask for a personalised illustration.