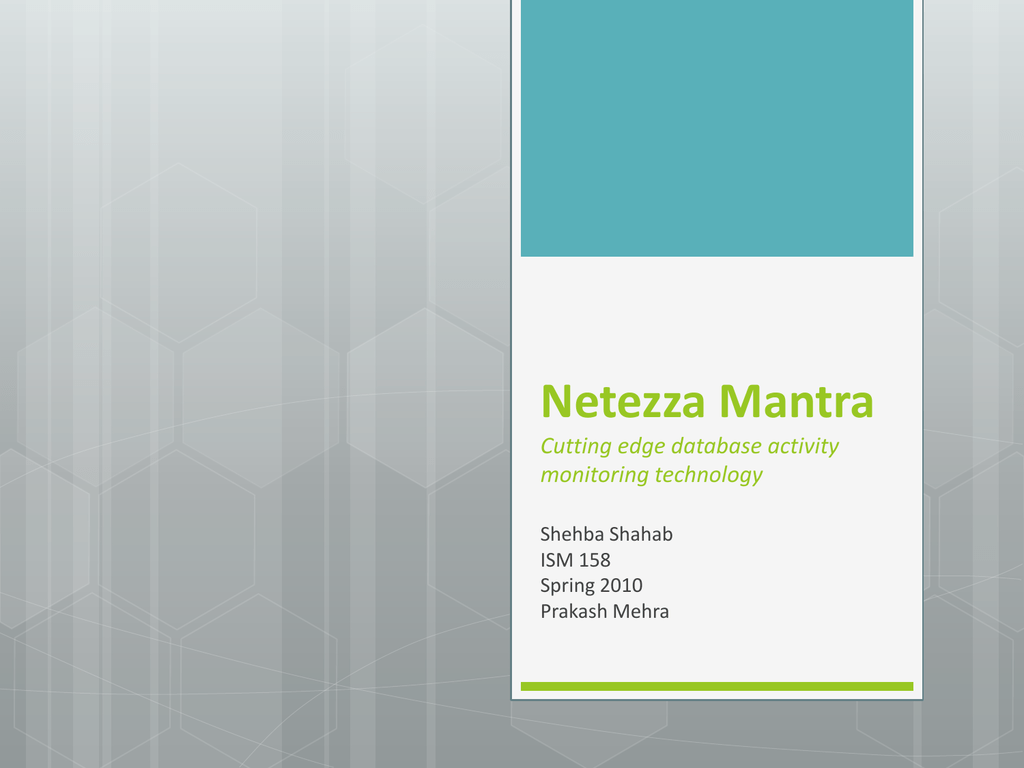 Netezza Mantra
Cutting edge database activity
monitoring technology
Shehba Shahab
ISM 158
Spring 2010
Prakash Mehra
CRUNCH These Numbers
75% of companies believe
that have adequate data protection
58% of these companies
have lost sensitive data in the last 2
years
60% admit that the loss of
sensitive data is a recurring
problem
Security is
being taken
too lightly
Companies
are not
getting to
the ROOT
of the
problem
The Solution: Netezza Mantra

Tracks and correlates database
usage, and reports back in the
event of suspicious activity

Comprehensive enterprise
database activity monitoring



Security protection: Intrusion
detection
Audit Trail: Collects critical that
can be used for audits
Compliance Controls: Analysis,
detection and protection against
any non-compliance with HIPPA,
SOX, PIC, etc.
Mantra 3-in-1 solution
Benefits

No performance overhead

Works independently of the database system

Stops unauthorized behavior in real time
Drives down total cost of ownership for database activity monitoring
Rapid Deployment
Highly customizable
User friendly

Netezza Mantra = less security breaches






Less security breaches = happy customers
Happy customers = more business

𝐍𝐞𝐭𝐞𝐳𝐳𝐚 𝐌𝐚𝐧𝐭𝐫𝐚 = 𝐦𝐨𝐫𝐞 𝐛𝐮𝐬𝐢𝐧𝐞𝐬𝐬 = $
Limitations Of Traditional Database
Security Solutions
 Databases seldom include effective
security and
access controls
 Insiders are able to circumvent poor security and
gain valuable information
 Many entry points for outside attacks
 Impose significant performance overhead
References






Ashford, Warwick. "Study Reveals Huge Gap between Businesses' Security
Intentions and Practice." ComputerWeekly.com. 27 Apr. 2010. Web. 27 Apr.
2010. <http://www.computerweekly.com/Articles/2010/04/27/24 1058/Studyreveals-huge-gap-between-businesses-security-intentions-and.htm>.
DarkReading. "Tech Insight: Database Activity Monitoring." Dark Reading. 4 Jan.
2008. Web. 17 Apr. 2010. <Tech Insight: Database Activity Monitoring>.
"Gartner Identifies Top 5 Steps to Dramatically Limit Data Loss and Information
Leaks." Gartner. 7 Aug. 2006. Web. 17 Apr. 2010.
<http://www.gartner.com/it/page.jsp?id=495173>.
"Mantra Overview." Netezza. Web. 28 Apr. 2010. <http://netezza.com>.
"Netezza Receives Patent for Mantra Appliance Policy Management Frame
work." MarketWatch. Web. 29 Apr. 2010.
<http://www.marketwatch.com/story/netezza-receives-patent-for-mantraappliance-policy-management-framework-2010-0427?reflink=MW_news_stmp>
Stanley, Nigel. "The Business Case for Database Activity Monitoring?" Weblog
ComputerWeekly.com 15 Mar. 2010. Web. 18 Apr. 2010.
<http://www.computerweekly.com/blogs/Bloor-on-ITsecurity/2010/03/thebusiness-case-for-database-activity-monitoring.html>.