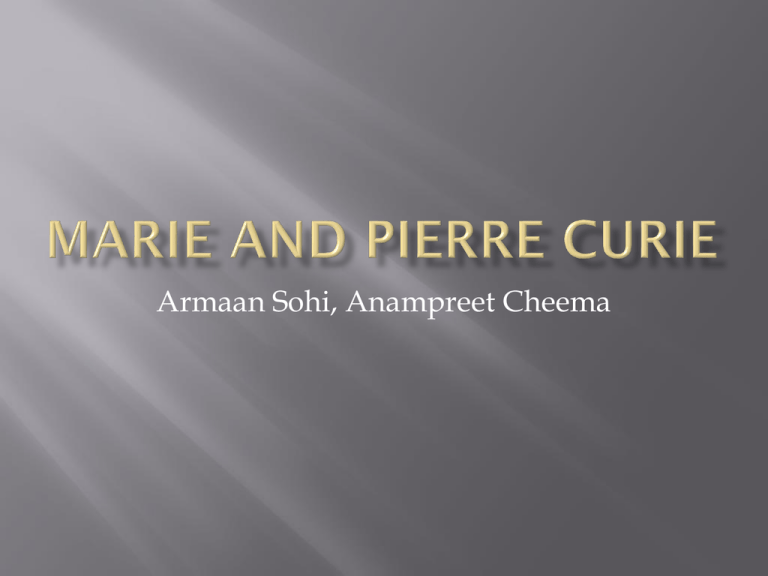 Armaan Sohi, Anampreet Cheema
November 7 1867- July 4 1943
•
•
•
•
•
polish
physicist and chemist.
famous for research on radioactivity.
first person honoured with two nobel prizes in
physics and chemistry
first female professor at the university of Paris .
•
•
•
•
Radioactive atoms emit three different kinds of
radiation. Did further research on.
alpha particle, stopped by a sheet of paper
beta rays, stopped by a layer of clothing or by a few
millimetres of a substance like aluminum
Gamma rays, stopped by several feet of concrete or few
inches of lead
15 May 1859 – 19 April 1906
•
•
•
•
French physicist
pioneer in crystallography, magnetism, piezoelectricity,
and radioactivity, and Nobel laureate.
famous for receiving the Nobel Prize in Physics with his
wife, Marie Curie.
Through his research, he was considered one of the main
founders of modern physics.
•
•
Pierre and his wife, Marie Curie, discovered radium and
polonium in their investigation of radioactivity.
Pierre and his wife both stated that radioactive materials
cause atoms to break down.
•
•
•
•
•
•
•
Street accident in Paris on 19 April 1906.
Rue Dauphine in the rain at the Quai De Conti
He slipped and fell
He died instantly when one of the wheels ran over his
head fracturing his skull.
Died at the Sancellemoz Sanatorium in Passy eastern
France
Aplastic anemia.
Caused by exposure to radiation.