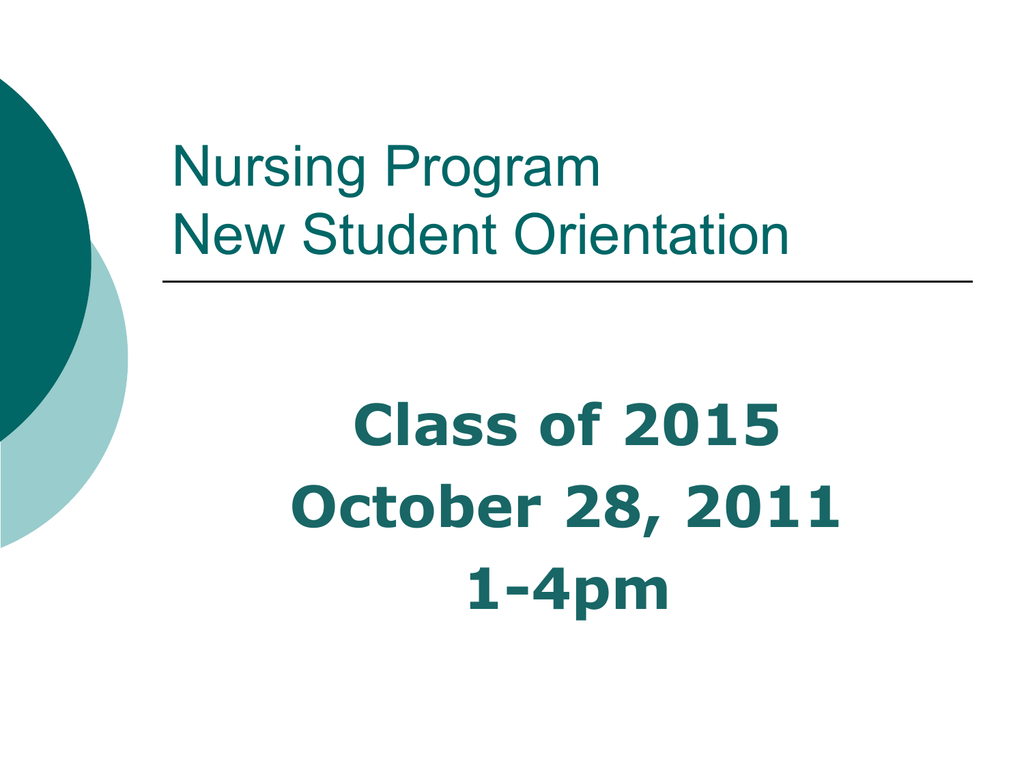 Nursing Program
New Student Orientation
Class of 2015
October 28, 2011
1-4pm
Introductions


Karen Jensen RN, PhD
Goleta: 805.696.7969
[email protected]
CSU Channel Islands
One University Dr.Solano 1173
Camarillo, 93012
CI Campus: 805-437-3150
Cheryl Sund, Program Specialist
CI Campus: 805-437-2691
[email protected]
Congratulations !
Characteristic of nurses









Think Critically
Responsible
Caring & sympathetic
Emotional stability
Detail Oriented
Open minded and flexible
Sensitive to the diversity in others
Excellent interpersonal, communications ,
and math skills
Life long learner
Overview of the Curriculum




Based on Neuman conceptual
framework
Framework defines Environment,
Health, Nursing
Program objectives (p 9-13
handbook)
Completion of level I objectives
after completion of the second
summer session
Required Curriculum & Advisement pp
24-26 handbook



Table I, II, III point out which courses
must be completed at a C or better
CSUCI advisement nursing courses –
nursing advisor
May 1,2012: Turn in all GE certification
paperwork
Important Reminder: All Program requirement forms
(Medical, Background Check, Immunizations, CPR)
Due: December 9,2011
o


(Pg 74) – Student Handbook: Acknowledgement
policies, procedures and guideline
Keep your own copy of all requirements of the
program in a binder (i.e. Health appraisal, Student
Health Insurance, CPR card,
Mail all documents to:
CSU Channel Islands Nursing
Solano Hall 1162
One University Drive
Camarillo, CA 93012
Requirements of the Program – Health
Appraisal /Physical Examination
Criminal Background Checks




Must complete a request for criminal
background check and drug screening
Through Corporate Screening
Price $106
Due: December 9,2011
CPR
Current CPR card for
Healthcare Provider
BLS with AED
Must include:
Adult, infant and child
One and two person
AED

Uniform
(Dove Professional Apparel)



Order All uniforms: no
later than December
12,2011
Dove uniform
Suggestion:

2
2
1
3

Name tag: Must Read



tops
pants
jacket
patches (Patch right
upper front of uniform)
First, Last Name Student
Nurse
Example:
Cheryl Sund,SN
CSU Channel Islands
Handheld mobile device

Required of all students


See specifications for mobile device on
page 42 of the handbook. You will not
need to purchase a mobile device if you
already have one but they must meet
the specifications in the handbook.
In addition you are required to
purchase software for the mobile
device which includes: Drug Reference,
Signs & Symptoms & Lab Manual.
These will be available in the bookstore
for the spring semester.
Student Health Insurance



All CSUCI –will need to have proof
of student health insurance
www.csuhealthlink.com
Submit proof by January 23,2012
Important Policies to Review





Criteria for program continuance,
LOA, exiting program p 22
Grading Practices p 33-39
Clinical Absence Policy p 37
Pregnancy p 45
Need for reliable transportation
Important Policies Continued






Clinical lab signup p 46-47
Need to identify EOP students
before clinical signup
Scholarships
Judicial process p 51-56
Extracurricular: Committees, CSNA
p 58
Awards upon graduation p 58-59
Other Information



Complete Photo ID release and get
your picture taken before you leave
Students with Fall Courses in
progress have official transcripts to
us by January 23,2012 (if not
sooner)
SNA Fundraiser

Stethoscopes
Questions?