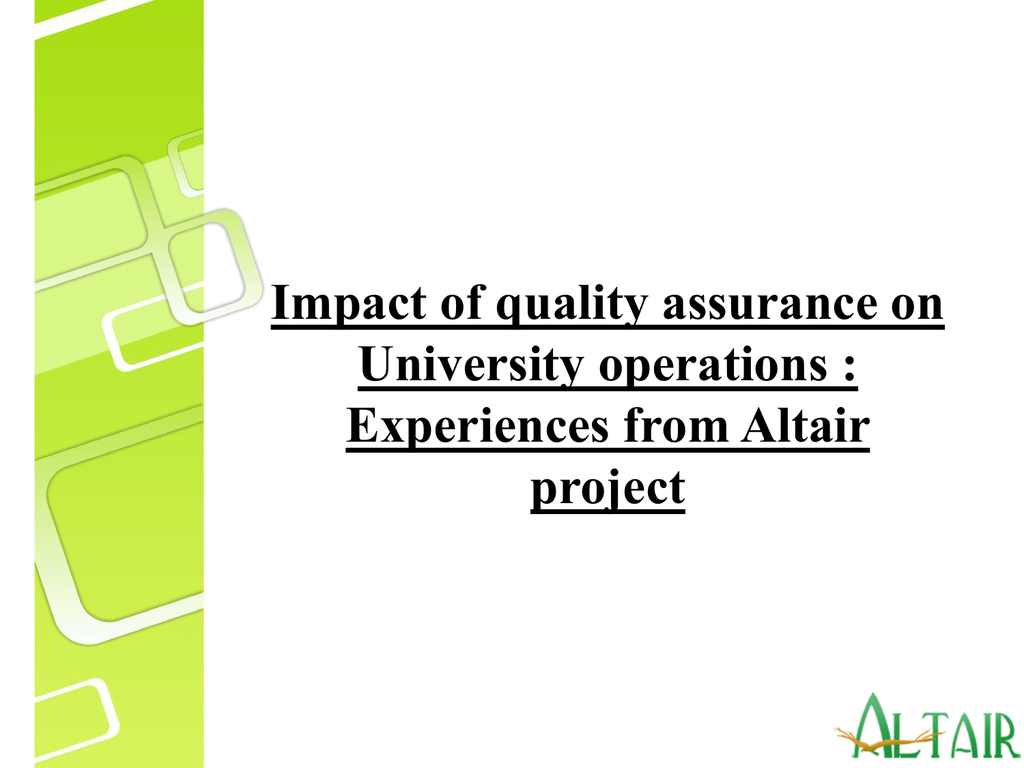 Impact of quality assurance on
University operations :
Experiences from Altair
project
Project Objectives
Altair project aims to strengthen the institutional
capacity of 10 Arab universities in five partner
countries, through the development and
embedding of a culture for quality assurance.
Related activities include a series of pilot quality
assurance assessments of chosen university
services, the development of a long-term strategic
plan for the development of quality assurance and
the publication of a guide to the promotion of
institutional quality assurance.
Project Members
1- University of Alicante (Spain)
2- University Miguel Hernandez (Spain)
3- Accreditation Agency for Study Programs in Engineering,
Informatics, Natural Sciences and Mathematics, ASIIN (Germany)
4- Leadership Agenda (United Kingdom)
5- University of Newcastle (United Kingdom)
6- Higher Education Accreditation Commission (Jordan)
7- Association of Arab universities (Jordan)
8- Supreme Council of Universities (Egypt)
9- Lebanese Directorate General of Higher Education (Lebanon)
10- Ministère de l´Education Nationale, de l´Enseígnement
Supérieur, de la Formation des Cadres et de la Recherche
Scientifique (Morocco)
11- Ministry of Education & Higher Education (Palestine)
Project Members
12- Accreditation and Quality Assurance Commission
(Palestine)
13- Princess Sumaya University of Technology (Jordan)
14- Mu´tah University (Jordan)
15- Alexandria University (Egypt)
16- Helwan University (Egypt)
17- Beirut University (Lebanon)
18- Modern University of Business and Science (Lebanon)
19- Sidi Mohammed Ben Abdellah (Morocco)
20- Université Moulay Ismail (Morocco)
21- An-najah National University (Palestine)
22- Polytechnic University (Palestine)
23- Ministry of Education (Jordan)
Outcomes and outputs
1. Enhanced managerial and administrative staff capacity in
implementation of quality assurance and assessment techniques.
2. Sustainable structures for the implementation of quality culture
strengthened at ten Arab Universities;
3. Developed methodologies for quality assessment and pilot
assessments at ten Arab Universities implemented;
4. Increased innovation, efficiency, strategic thinking and ideas for
self-improvement through development and adoption of a long-term
strategy plan for quality assurance at Arab HEIs;
5. Increased awareness for quality culture through the development
and dissemination of a Guide for the Promotion of Institutional
Quality Culture in Arab Universities
6. Increased inter-institutional networking and sharing of bestpractices for the promotion of quality culture within Arab countries
Impact on University Management
• Institutionalization of QA: All participating countries had
established a quality units at central level in order to
provide necessary data, to support periodic assessment
and to facilitate the accreditation processes.
• University administration: based on the EFQM assessment
of two university services (Financial department and
student affairs) at all partners universities, the impact of QA
have been perceived after the implementation of the
improvement plans: increased administrative organization.
• Internationalization: Less impact of QA have been
perceived for the internationalization process of
universities. Intra-Arab student mobility and mutual
recognition still in its very first stages in all countries.
Impact of QA on teaching practices
• Learning Outcomes : Definition of expected learning outcomes
have been adjusted taking into account the views of graduates and
employers.
QA has impacted the teaching practices in that it:
• Developed a wide ranging, professional and accountable prototype
of QA framework that addresses processes, developments and
components for initial teacher development. Such as A teaching
portfolio that contains samples of a teacher's work collected over
time across various contexts and accompanied by reflections.
• Identified quality components of programme evaluation and
translated them into actual processes and performance indicators.
• Assessment of learning : Started to be addressed from an
institutional perspective as a key aspect for the improvement of
teaching. Assessment of student involvement in active learning
practices has made it possible to assess the practices' contribution
to students' cumulative learning. However, utilization of active
learning practices is unsystematic, to the detriment of student
learning.
Challenges
• Lack of "shared responsibility" required for the
Self-Evaluation;
• Lack of experience with peer collaboration;
• Absence of formal agencies for quality assurance
in several Arab countries.
Suggestions
• Encourage integration of learning across courses
and to involve students with "big questions" that
matter beyond the classroom.
• Students take two or more linked courses as a
group and work closely with one another and
with their professors.
• Emphasize on courses and programs that help
students explore cultures, life experiences, and
worldviews different from their own.
• Programs such as Service Learning, CommunityBased Learning, field-based "experiential
learning" with community partners is an
instructional strategy.
Recommendations from Altair
Framework
• More involvement of student in quality
assurance processes;
• Reinforce internal quality assurance system. We
have to plant the culture among all faculties and
administrations to follow certain steps while
implementing certain tasks.
• Improve quality assurance information system;
• Develop a common institutional standards for
the Arab Region;
• Promote the use of regional peer reviewers in
the site visits;
• Increase Public awareness about quality in higher
education .