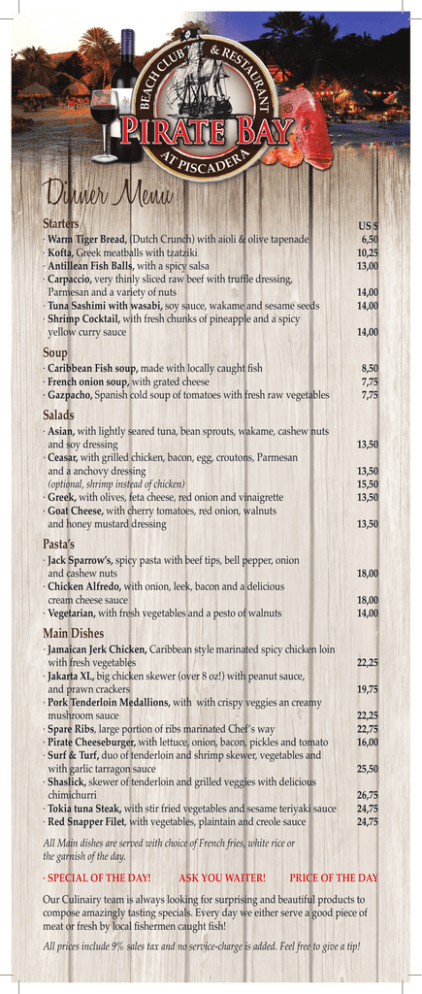 Dinner Menu
Starters
· Warm Tiger Bread, (Dutch Crunch) with aioli & olive tapenade
· Kofta, Greek meatballs with tzatziki
· Antillean Fish Balls, with a spicy salsa
· Carpaccio, very thinly sliced raw beef with truffle dressing,
Parmesan and a variety of nuts
· Tuna Sashimi with wasabi, soy sauce, wakame and sesame seeds
· Shrimp Cocktail, with fresh chunks of pineapple and a spicy
yellow curry sauce
US $
6,50
10,25
13,00
14,00
14,00
14,00
Soup
· Caribbean Fish soup, made with locally caught fish
· French onion soup, with grated cheese
· Gazpacho, Spanish cold soup of tomatoes with fresh raw vegetables
8,50
7,75
7,75
Salads
· Asian, with lightly seared tuna, bean sprouts, wakame, cashew nuts
and soy dressing
· Ceasar, with grilled chicken, bacon, egg, croutons, Parmesan
and a anchovy dressing
(optional, shrimp instead of chicken)
· Greek, with olives, feta cheese, red onion and vinaigrette
· Goat Cheese, with cherry tomatoes, red onion, walnuts
and honey mustard dressing
13,50
13,50
15,50
13,50
13,50
Pasta's
· Jack Sparrow's, spicy pasta with beef tips, bell pepper, onion
and cashew nuts
· Chicken Alfredo, with onion, leek, bacon and a delicious
cream cheese sauce
· Vegetarian, with fresh vegetables and a pesto of walnuts
18,00
18,00
14,00
Main Dishes
· Jamaican Jerk Chicken, Caribbean style marinated spicy chicken loin
with fresh vegetables
· Jakarta XL, big chicken skewer (over 8 oz!) with peanut sauce,
and prawn crackers
· Pork Tenderloin Medallions, with with crispy veggies an creamy
mushroom sauce
· Spare Ribs, large portion of ribs marinated Chef's way
· Pirate Cheeseburger, with lettuce, onion, bacon, pickles and tomato
· Surf & Turf, duo of tenderloin and shrimp skewer, vegetables and
with garlic tarragon sauce
· Shaslick, skewer of tenderloin and grilled veggies with delicious
chimichurri
· Tokia tuna Steak, with stir fried vegetables and sesame teriyaki sauce
· Red Snapper Filet, with vegetables, plaintain and creole sauce
22,25
19,75
22,25
22,75
16,00
25,50
26,75
24,75
24,75
All Main dishes are served with choice of French fries, white rice or
the garnish of the day.
· SPECIAL OF THE DAY!
ASK YOU WAITER!
PRICE OF THE DAY
Our Culinairy team is always looking for surprising and beautiful products to
compose amazingly tasting specials. Every day we either serve a good piece of
meat or fresh by local fishermen caught fish!
All prices include 9% sales tax and no service-charge is added. Feel free to give a tip!
Diner Kaart
Voorgerechten
Naf.
· Grote Warme Tijgerbol, met aioli en een tapenade van olijven
· Kofta, Griekse gehaktballetjes met tzatziki
· Antilliaanse Visballetjes, met een pikante salsa
· Carpaccio, met truffeldressing, Parmezaanse kaas en een notenmelange
· Sashimi van Tonijn, met wasabi, sojasaus, wakame en sesamzaad
· Frisse Garnalen Cocktail, met verse stukjes ananas en een pittig
11,50
17,75
22,75
24,75
24,75
kerriesausje
24,75
Soepen
· Caribische vissoep, gemaakt van uitsluitend lokale vis
· Franse uiensoep, gegratineerd met kaas
· Gazpacho, Spaanse koude soep van tomaten met verse rauwe groenten
14,75
13,75
13,75
Salades
· Aziatisch, met kort gebakken tonijn, boontjes, taugé, wakame,
cashewnoten en sojadressing
· Ceasar, met gegrilde kip, bacon, ei, croutons, Parmezaanse kaas
en ansjovisdressing
(optioneel, garnalen in plaats van kip)
· Grieks, met olijven, feta kaas, rode ui, croutons en vinaigrette
· Geitenkaas, met cherrytomaatjes, rode ui, walnoten en
honingmosterd dressing
23,75
23,75
26,75
23,75
23,75
Pasta's
· Jack Sparrow's, pikante pasta met beef tips, paprika, ui,
cashewnoten en hoisin saus
· Kip Alfredo, met ui, prei, spekjes en een heerlijke roomkaas saus
· Vegetarisch, met diverse groenten en een pesto van walnoten
32,50
32,50
25,50
Hoofdgerechten
· Jamaican Jerk Chicken, op Caribische wijze gekruide pittige kipfilet
met verse groenten
38,75
· Jakarta XL, mega kipspies (240 gr!) met saté saus, seroendeng, atjar
en kroepoek
· Varkenshaasmedaillons, op een bedje van roerbakgroenten
met romige champignonsaus
· Spare Ribs, grote portie ribs gemarineerd op de manier van de Chef
· Pirate Cheeseburger, met sla, ui, bacon, augurk en tomaat
· Surf & Turf, ossenhaas met een gambaspiesje, knapperige groenten
en knoflookdragon saus
· Shaslick, spies van malse ossenhaas en gegrilde groenten
met heerlijke chimichurri
· Tokio Tonijn Steak, op uw wijze gebakken, met groenten en
Japanse sesamteriyaki saus
· Caribbean Red Snapper, op de huid gebakken met bakbanaan,
verse groenten en krioyosaus
34,50
39,75
39,75
28,00
44,50
46,50
43,75
43,75
Alle hoofdgerechten worden geserveerd met friet, rijst of het garnituur van de dag!
SPECIAL VAN DE DAG!
VRAAG DE BEDIENING!
DAGPRIJS
Ons culinaire team is altijd op zoek naar verassende en mooie producten om een
heerlijke special te kunnen samenstellen. Dit kan een lekker stuk vlees zijn, maar
vaak komen ook de lokale vissers langs om hun vers gevangen vis aan te bieden
die wij direct fileren en tot een heerlijke maaltijd bereiden!!
Alle prijzen zijn inclusief 9 % O.B. en wij rekenen geen service-charge.
U bent vrij om een fooi te geven!